While cafes and big breakfast are taking a toll on our eating style, nothing beats a bowl of Hokkien mee with Milo'O Ais at your regular coffee shop for breakfast. Thanks to the multi-ethnic diversifying culture we have, the luxury of eating a different dish for breakfast each day of the year is possible hence this article of top 10 Malaysian Breakfast in Kl featuring the best place to have your favorite dishes within the vicinity. Get Reading!
10 Breakfast In KL 2021
#1 Nasi Lemak @ Nasi Lemak Tanglin
Nasi lemak, literally translated to 'fat rice' (Bahasa Malaysia, go figure) is one of the must-try dishes whenever you are in Kuala Lumpur so here's beginning this beautiful journey with our National staple dish!
With over a dozen places to choose from, Nasi Lemak Tanglin operating on a truck has been working on their Sambal since 1948 and has been building a reputation that cannot be matched anywhere else.  Featuring sambal that mildly spicy with a hint of sweetness accompanied with crunchy(very important) anchovies, nuts,  firm and fluffy rice of course with nicely separated grains plus good aroma from a healthy dose of coconut milk (santan) speaks for itself. Recommended to try out their squid dish as they're pretty known for it!
Address: 
Tasik Perdana, 50480 Kuala Lumpur, Wilayah Persekutuan Kuala Lumpur, Malaysia
Hours: 7 AM to 1 PM. Opens Daily 
#2 Roti Canai @ Tea Mansion Stall
If you haven't tried the 'Special' here, you haven't tried roti canai the right way at all. Priced at RM4.50 is their Roti Banjir Special unlike any other. Wobbly eggs, chopped roti canai drenched in dhal, curry, and sambal, freshly made and served within minutes of ordering topped with two half boiled eggs. Perfect for morning, night, rainy, moody, happy, basically any day!!!  Also good is their saltish Roti Sardin (RM4) and their perfectly pulled Teh Tarik (RM1.70) with extra foam.
~Tripadvisor
Address: Kuala Lumpur City Centre, 50100 Kuala Lumpur, Federal Territory of Kuala Lumpur
Hours:  24 hours
 #3 Hokkien Mee/Prawn @ Restoran Yong Len
Known as Prawn Mee in Kuala Lumpur yet born and bred in the island of food paradise aka Penang as there's no need for you to take a 5-hour drive to Penang for Hokkien mee once you've tried this famous kopitiam's version. Encompassed of prawn mee with taugeh, kangkung, pork slices, mini prawns and topped with fried shallots and a spoonful of sambal set aside for diners who want to have an extra kick or level up the spiciness is one heck of a kick-start to your morning!
~Tripadvisor ~Facebook 
Address: 
2, Jalan Tun Mohd Fuad 1, Taman Tun Dr. Ismail, 60000 Kuala Lumpur, Wilayah Persekutuan Kuala Lumpur
Hours: 
 7.30 AM to 3 PM.Opens Daily
#4 Dim Sum @ Restoran Ful Lai
Dim Sums are bite-sized food served in baskets steamer or plates originated from Cantonese cuisine or Hong Kong you could say that Malaysian picked up and has been crazy over since forever. Beautifully braised chicken feet, warm BBQ Pork Bun, creamy custard bun, the infamous Siu Mai, prawn dumplings and fried yam balls among many options one get to indulge in the name of dim sum hunting and Restoran Ful Lai does it remarkably in terms of options, price, and freshness. Best Order: Egg Tarts!
~Tripadvisor
Address: 
Jalan 3/62a, Bandar Sri Menjalara, 52200 Kuala Lumpur, Wilayah Persekutuan Kuala Lumpur
Hours: 
  6.30 AM to 2 PM. Opens Daily
#5 Roti Bakar/ Kaya & Toast @ Ah Weng Koh Hainan Tea & Coffee
Similar to egg on toast for the English, Malaysian have fondly considered roti bakar with egg and Kopi'O as their perfect go-to breakfast. When nothing else can spice things up, runny eggs on buttery toast gulped down with a thick yet creamy coffee will just do the trick and Ah Weng Koh Hainan Tea & Coffee provides both experience and classic taste with 50 years of experience.
Besides their signature Hainan Coffee, Hainan Tea (RM2.40) is a must-have of smooth, aromatic milk tea beneath the bubbly foam. On bites, get the Signature Kaya Butter Toast (RM2.40) if you like your bread crisp or the Kaya Margarine Bun (RM2.40) if you prefer it soft and pillowy. Both feature lavish spreads of homemade kaya, boosted by butter and margarine. RM2.20 for the soft-boiled eggs served in a do-it-yourself tin of hot water.
Hours: 5.30 AM to 2 PM.Opens Daily 
#6 Thosai,Idli & Indian Brekkie @ Chat Masala
No Malaysian breakfast list is complete without featuring Thosai in it! Specializing in authentic Indian cuisine, Chat Masala has a variety of Indian snacks and dishes suit for a quick bite or a full meal. Having said that, the Thosai (RM2.50) here is one dish that should not be slewed away. Charred to a mellow crisp on the edges, warm and a tad tart from fermentation, it's hard to believe that something so simple and humble can turn into one scrumptious dish.
Address: 
259, Jalan Tun Sambanthan, Brickfields, 50470 Kuala Lumpur, Wilayah Persekutuan Kuala Lumpur
Hours: 
 7.30 AM to 11 PM. Opens Daily
#7 Pork Noodle @ Money's Corner
Tucked away on Jalan Vivekananda, Money's Corner and its select food court fare will come through for a penny-pinching meal and their Pork Soup Noodle is a light yet hearty breakfast choice which boasts plenty of minced pork, mixed innards and the cloudy, comfort-giving broth that elevates a delicate sweetness.
While you're at it, be sure to leave some space for the kopitiam's famous Moorthy's Banana Leaf rice for lunch that will get your eyes teary and joyous in the celebration of spices!
Address: 
22, Jalan Vivekananda, Brickfields, 50470 Kuala Lumpur, Wilayah Persekutuan Kuala Lumpur
Hours: 7 AM to 4 PM. Opens Daily! 
#8 Nyonya Kuih @ Ah Mun (Lucky Garden)
Whoever said sweet things are only meant for desserts? Offer any Malaysian some Nyonya Kuih and they would kiss you with smiles! Instigated by the Peranakan Folks, basically, Chinese people who embraced local cultures (Malay) into their lifestyle which includes language, fashion, and architecture, Nyonya Kuih is a proud invention that we choose to surrender our sweet tooth upon.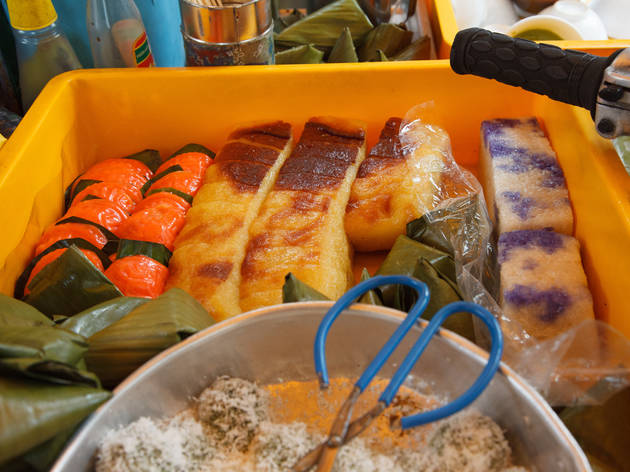 Right outside Nam Chun restaurant in Lucky Garden, you will find Ah Mun peddling kuih on his motorcycle at 3 pm every day. Lee Yeok Choi, a vendor for over 40 years has been capturing the hearts of the neighborhood with his beautifully-made kuih. If you happen to be in the area, don't forget to stop by and pay him a visit.
He's usually there for about 2-3 hours before he sells out.
What's good: Plain sago balls soaked in palm sugar which contributes to the sweetness of the kuih, yields the brown layer while the green colored layer gives it the fragrant pandan smell.
Address: 
16, Lorong Ara Kiri 2, Lucky Garden, 59100 Kuala Lumpur, Wilayah Persekutuan Kuala Lumpur
Hours: 3 pm Everyday
#9 Apom @ Love Mom Restaurant / Klang Curry House
Appam is one of the most popular breakfast choices for Indians and over the years for the Chinese and Malays as well as its simplicity yet tasty fillingness. Appom refers to the crispy yet fluffy coconut milk-rice pancake also known as hoppers (commonly known in Sri Lanka). The Star at Love Mom Restaurant would be their appams.
Run by half Sri Lankan, Aunty Parames was known as Mummy around her neighborhood has devoted her love to making food from scratch resulting in a daily affair of a crowded restaurant.
You can't stop at just one, so be prepared to eat more of these delicate pancakes with their oh-so-creamy centers till you are satisfied. With the 3 options of plain, sprinkled with brown sugar or with an egg, it never stops with just ones! While you're at it, dig into some authentic Ceylonese cuisine!
Address: 
12, Lorong Menalu, Taman Chi Liung, 41200 Klang, Selangor
#10 Kopitiam @ O & S Restaurant
While it's thrilling to hunt down the best place serving the best dish, everybody loves a good'ol Kopitiam selling all kinds of dishes at one place! Similar to the local delights sold in Penang, the locals swear by their Chee Cheong fun stall that doles out a gloriously simple rendition of the dish.
The Chee Cheong Fun (from RM2.40) presents soft, smooth rice rolls doused in a rousing prawn paste sauce, topped with sesame seeds and fried shallots. Besides, their Laksa is a standout with shredded mackerel fish, sliced pineapples, onions, cucumbers and mint leaves making it's way downtown to a happy belly!
~Tripadvisor ~Facebook 
Address: 39, Jalan 20/14, Taman Paramount, 46300 Petaling Jaya, Selangor
Hours: 7 AM to 10 PM.Opens Daily 
This food blog is updated on 1/1/2021.