Hello, foodies! Are you always on the lookout for new restaurants to try? Well, look no further because we've got the perfect place for you to check out. You wouldn't think to visit a medical centre for a restaurant but we're glad to share that this particular restaurant called Cafe 35 at Subang Jaya Medical Centre is where you should definitely go for Western and Asian-local food that's affordable, tasty and prepared fresh daily!
Enjoy Affordable & Tasty Food In An Eco-Friendly & Green Restaurant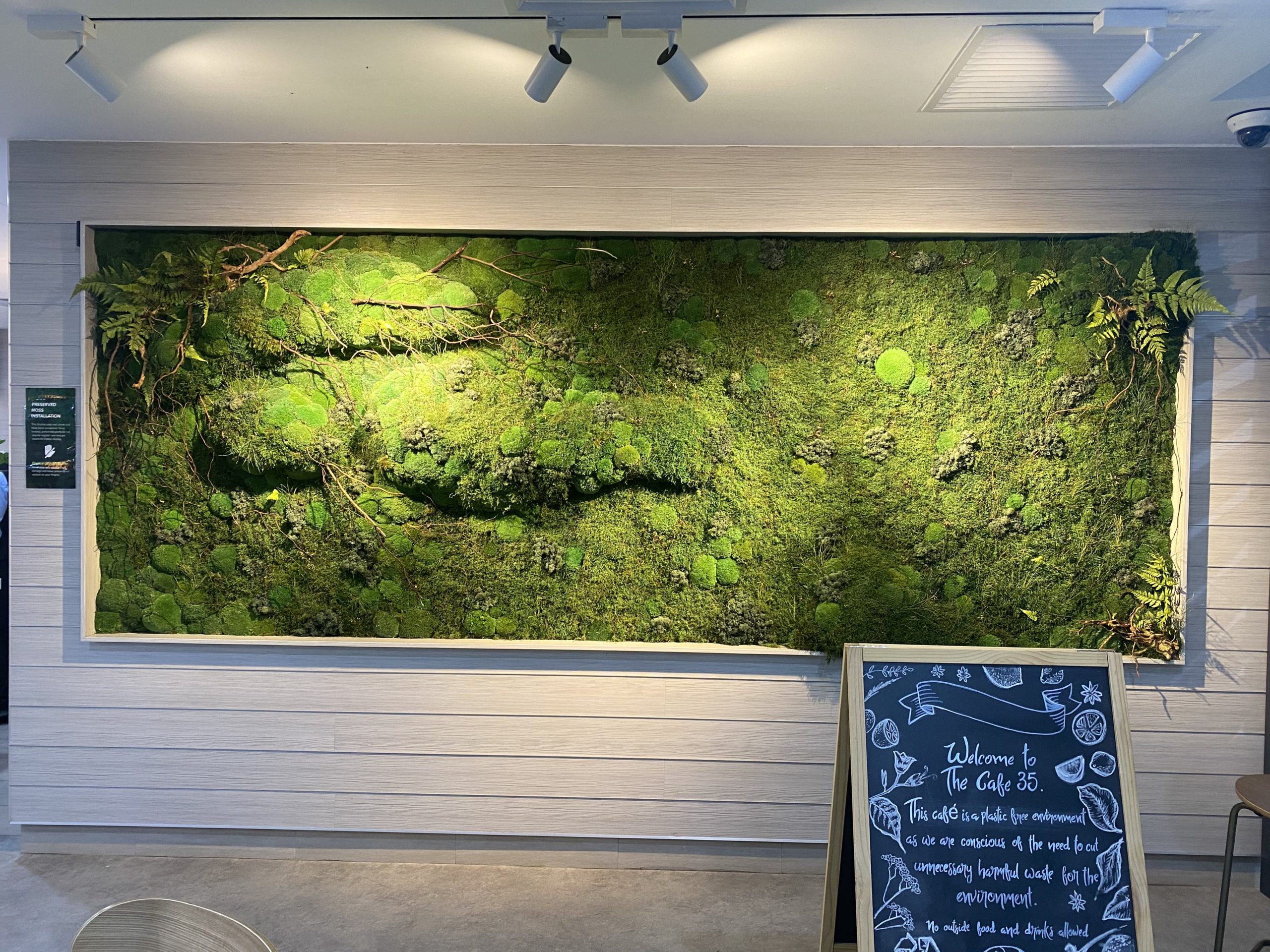 Here's a fun fact about Café 35: it is an eco-friendly eatery where it utilises non-plastics in both eating utensils and dining ware, beverage cups and packaging. This concept is part of Subang Jaya Medical Centre (SJMC)'s commitment to sustainability initiatives under Ramsay Sime Darby Health Care's "RSD Cares" Programme. Cafe 35 also prides itself in ensuring that all takeaways and all packed food and beverages are sold with paper-based packaging or in glass bottles, bamboo cups and cans. In addition, it also provides disposable wooden cutlery too. You certainly won't be finding any use of plastics here at this restaurant! We especially like this concept because it makes us feel like we are playing our part to care for the environment too, just like SJMC!
Dishes That Cater To Both Local & Western Tastebuds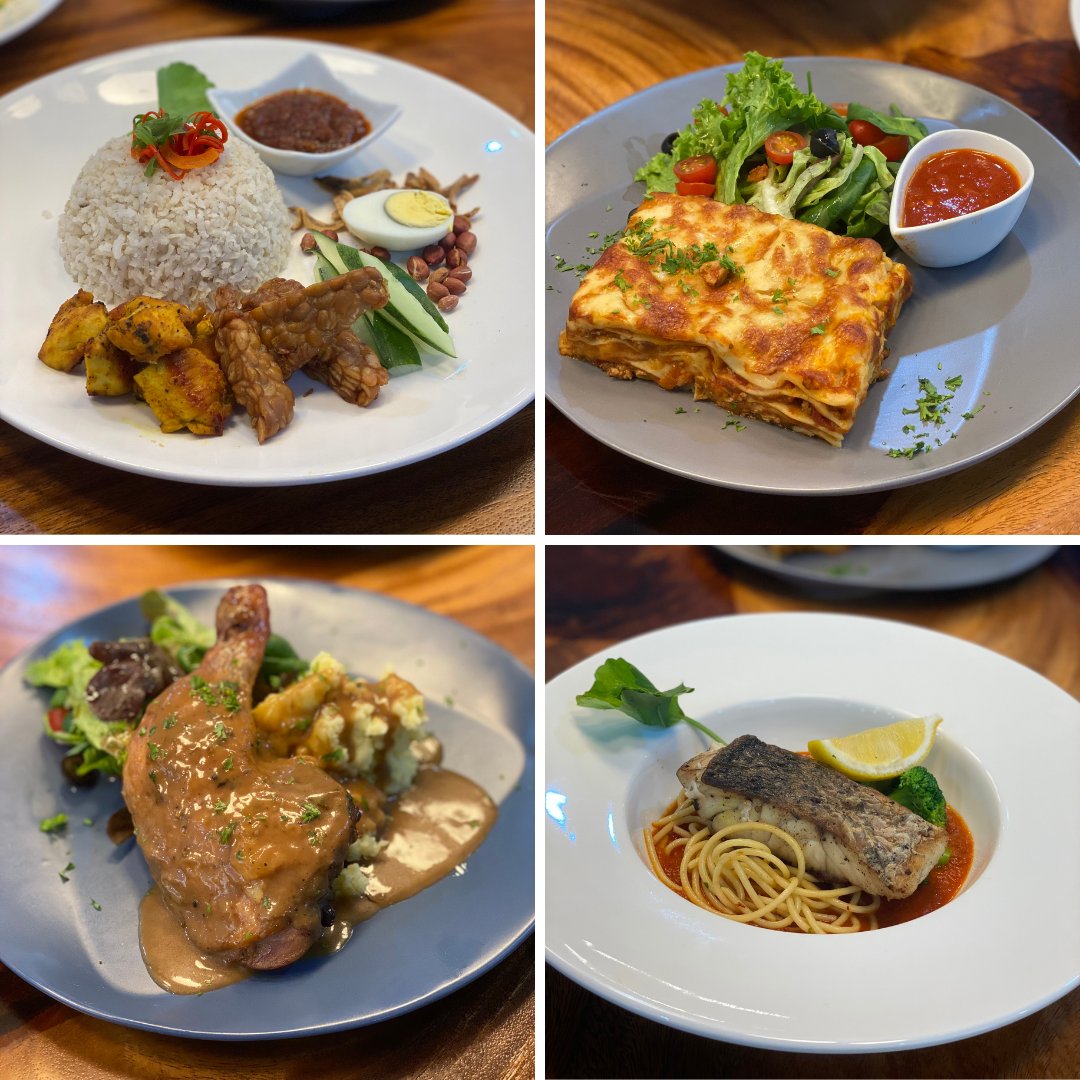 The newly-renovated cafe serves a wide variety of scrumptious Asian and international dishes all prepared and cooked fresh daily! Below are some recommendations on what you should order the next time you visit Café 35.
Lamb Shank with Flavour Rice & Condiments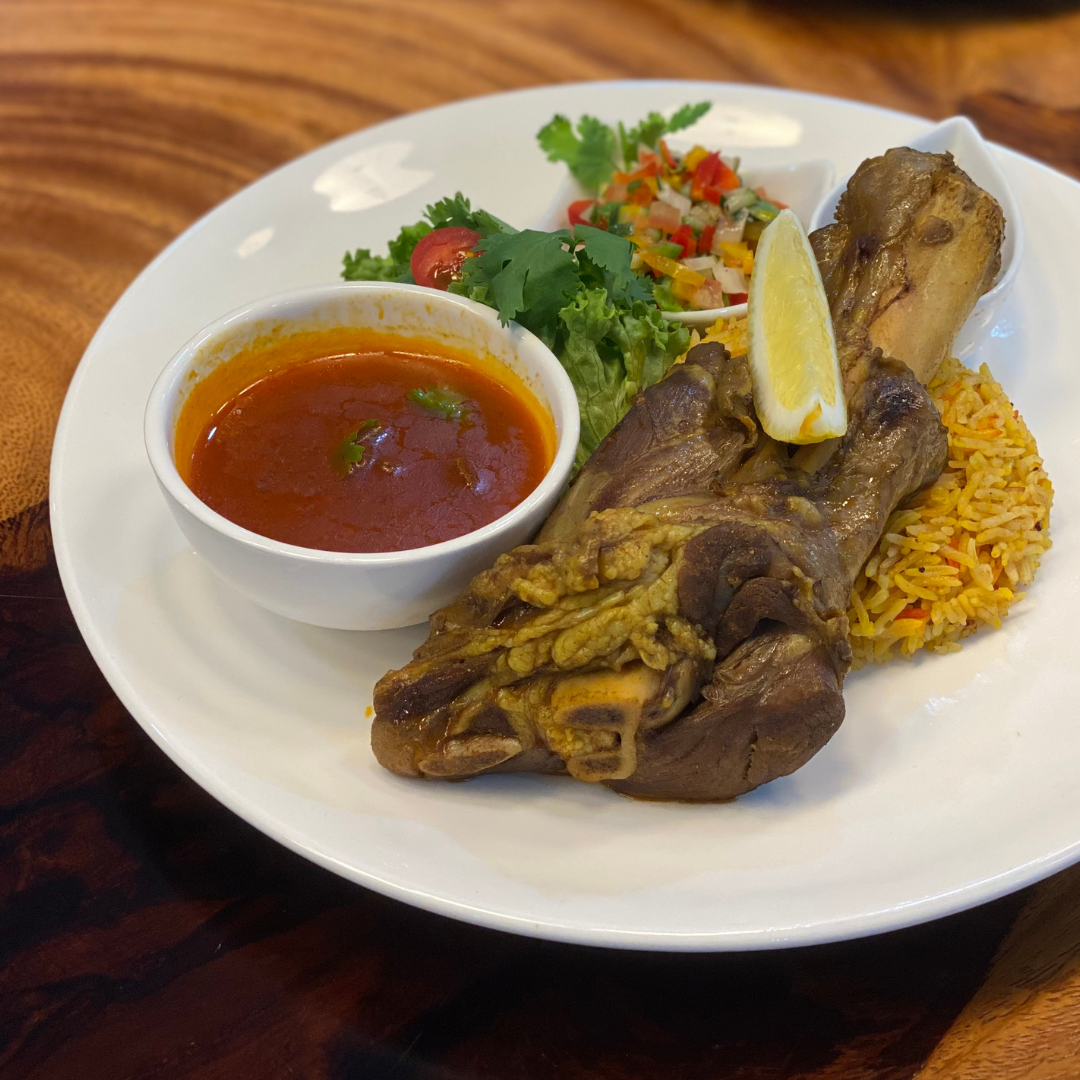 If you are feeling really hungry, make sure to order the Lamb Shank with Flavour Rice & Condiments because it'll no doubt be a really fulfilling meal. The lamb is cooked to perfection and it falls right off the bone! Your tummy certainly wouldn't be grumbling after you enjoy this dish.
Baked Salmon with Herbs, Tomato Coulis, Salsa & Saute Pasta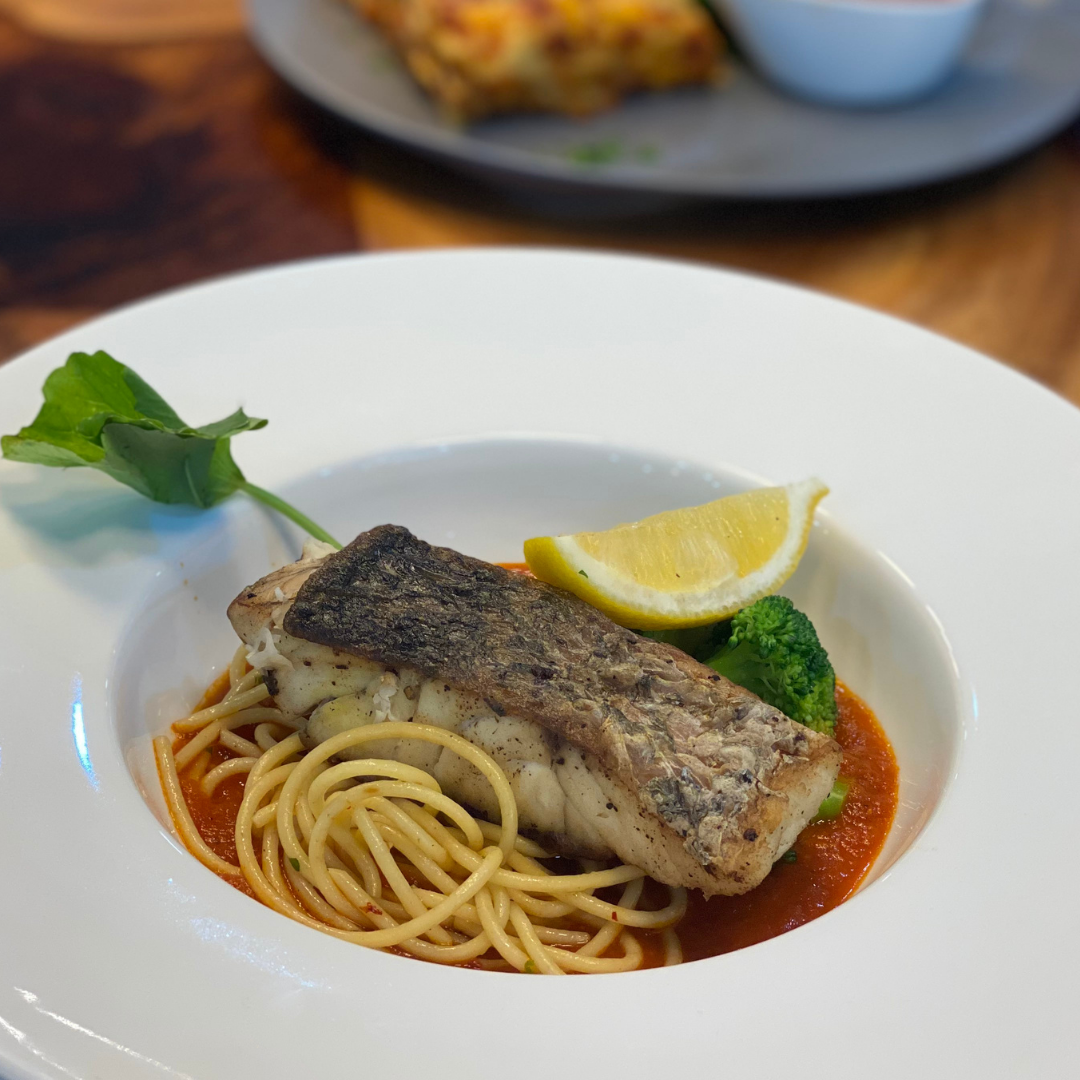 Fish lovers can opt to try the Baked Salmon with Herbs, Tomato Coulis, Salsa & Saute Pasta. This meal is really hearty and the salmon is really fresh. We especially love the tanginess of the tomato coulis and it pairs so well with the saute pasta!
Chicken Lasagna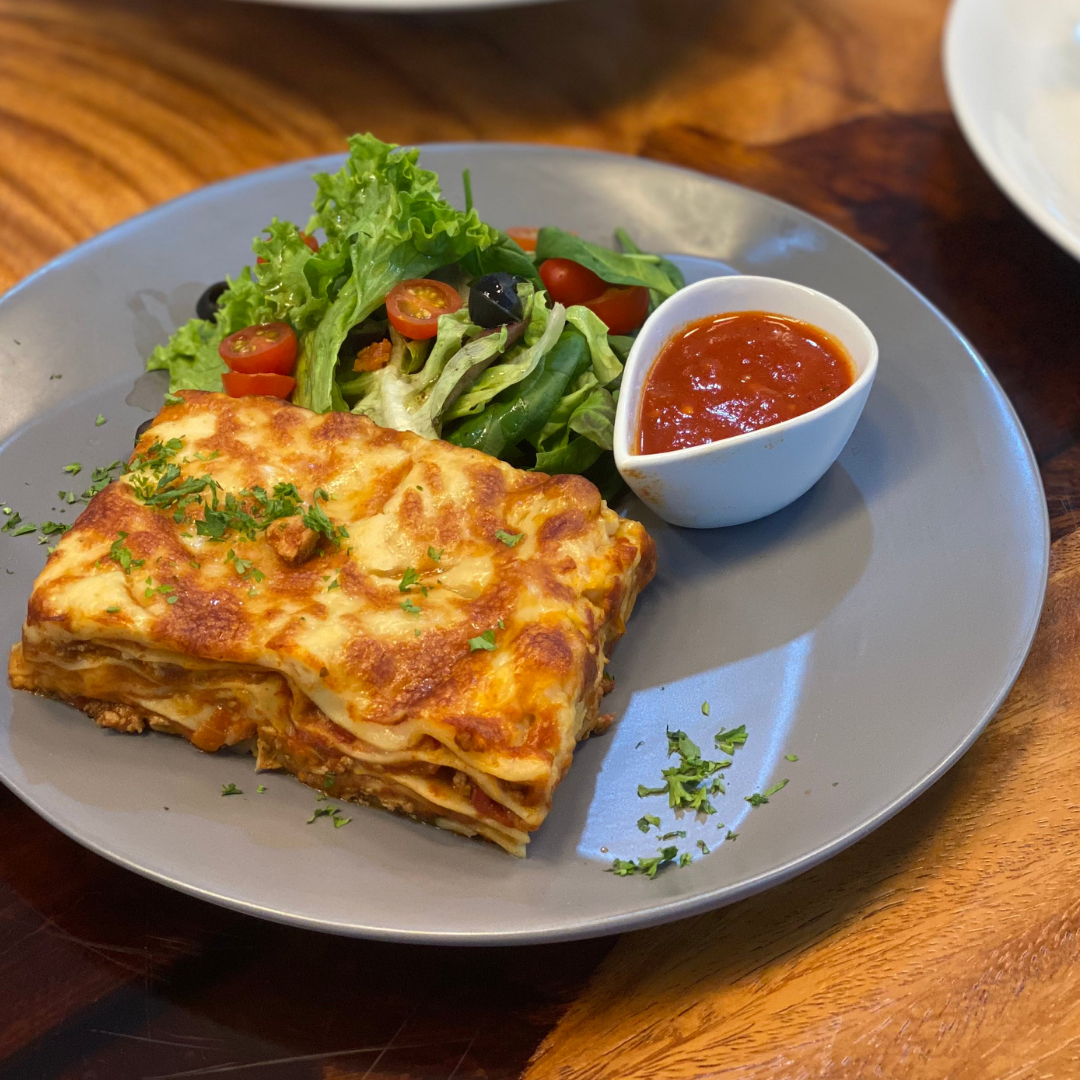 Perfect for kids and even adults to share – their Chicken Lasagna will surely do the trick you if love eating lasagnas! It comes with a side spring salad and more of that saucy tomato sauce that comes in between those perfectly-layered lasagna sheets.
Roast Chicken with Brown Sauce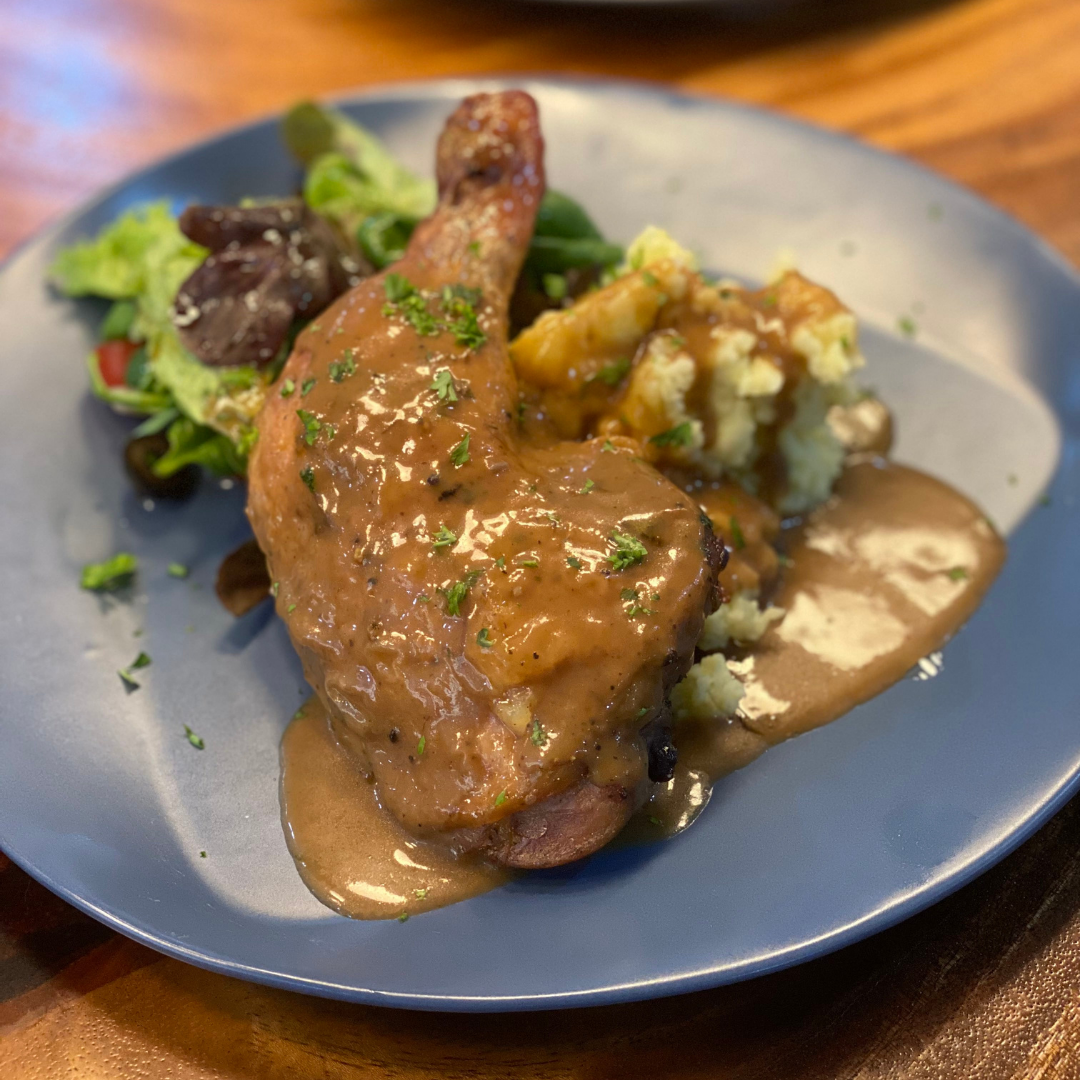 Another dish you won't want to miss out on is their Roast Chicken with Brown Sauce. This classic Western dish is cooked perfectly because the meat is so tender while the mash potatoes are super smooth and creamy too! Be sure to order this if you are craving for some classic Western food fare.
Pan-Fried Salmon with Capers Sauce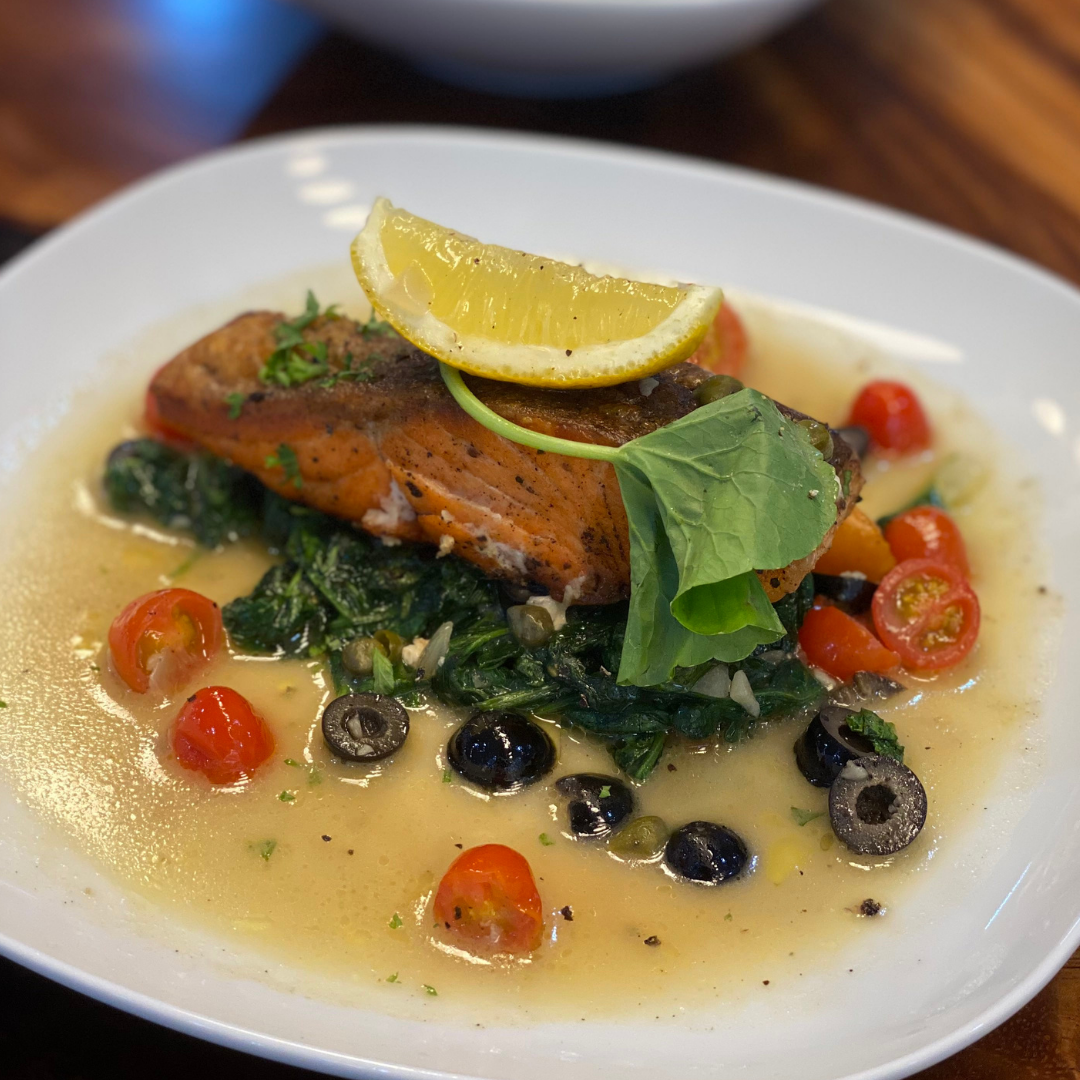 Their Pan-Fried Salmon with Capers Sauce is another good option for fish lovers. The salmon is seared until it has a crispy skin and this dish also comes with some stir-fried spinach at the bottom. If we could pick one dish that would be healthy and yummy in a bite, this one would be our pick!
Couscous Bowl with Sauté Prawns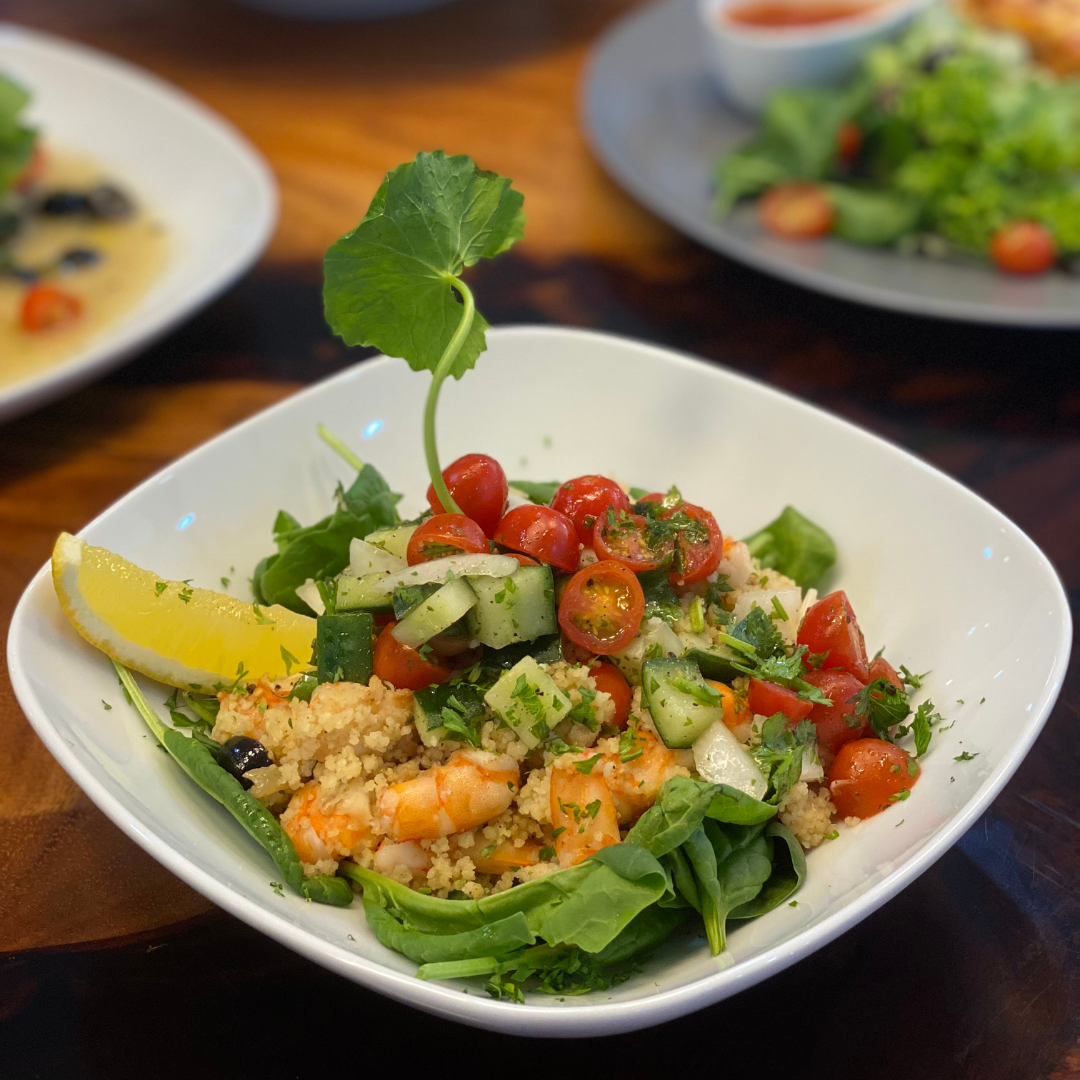 For those looking for something light and quick – opt for the Cous Cous Bowl with Saute Prawns. You can also have it with Sautéed Salmon and Sautéed Chicken Breast! This cous sous-salad bowl is incredibly light and refreshing, we're certainly sure that you'll enjoy eating it.
Nasi Lemak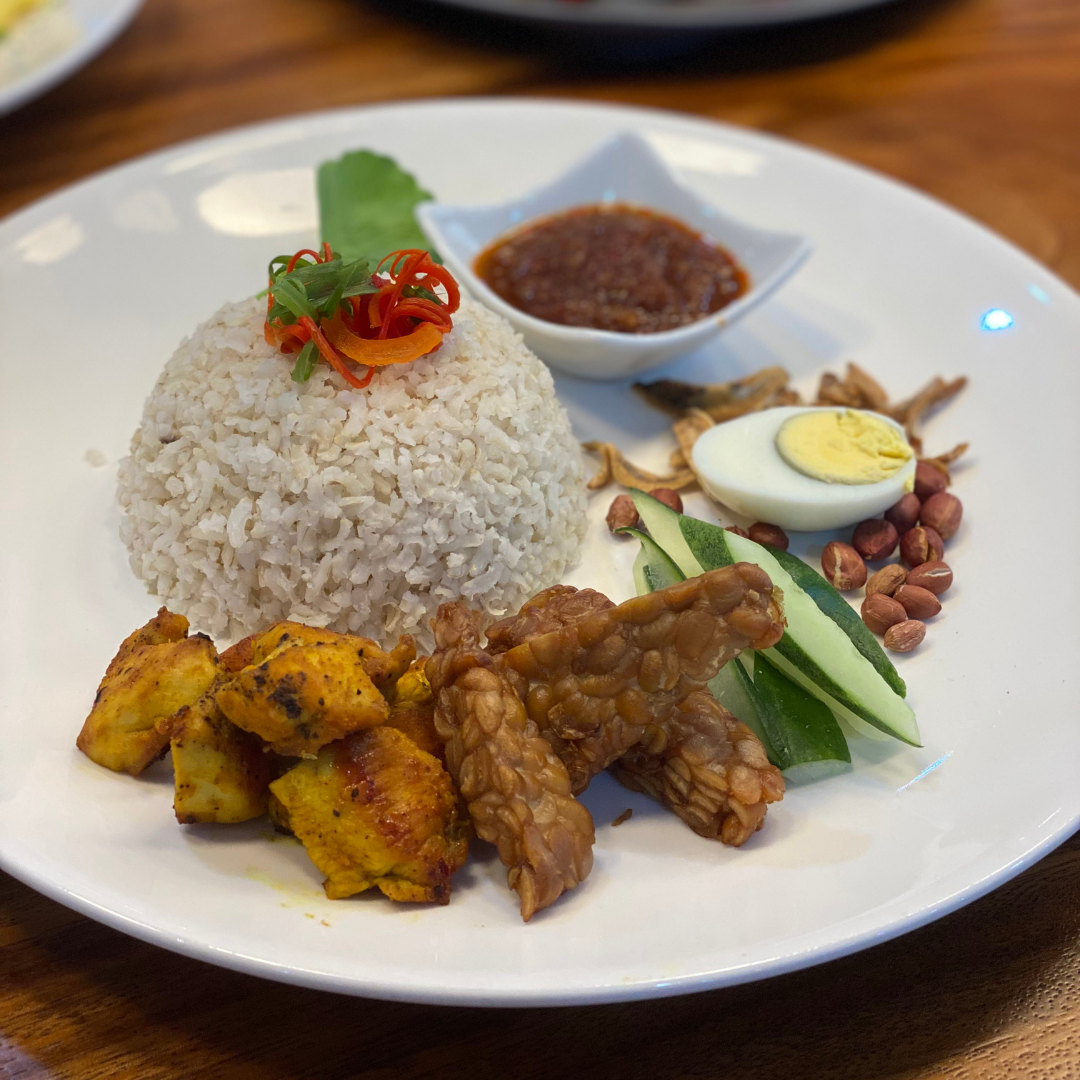 The cafe also offers a breakfast menu from 730am to 11am comprising wholesome fare such as sauté mushrooms with sourdough bread, pancakes with fruits and maple syrup, scrambled eggs or omelette with toast, tomato, and baked beans. If your preference is for some local food, fret not because Café 35 has plenty of variety for that too. We'd recommend that you try their Nasi Lemak with Fried Chicken & Tempeh or Sambal Sotong. The sambal has the perfect amount of heat and spiciness that we know you'll surely love! Their other culinary delights include Laksa Sarawak, Prawn Noodle, Phad Thai Noodle, Char Kuey Teow, Chicken Hor Fun, Cantonese Noodle, and Nasi Goreng Kampung.
Spacious & Well-Lit Environment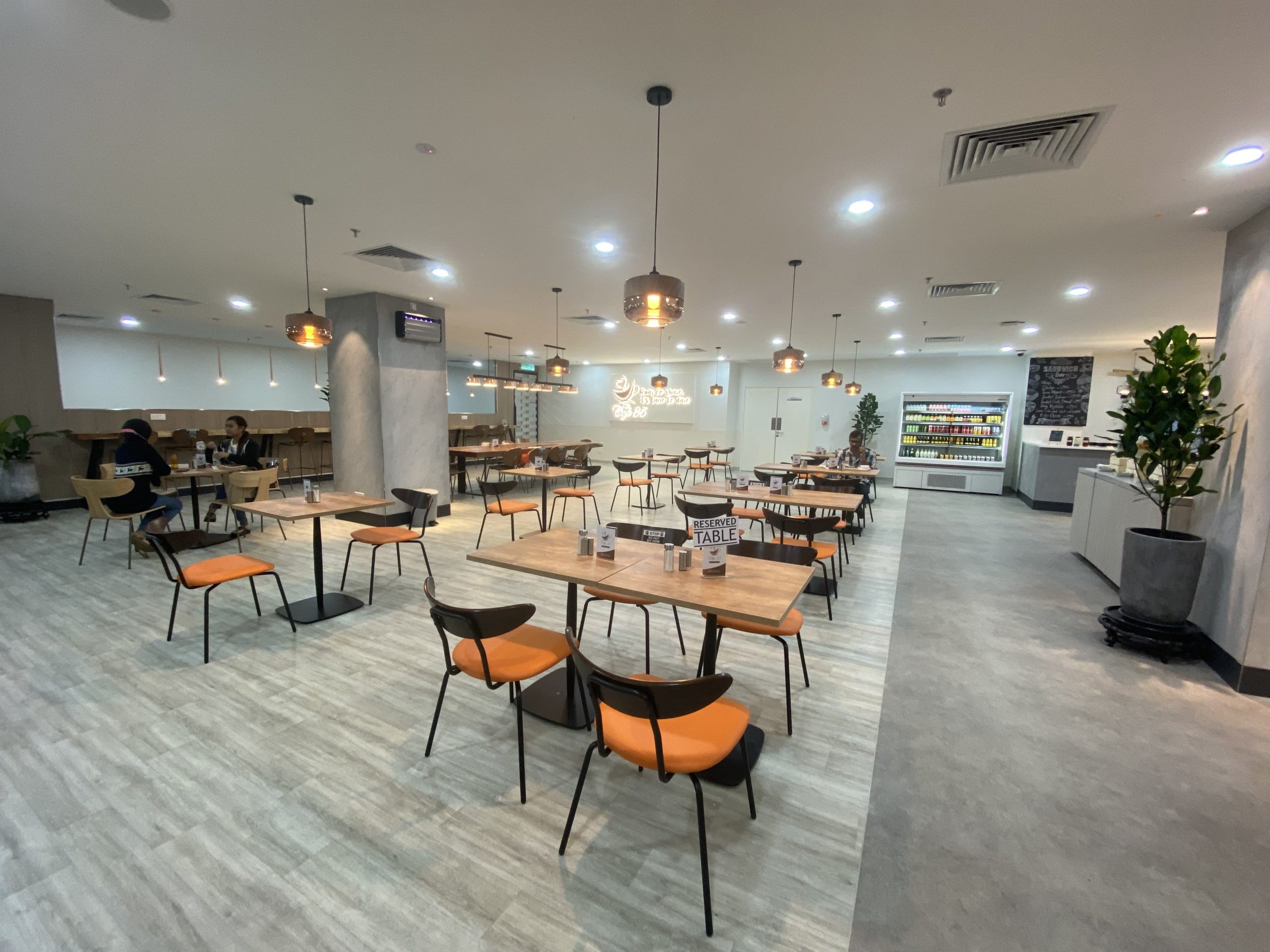 Another plus point about Café 35 is that its dining space is spacious and comfortable. Its ambience is cosy with a sofa seating at a corner for those just having drinks and a chat. We especially like their modern cafeteria-style environment that's kept sanitised and hygienic. Plus, all of their staff are fully vaccinated and they ensure that SOPs are observed at all times. Rest assured you can dine safely at Café 35!
Although Café 35 offers disposable non-plastic packaging takeaways, the restaurant also highly encourages patrons to bring their own food containers and bags so that we can all reduce and also reuse! We love how Café 35 is playing their part in reducing plastic-use in the F&B scene and we totally support this! And, we're so glad that the hospital itself is adopting a no-plastic policy, kudos to them for this Say No To Plastics initiative! The next time you are in Subang Jaya, stop by this place and enjoy a good meal at Café 35 and we can guarantee you won't be disappointed!
Watch the full video here: https://fb.watch/9yN4nLJ2U_/
The Café 35 
Address: Subang Jaya Medical Centre, SS12/1A, 47500 Subang Jaya, Selangor Darul Ehsan
Opening hours: 7:30am – 2:30pm (Monday to Saturday)
Status: Halal-certified
READ 10 Must-Try Innovative Dishes Including Sambal Bak Kwa Spaghetti At Tiger Street Food Virtual Festival
–
Now Playing, Catch New Episodes Every Friday At 7PM
New Shopee Deals: https://shp.ee/mwksseq
Lazada Everyday Low Price https://lzd.la/page
–
We would like to invite you to join our New Telegram Group! We will regularly post about good food, casual promos, giveaways, and interesting findings in Malaysia.