Since the MCO 3.0 is being enforced in Selangor starting today, roadblocks and road closures has been set up to limit the movement of the people. For those working in essential services and are required to travel for work, take note of the possible traffic congestion and make sure to have your travel letter ready.
List Of Roadblocks In Selangor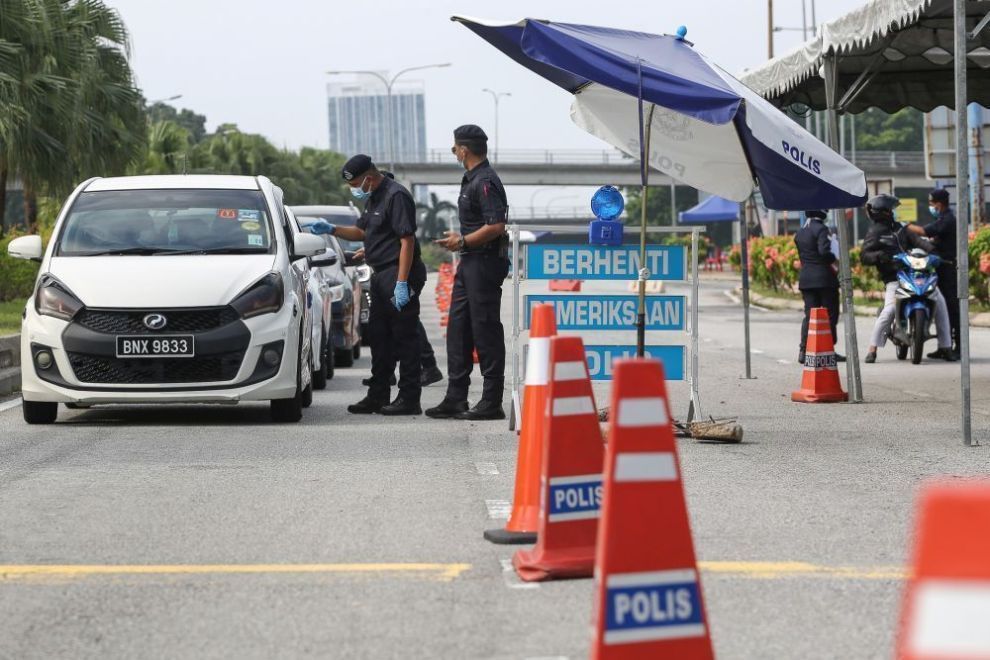 Roadblocks:
IPD PETALING JAYA
Sungai Buloh Toll Exit
Kota Damansara Toll Exit
Damansara Toll Exit
Toll Subang Exit
IPD SHAH ALAM
Plaza Toll Shah Alam (Both Directions)
Plaza Toll Setia Alam (Both Directions)
IPD NORTH KLANG
Plaza Toll Bukit Raja (Exit)
In Front Of AEON Bukit Raja (Bandar Baru Klang)
Batu 10, Jalan Kapar (Pekan Papar)
IPD SUNGAI BULOH
Plaza Hospital Sg Buloh (Both Directions)
Plaza Toll Rawang (Both Directions)
Jalan Selangor – Kepong KM 12 (IN FRONT OF PETRON)
Jalan Sungai Buloh – Shah Alam (SUBANG PERMAI – IN FRONT SHELL)
IPD GOMBAK
KM 14 From Rawang To KL
KM 14 From Kuala Lumpur To Rawang
Second Rawang Toll Plaza
Gombak Toll Plaza From Both Directions
SJR Jalan Utama Desa Aman Puri
IPD SERDANG
LRT BK 5 – Bandar Kinrara
Jalan Puchong – Klang Lama (TELEKOM FRONT – PUCHONG)
Jalan Putra Permai (In Front Of Nahrim – Serdang)
Jalan Utama Serdang Raya 8 (IN FRONT OF MAYBANK – Seri Kembangan)
IPD KAJANG
In Front Of Beranang Police Station
Jalan Broga – Mantini
Plaza Toll Bandar Seri Putra (Exit)
Plaza Toll Kajang (Exit)
Eco Majestic Toll (Exit)
Plaza Toll Bangi (Exit)
Besraya Highway (MINLON)
IPD SEPANG
Nilai – Bandar Baru Salak (Both Directions)
Serimas Toll / Pekan Salak
Salak Road – Kg. Jijan
IPD SABAK BERNAM
KM 74 Jalan Klang Teluk Intan
Jalan Lama Kuala Selangor Sg. Besar
Jalan Besar KM 113 Klang Teluk Intan (Jalan Bagan Nira)
IPD SUBANG JAYA
Plaza Toll USJ 8 ELITE
Plaza Toll Putra Heights
IPD AMPANG JAYA
Jalan Hadapan Desa 288 (Jalan Ampang Entering Into Ampang)
Jalan Pandan Indah – Cheras Indah
MRR2 In Front of Petronas Klang Gates (Main road from Gombak To Ampang)
IPD KUALA LANGAT
ELITE Toll, Bandar Saujana Putra
JLN BT 7 Sijangkang
SKVE Toll
Jalan Seri Cheding (In Front Of Tokong Cina)
In Front Of Petrinas Olak Lempit
IPD KUALA SELANGOR
Plaza Toll Ijok (Latar)
In Front of Tanjung Karang Police Station (Both Directions)
IPD KLIA
SJR Jalan Labohan Dagang – Nilai (IN)
SJR Jalan Nilai Labohan Dagang (IN)
Jalan Kuarters KLIA – SIC
IPD HULU SELANGOR
Plaza Toll Tanjung Malim
Plaza Toll Bukit Beruntung
Plaza Toll Lembah Berdingin
Plaza Toll Bukit Tagar
KM 79 KL – Ipoh – Dusun Bay
Gohtong Jaya Checkpoint
Taman Selesa (Jalan Bukit Fraser – Raub)
KM 34 Jalan Ipoh -Kuala Lumpur – Serendah
Plaza Toll Sungai Buaya
IPD Klang Selatan
Susur MPK (Majlis Pembandaran Klang)
KESAS Toll
Jalan Langat
Kampung Delek
Jalan Dato Ahmad Sidin
Stay Home, Stay Safe
As the numbers are rising high once again, let us do our part and stay home to curb the spread on Covid-19. Travel out only when necessary and make sure to keep your social distancing.
Only for reference, is subject to change.
Source: Jalan-Jalan Cuti Santai | Oriental Daily
Also read: JUST IN: MCO To Be Enforced In Kuala Lumpur Starting 7 May To 20 May 2021
–
We would like to invite you to join our New Private Community Group! Here you are free to ask questions, share your love for food, and explore the Klang Valley community! We will also regularly post about casual promos and latest findings.
Click on the button below and hunt good food with us today!