The days of being served up an uninspiring salad and a plate of mushrooms when you request "something vegetarian" are long gone, and good riddance too. Whether your reasons for seeking out something vegan, organic or vegetarian (or any combination of these) are for health, in the interests of animal welfare, for religious reasons or out of concern for the environment, there are plenty of options here in KL and our job is to get you hooked on so it goes with the Top 10 Vegetarian Restaurants in KL.
Top 10 Vegetarian Restaurants in KL
#1 Indian @ Chat Masala
There'll be so many vegetarian options, it will be hard to choose including the fact that everything served is prepared to get you smiling and fat! Chat Masala is a restaurant that showed us how amazing Indian vegetarian food can be. Located in the hearts of Brickfields, stop by on slow mornings to have a Dosai (RM2.50) for breakfast and you won't regret it! It's warm, a tad tart from fermentation and sufficiently crisp on the edges. In case gravy is not served with your dosai at once, don't forget to ask for dhal and some coconut chutney to seal the deal. The eatery also cooks up North Indian bites that are more affordable than most so get the palak paneer (cottage with blend spinach. trust me, it tastes a whole lotta better) at some gobi Manchurian and gulped it all down with a nice hot madras coffee. Oohhhh boy
~
Tripadvisor
~Facebook
Address: 
259, Jalan Tun Sambanthan, Brickfields, 50470 Kuala Lumpur, Wilayah Persekutuan Kuala Lumpur

Hours: 7.30 AM to 11 PM.
Phone: 
03-2260 3244
#2 Temple Vegetarian heaven @ Dharma realm guan yin sagely monastery
Dharma Realm Guan Yin Monastery sports a canteen in the back, a discreet temple eatery that sets the bar for a solid vegetarian lunch in the city. The Buddhist cooks here are steeped in years of kitchen experience, all while adhering to a strict practice of cooking without white sugar, MSG and preservatives. Join the rest of Jalan Ampang in line for a meal that's both easy on your waistline and your wallet (RM 5- 8)  With more than 50 vegetarian dishes to offer, throw boring out of the window! From simply stir-fried eggplant to neat squares of braised tofu and tastily fried beancurd skin in many forms. They also happen to serve the stunning amount of delicious mock meats in the mix, but we'll advise you help yourselves to those sparingly lest your carb intake shoots through the roof.
~Facebook ~Tripadvisor 
Address: 
161, Jalan Ampang, 50450, Kuala Lumpur, Wilayah Persekutuan, 55000
Hours: 11 AM to 2 PM. Every other day except for Saturday & Sunday.
#3 Mexican Food @ Sala KL
Mexican food revolves around two things only. Meat and CHILLI. Sala KL is here to prove you wrong! Owned by a true Malaysian who takes Spanish classes to further strengthen his love for the food and culture, Mr. Fauzi, a vegan himself aimed to create a magical gastronomy to the taste buds without killing anything (HAHAHA) and succeeded.
Expect Mexican staples with a vegetarian twist, like a controversial BB Jack Taco (RM7). The use of barbecued jackfruit works nicely with spicy jalapeno, sour cream and pico de gallo, resulting in a sweet, tangy and delightfully pungent flavor unlike any other. Also delicious is the Shrooms Taco (RM7), which relies on the mainstay of mushrooms and black beans to hit the spot. For diners who prefer to build their own, the burrito bar allows customization for RM18 a pop — the cilantro lime brown rice will guarantee the burrito a surefire win. Served with a side of plantain chips, the warming Vegan Chilli (RM7) speaks for itself through a satisfying meld of vegan cheese, toasty beans, and lentils.
~Facebook ~Tripadvisor 
Address: 
A-G-03A Galeria Hartamas, No 21, Jalan 26a/70a, Desa Sri Hartamas, 50480 Kuala Lumpur, Wilayah Persekutuan Kuala Lumpur
Hours: 
11 AM to 7 PM. Opens daily.
#4 Thai @ Kon Rak Pak Vegetarian Restaurant
If I was a vegetarian (I'm not, do not hate) and if there's one thing I'll miss having, it'd be Thai food! Googling Kon Rak Pak eased me out of my fears as a future vegetarian. One can sample a true Thai adventure, courtesy of your taste buds, at this humble restaurant serving one a few but the very best vegetarian Thai delights at Kon Rak Pak Vegetarian Restaurant. Begin the journey with some mango salad, fire it up with their signature well-loved green curry and cry it out with some authentic rubies with coconut milk 🙂 Seal the deal, my friend!
For the worrying minds, Thai dishes here range from appetizers, salads, curries, soup, vegetables, mock meat dishes, assorted of noodles and rice and desserts dominate the menu. Food offered are non-egg, non-dairy, non-garlic, non-onion, onion chives, non-leek, and non-Asafoetida.
Address: 
17-G, Jalan 17/56, Seksyen 17, 46400 Petaling Jaya, Selangor

Hours: 11.30 AM to 3 PM, 6 PM to 10 PM. Closed on Mondays
Phone: 
03-7496 7639
#5 Smoothie Bowl @ Rubberduck
With a lovely outside seating area along the pedestrian streets of Hartamas Shopping Centre, Rubberduck is always worth a visit especially for their Smoothie Bowl which is a favorite out of many on Rubberduck's breakfast list. Colorful, healthy and flavourful, it's definitely a love at first sight. Topped with fresh fruits, granola, flaxseeds, and coconut flakes, their Berry/ mango and 'Your Pick' of a  Smoothie Bowl is as delicious as it is nutritious. Truly a true treat for your body and soul.
Address: 
60 Jalan Sri Hartamas 1, Plaza Damas, Lot K-0-8B (Ground Floor), Dorchester Service Apartment, 50480 Kuala Lumpur, Wilayah Persekutuan Kuala Lumpur
Hours: 8 AMto 6 PM. Opens daily
#6 Killer Gourmet Burger @ KGB Bangsar
There's nothing more fun and real than sharing sloppy burgers with your vegetarian date, and KGB offers the Chole Burger, Portobello Bobm,  Bella bomb and let us tell you that's its BOMB! Twice the serving of portabello mushrooms, triple cheese, and shack sauce, with excellent side dishes like the magma fries, Kimchi fries, sweet potato fries spicy wedges, potato shots which is made of potato and cheese. and southwestern egg rolls, a trip here will not disappoint WHO SAYS NO TO BURGERS I MEAN?  With so much cheese and mushroom in this burger, your faces will be buried in it without a single feeling of regret.
If the date isn't a vegetarian,  trust us when I say they've got choices to keep coming back for more! As for the Veganizer, there's also a 100% Vegan option for our vegan friends out there, made with special eggless buns, plant-based margarine, and a custom soy-based KGB spike sauce. Go crazyyyyyyy
~Facebook ~Tripadvisor
Address: 
23, Jalan Telawi 2, Bangsar Baru, 59100 Kuala Lumpur, Wilayah Persekutuan Kuala Lumpur
#7 Dim Sum @ Nature's Vegetarian Restaurant
If Vegetarian food done well can more than stand up to a plate of pork. Located in Bangsar, Nature's Vegetarian Restaurant is one of em who does it right and serves anything from SiuMai, a type of traditional Chinese dumpling that originated from Hohhot, Inner Mongolia to LoBakGou, a savory traditional dish that originated from southern China. Ranging from RM5- RM20 depending on the dishes you order. Be sure to check with workers for vegan items as some of the items contain milk and/or eggs.
~Facebook ~Tripadvisor
Address: 
24, Jalan Telawi 3, Bangsar Baru, 59100 Kuala Lumpur, Wilayah Persekutuan Kuala Lumpur
Hours:
 9 AM to 9.45 PM. Opens daily
#8 
Organic Vegetarian Fresh Mart and Restaurant
Plenty of Vegetables, Portions to fill you up and even let you share and most importantly worth the price! Set within a supermarket that stocks Subang Jaya's most varied organic options, this humble spot also offers their ingredients cooked and ready to eat! Favoured here is the Bak Kut Teh Soup (from RM17), a claypot of veggies, mushrooms, tofu and broth that isn't at all pretentious, but unique in its wholesome herbal stock flavours. Substituting flavour-packed seaweed for meat, the Seaweed Rice (RM10.50) packs plenty of umami flavour alongside mixed vegetables to boot. The use of unpolished brown rice also makes these dishes excellent for the health conscious, as well as diabetics. Since Organic Vegetarian is first and foremost a mart, ordering greens comes with a guarantee for freshness. Pick and eat from RM 5, its hardly anything but a bargain!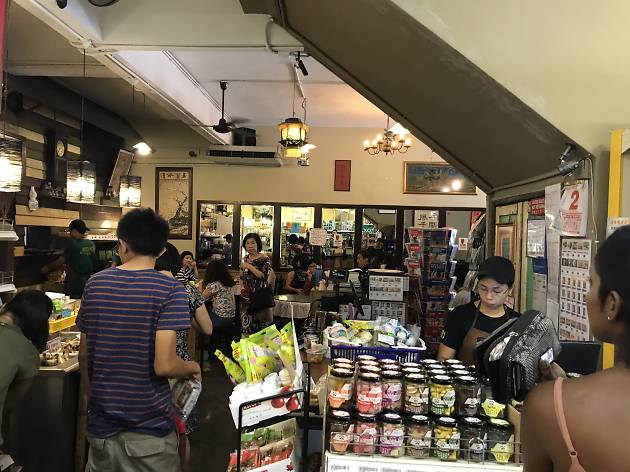 ~Tripadvisor
Address: 17 & 19, Jalan SS 18/1B, 47500, Subang Jaya, Selangor, 47500
Hours: 10 AM to 9 PM.Closed on Thursday!
Phone: 03-5636 2468
 #9 Gluten -Free, Organic,Vegetarian & Vegan @ RGB & The Bee Hive
1. "Rather Good Beans" is rather too humble of a name for this place.
2. Vegan pizza with cracker-like crust and generous toppings.
3. Broccoli salad with green apple slices, cashews, and black raisins. Light yet flavorful.
4. Hemp burger : Homemade patty from hemp seeds, flax seeds, oats, gluten, carrot, lentil, and seeds. Oh, and really, really, strong raw alfalfa sprouts taste.
5. The cafe offers amazing choices for all kinds of preferences such as with meat, without meat or without egg. So bringing friends whose face turns sour at the mention of a vegetarian meal can be avoided!
6. With a price range of RM 20 – RM 30.
7. Perfect cafe for a Cafe day.
8. You're gonna love it here!
Address: 
35, Jalan Damai, Kampung Datuk Keramat, 55000 Kuala Lumpur, Wilayah Persekutuan Kuala Lumpur
Hours: 
 8.30 AM to 11.45 PM. Opens daily
 #10 Something Icy Sweet (Binsgu) @ Kakigori
Nothing nice ends without sweetness so here's some shaved ice for the Hot weather! The Japanese equivalent to Korean bingsu, Kakigōri's shaved ice dessert is a tall mound of ice drizzled with syrup and purées. Using only natural ingredients as well as imported matcha from Kyoto, they serve traditional Japanese flavors such as Uji Matcha, Japanese Pumpkin and Hojicha kakigōri.A small cozy place in Taman Paramount, a situation just a few doors from Awesome Canteen. Kakigori is self-service, place your order, pick up from adorable little shelves, and return the trays once you're done. Their signature kakigori: Uji Matcha (RM17) with red bean, warabi mochi & kinako milk and Hojicha (RM17) with candied chestnuts & kinako milk.