What to eat in Damansara Uptown? You have come to the right guide on the internet. In today's food blog, we curated the city top 14 best food in Damansara Uptown every foodie should hunt in 2020! From famous nasi lemak, dim sum to the awesome cafe in town, we got you covered!
Top 14 Food in Damansara Uptown
In a state with a 1.5 million population, Kuala Lumpur offers the experience of travelling the globe through your taste buds. And Damansara being da hangout spot for the crowd despite its parking and traffic madness, we can't stay away. If you can't fight em, join em, hence reaching out to through the happy belly with Top 14 Must-try Food at Damansara Uptown.
Hungry? Read the blog now!
1. Nasi Lemak @ Village Park
The reward for waking up early on a Saturday morning is the simple joy of eating Nasi Lemak and if you're aware of Village Park, then you know what's good. Despite its stunning success, Village Park has maintained the high standards that first attracted its regulars. The food tastes like it came out of a kitchen run by someone who really enjoys cooking for those who love to eat.
Offering a rendition of the Terengganu-stye coconut-scented red and white rice accompanied by fried chicken and sambal, their signature nasi lemak Ayam will make your mouth water as it is served freshly fried and piping hot.
Address: 
5, Jalan SS 21/37, Damansara Utama, 47400 Petaling Jaya, Selangor
Hours: 6.30 AM to 7.30 PM. Opens daily


Phone: 

03-7710 7860

2. Fried Chicken Chop @ Steven's Corner
If they say it's better than KFC, you fight for better or worse and this is a spot worth doing so. For fifteen years Steven's Corner has been a go-to spot for hungry diners looking for an affordable place to have good Western food. Located in Uptown Damansara, this place is something of an institution.
Known for their chicken chop, they come in either grilled to perfection or fried to a crunchy delight version. You won't go wrong with either one because the chicken is juicy and packed with flavor. The sauces – mushroom or black pepper (that uses only Sarawak black pepper!) – are gorgeous: thick, unctuous and savory.
Address: 1095, Uptown Hawker Centre, Jalan SS 21/39, Damansara Utama, 47400 Petaling Jaya, Selangor
Hours: 5.30 PM to 3 AM.
3. Comfort Food @ The Good Batch
Serving comfort meals alongside quality and hearty vibes inside and out, The good batch is there as a substitute from home on a lazy Sunday, during the recovery of a hangover that needed to be sunk into hole of yolk and emerge in the dreamiest way possible.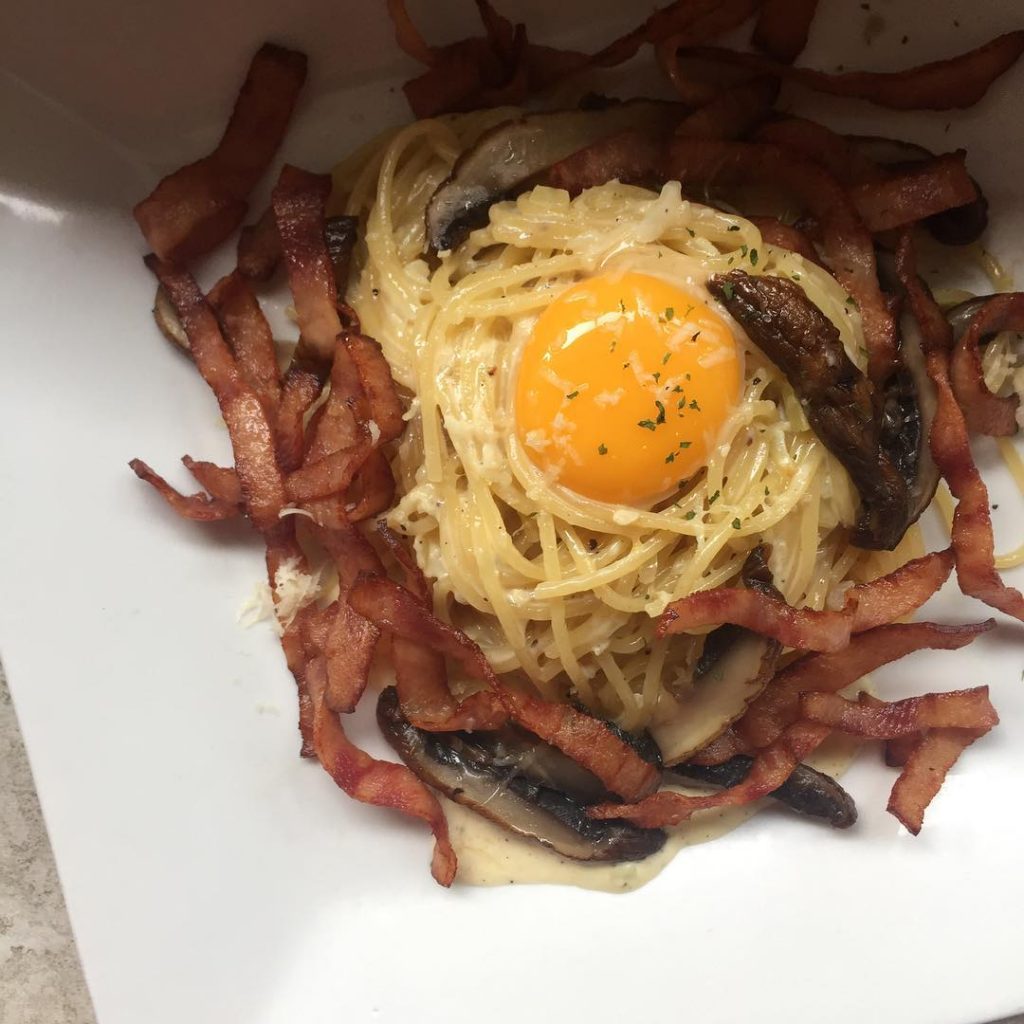 Perfect for cheat days, the Hangover Mess is made up of corned beef hash (sautéed minced beef with potatoes) and bell peppers, topped with two sunny-side-ups and a generous drizzle of hollandaise sauce as well as a slice of brioche toast.
Address: 
No. 53, Jalan SS21/1A, Damasara Utama, Selangor, 47400 Petaling Jaya
Hours: 11 AM to 12 AM. Closed on Monday.
4. A Pie Thing
Waffle out of sudden became a thing mushrooming in the mushrooming cafes and then there was a pie. With faith, they began and now they're leading the crowd with their light and crumbly texture of a base that melts right in the mouth. Chunky Steak, Pulled Lamb & Chilli Cheese sounds magical alongside vegetarian option that comes in the form of a spinach pie. Oh and marshmallows swimming in a pool of chocolate. HA Win-win Y'all.
Address: 
128 G, Jalan SS 21/35, Damansara Utama, 47400 Petaling Jaya, Selangor
Hours: 12 PM to 11 PM.
5. Thai Restaurant @ Baan Rao
Serving hearty Thai meals without making a hole in the pocket, this is the place to be! With countless Thai restaurants scattered throughout Greater Kuala Lumpur, it can be challenging to stand out. Baan Rao does so naturally, keeping things real with a kitchen filled with more than half-a-dozen Thai cooks from northeastern Roi Et province, led by chef Ivy Rungtiwa.
Set lunches from only RM11.90!Whatcha waiting for?
Address: No.8 & 10, Jalan BM 1/2, Taman Bukit Mayang Emas, 47301 Petaling Jaya, Selangor
 Hours: 12PM to 2.30 PM, 6.30PM to 10.30 PM.
6. Brother John Uptown Burger
Sloppy, messy, looking hideous but absolutely delicious. That is the way of the Ramli. Brother John is no exception, he has been running his burger stall here in Uptown for more than 10 years and there is a good reason why there are still people queuing for more than 30 minutes at 11 pm for his burgers. They are juicy, tender, sloppy, and will make a huge mess, but that is what having a good Ramli burger is all about isn't it?
Address: Jalan SS 21/39, Uptown Damansara, 47400, Petaling Jaya, Selangor
Hours: 4 PM to 5 AM. Closes on Monday.
7. Dim Sum @ Restaurant Loong Seng
On a tight budget but have an unfortunate craving for dim sum? Not sure where to have dim sum around SS2? Loong Seng has the answer you need. Offering a wide variety of dim sum at an extremely affordable price with no cutbacks in taste and quality.
Aside from the regular choices, the real deal here is the lala (clams) dim sum which has a medley of fish and pork paste infused with bits of corn, carrot, mushroom, spring onions stuffed in its shell. Delicious! Pair up the delectable morsels with the pan-fried radish cake or char siew pau for optimal satisfaction. On a side note, the upper floor is fully air conditioned.
8. Aesthetic spot @ Random Food Store
Space.Baos.Coffee.
Address: 9, Jalan SS 21/37, Damansara Utama, 47400 Petaling Jaya, Selangor
9. Desserts @ Inside Scoop
Inside Scoop churns out some of the best ice cream in the city best sampled in a scoop of the Valrhona chocolate, durian or the naturally green pistachio.
Read also: Top 10 Ice Cream Places in KL
Address: 57, Jalan SS 22/19, Ss 22, 47400 Petaling Jaya, Selangor
 Hours: 1 PM to 11 PM.
10. MILKSHAKES @ Pâtissez
Originally from Australia, this freak shake brand has set up stores in Malaysia with branches in Bangsar, Uptown Damansara, and 1 Utama. They offer freak shakes, doughnuts and main meals on their menu. Ranging from RM20 to RM23, this crazy-looking unbelievably light textured drink will be the milkshake of an experience.
Address: SK – 108, 2nd Floor, 1 Utama Shopping Center,, Dataran Bandar Utama, Bandar Utama, 47800 Petaling Jaya, Selangor
 Hours: 10 AM to 10 PM.Opens Daily.
11. Tipsy Nights @ Locker & Loft
Locker & Loft may be hard to spot among the row of nondescript shop-houses located along the quiet street of Jalan SS20/10 in Damansara Kim and that's the whole point of it with the addition of exposed metal pipes lining the ceiling and jutting out from the beaten-copper bar and walls, an obvious nod to the steampunk aesthetic.
The kitchen craftily blends globe-trotting influences to carve out its own idiosyncratic recipes – the inspiration for the queso & chili con carne might be Tex-Mex, but both feel infused with Malaysian sensibilities with their creamy-savory minced pork & sweet potato leaf queso and such. If you're here for a night out, expect music, fuzy cocoktails and whole lotta good time!
Address: 40A, Jalan SS 20/10, Damansara Kim, 47400 Petaling Jaya, Selangor
 Hours: 5PM to 2 AM. Closed on Monday
12. Portuguese Bound @ Fat Tea Macanese Food
A Portuguese colony until 1999, Macau is a unique fusion of Asian and Mediterranean culture, architecture, and cuisine. Macau's 'Cha Gordo' is a celebration of Macanese cuisine and culture. Cha Gordo is Portuguese for "fat tea" and was a regular gourmand affair for Macanese families to celebrate special occasions. The phrase is a way to describe a rich spread and to the Macanese, "fat" equates to rich which translates to happiness.
Expect dishes unheard of, like the Minchi (RM22). Touted to be Macau's national dish, the specialty is a very comforting jumble of pork mince, onions, fried potatoes and a fried egg on rice. End your Macanese meal with the popular Herradura (RM8). Also known as sawdust pudding, it layers crumbled Marie biscuits with whipped cream and soft, fluffy sponge cake. The average price per person: RM30
Address: LG05, Emerald Plaza North, Jalan PJU 8/3a, Damansara Perdana, 47820 Petaling Jaya, Selangor
 Hours: 10 AM to 10 PM. Closed On Monday
13. Gamelan @ Ara Damansara
Craving for some Nasi Dagang Terengganu. Look Nowhere but here. Established in 2013, Gamelan is a family runs restaurant specializes in traditional Malaysian Cuisines especially from the East Coast of Peninsular Malaysia. Most of their recipes are generations old passed down by Jie's late aunt, who was a royal chef at the palace thus eating like is sort of in reality here.
On the Menu: Terengganu's classic Nasi Minyak, Pari Asam Pedas, Patin Tempoyak, our kuih varieties and many more and with over 40 side dishes and traditional dishes, there is always something for everyone in the thisvery uptown hidden gem.
Address: B-G-05, Oasis Square, No, 2, Jalan PJU 1A/7A, Ara Damansara, 47301 Petaling Jaya, Selangor
 Hours: 7 AM to 6 PM. Closed on Sundays
14. Classic Dish @ Fat Spoon
Located alongside The Good Batch, fat spoon exudes exposed bricks walls, mix and match recycled chairs, antique ornaments, old photos, wooden larder from the parent's era and kitchen utensils hanging on the ceiling have made up this place. A rustic and homey cafe that articulates plenty of character.
The menu comes in the form of old story books. The claypot loh su fun is an all-time favorite for many and rice buffs cannot get enough of their fried nasi ulam.
Address: 73, Jalan SS 21/1a, Damansara Utama, 47400 Petaling Jaya, Wilayah Persekutuan Kuala Lumpur
Hours: 
11 AM to 10 PM. Closed on Monday
Damansara Uptown Food Blog
Here comes the end of today's Damansara Uptown food guide. We hope you guys enjoy reading it. If we missed out any good food you think we should promote, please let us know in the comment section down below.
If you think someone need to see this blog, please share it with your friends and family!
Thank you and see you at our next blog.
Last updated: 1/1/2021.