Hello Foodies, hope you are doing well so far. Being stuck at home for work everyday isn't the best feeling, especially when you get caught up with work and have no time to cook a proper meal. No worries now because BMS Organics is here to save the day! BMS Organics has launched a series of bento sets that are healthy, delicious, and most importantly – convenient for you! Take a look at what they have below.
All You Need Is A Healthy Bento Set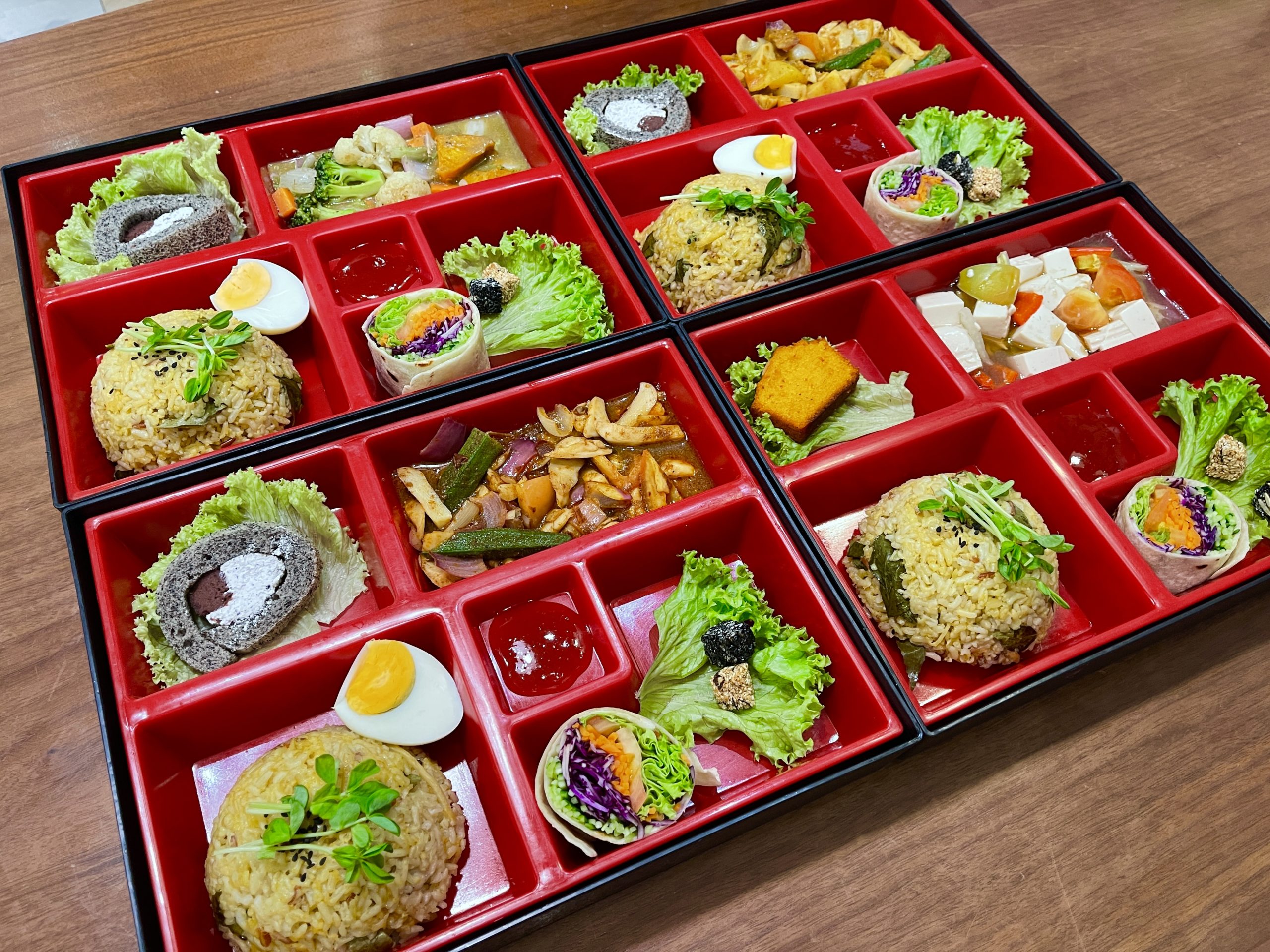 Most of BMS Organics' foods can be swapped between rice and handmade noodles as carbs. However, you should definitely try their signature multigrain rice. Unlike the ordinary refined white rice, they are using organic millet, buckwheat, and natural brown rice which is much healthier and nutrient-dense.
Healthy Bento Sets With Flavours That Pack A Punch
If you prefer something more flavourful and tantalising to your palette, do try the Rendang Eryngii Mushroom set. BMS Organics uses plant-based milk to cook their curry gravy and it consists of oat milk, black beans, soya beans, sweet corn, and carrot for the soup base. This is especially good for those who are lactose-intolerant and have an easily bloated stomach.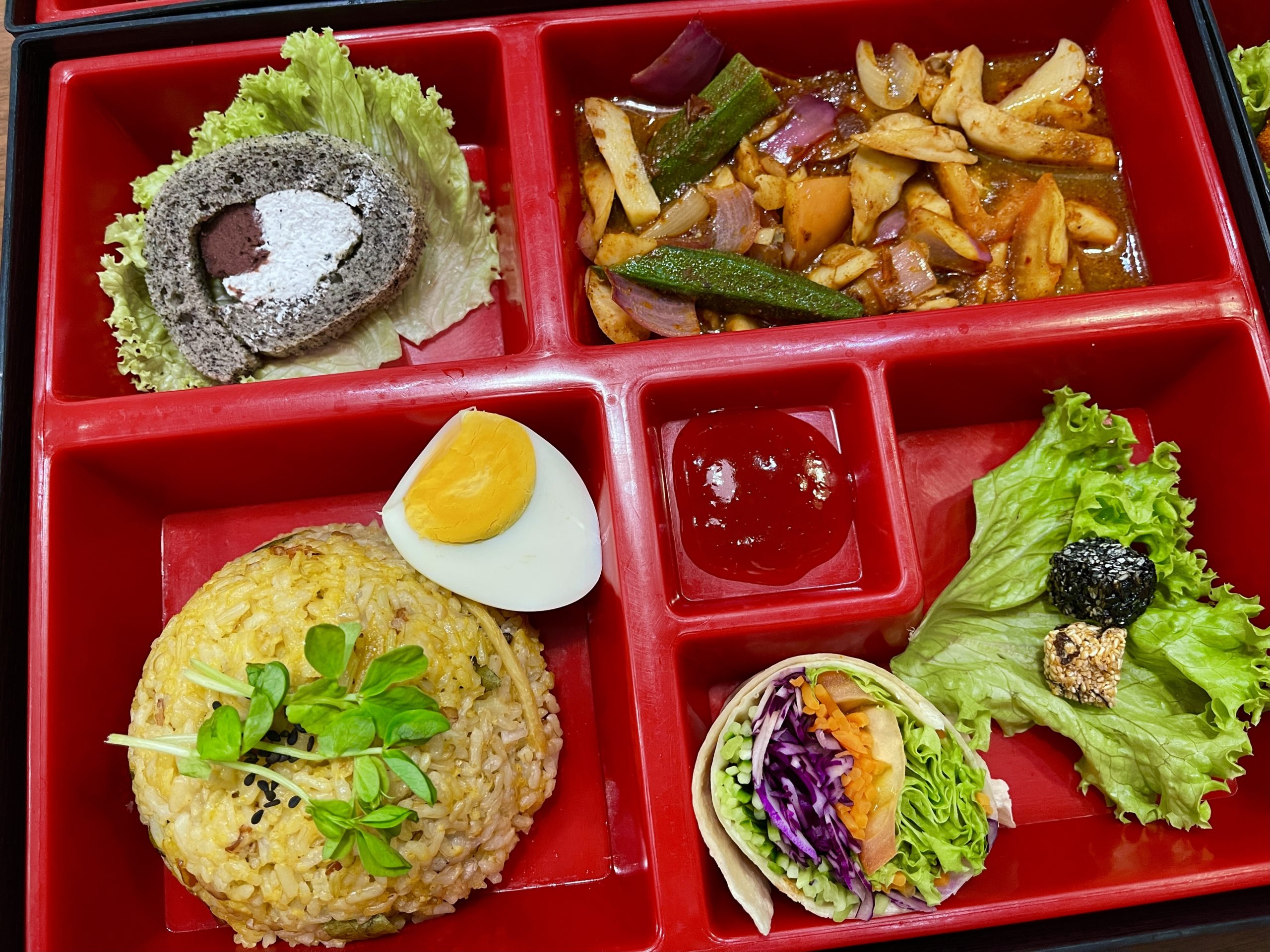 And, that's not all! The Nyonya Spicy Eryngii Mushroom simultaneously tastes sweet, sour, spicy, salty and will definitely stimulate your appetite. All the bento sets come with a veggie wrap, black and white sesame cubes, and a dessert too! For the vegetarian sets, you will be getting a slice of swiss roll while the vegan ones come with vegan almond pumpkin cake. They are not only packed with flavours but also the nutrients your body craves – making it a good meal for a busy day at work.
Supplements For A Healthier You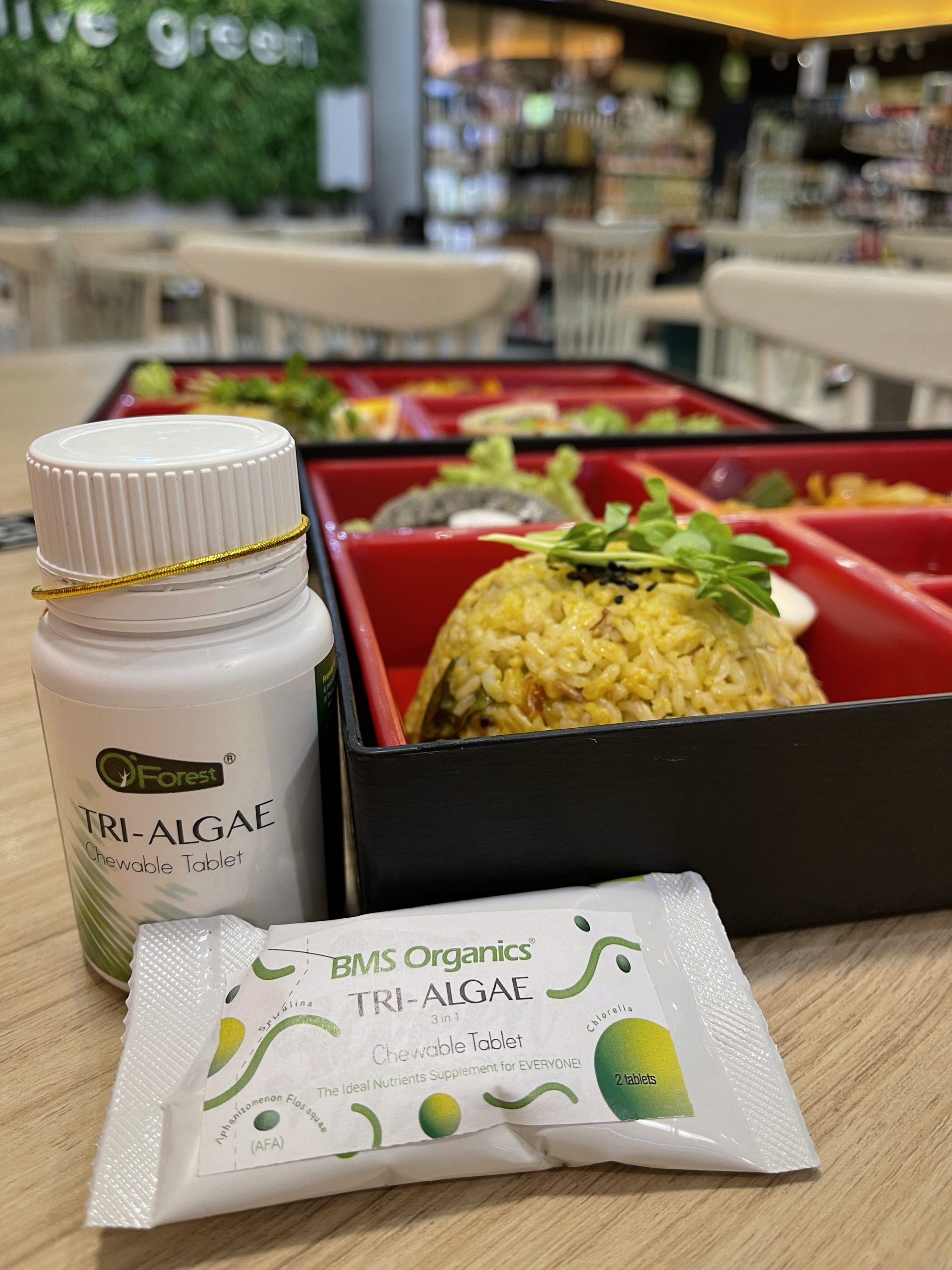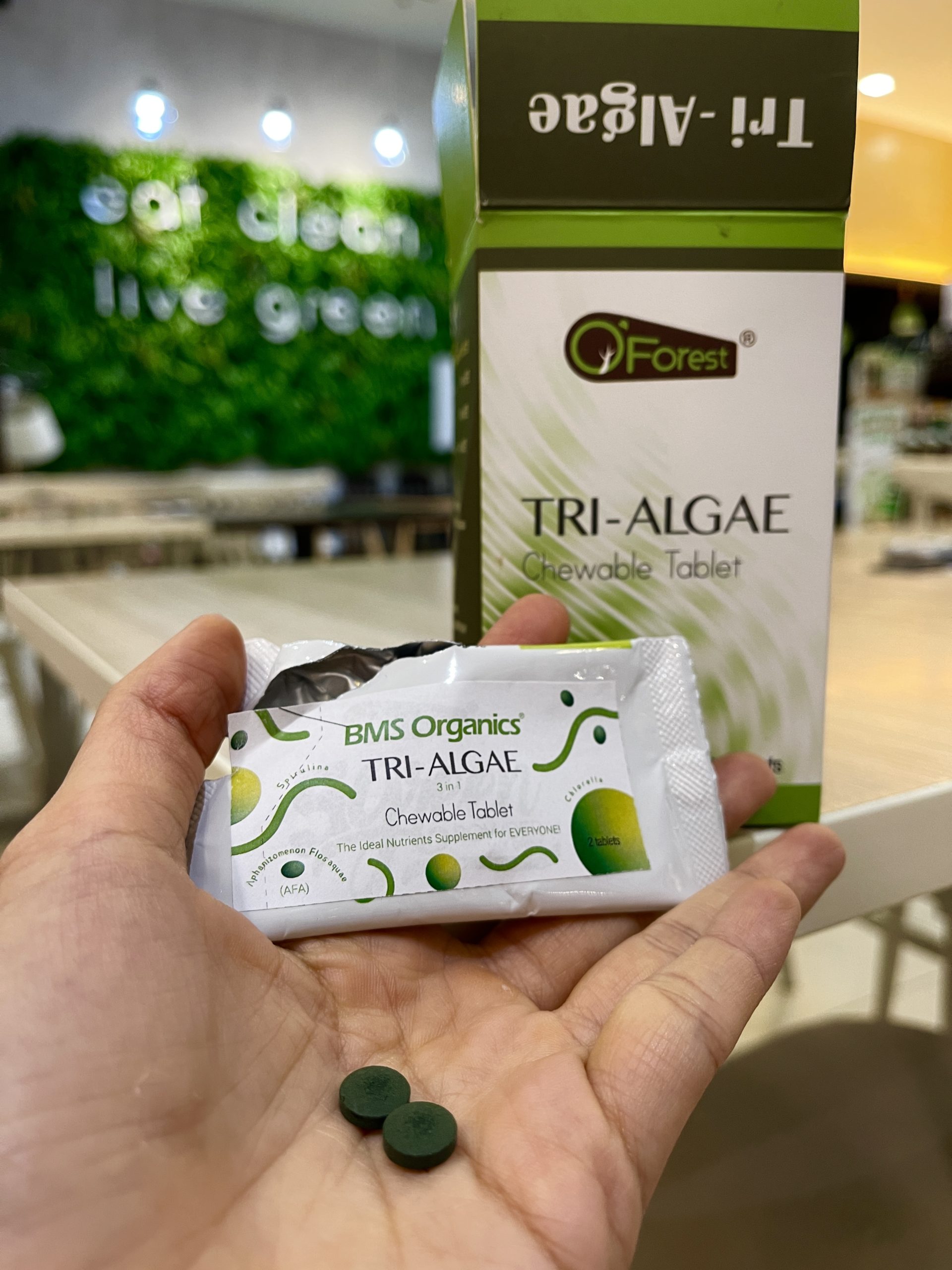 To boost your health further, all meals come with Tri Algae supplements for you to consume before you eat. Tri Algae is a type of nutrient-dense supplement made from Spirulina, Chlorella, and Organic AFA. It helps the human body to kickstart the detoxification system, replenish daily nutrients, aid in liver health, slow down ageing, increase your red blood cell count and eventually prevent anaemia!
Healthy Bento For Takeouts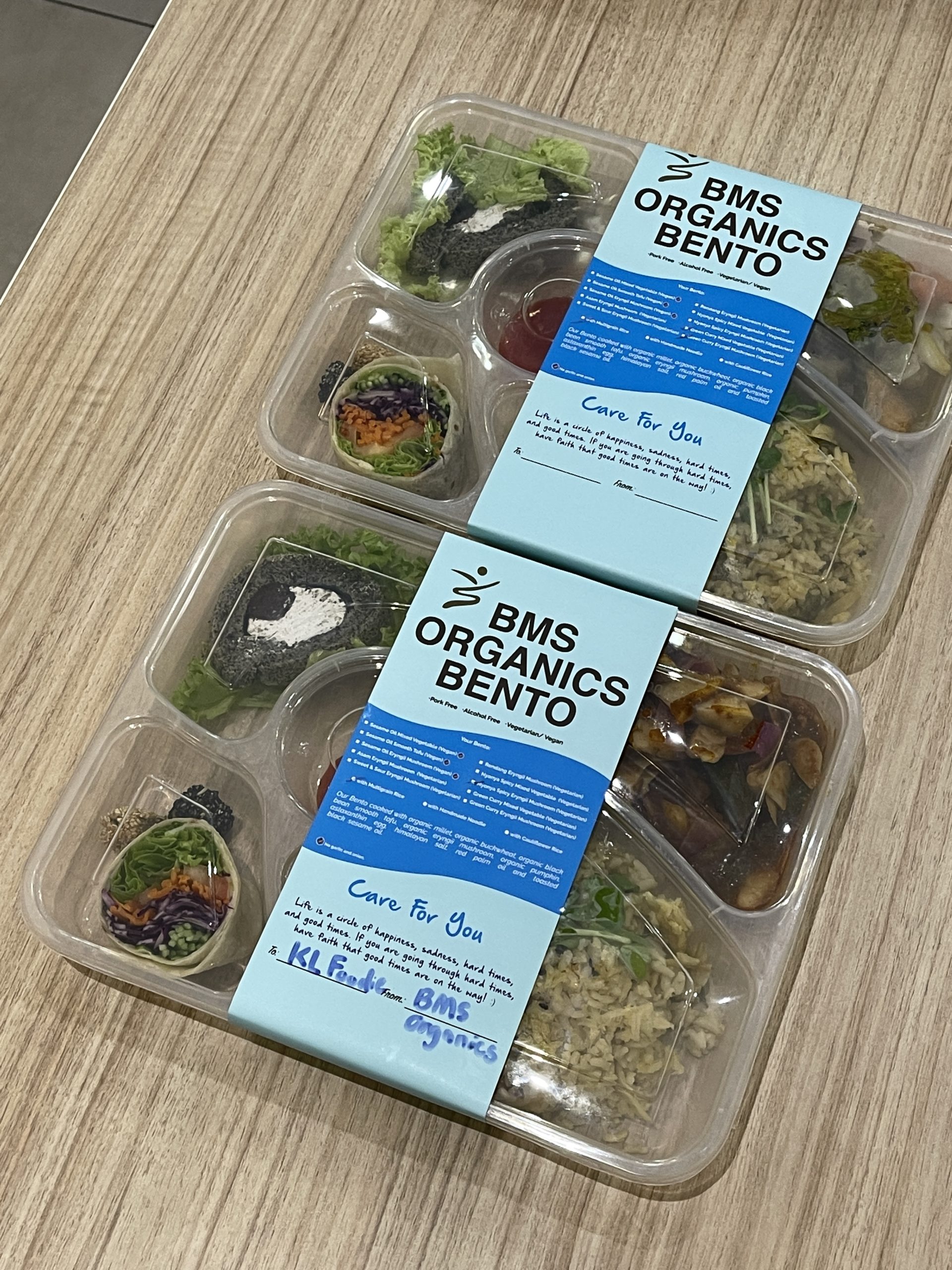 There are a total of 10 different Bento(s) available, out of which 7 are vegetarian and 3 are vegan. The only difference for the vegan bento set is the omission of eggs, onion, and garlic. Eryngii mushroom and organic black bean tofu are their two main plant-based protein sources. So, whether you are vegetarian or vegan, BMS Organics has got you covered with these colourful, delicious, and healthy bento sets!
These bento sets are definitely affordable and convenient for your busy schedule. Order yours and get them delivered to your doorstep via A La Carte (through https://bmsorganics.alacarte.my/),  GrabFood or foodpanda. Alternatively, you can order for takeaway and pick them up at the nearest outlet!
BMS Organics
Status: Muslim-friendly
Link(s): Instagram | Facebook | Website
Read: Jeremy's Chicks: Delivery-Based Chicken Rice Joint Returns After 3 Months Of Hiatus
Read also: Nutella & Go! Spotted In Malaysia & It's The Perfect Chocolatey Snack
–
We would like to invite you to join our New Private Community Group! Here you are free to ask questions, share your love for food, and explore the Klang Valley community! We will also regularly post about casual promos and the latest findings.
Click on the button below and hunt good food with us today!