It's back! The ever-so-eventful Ramadan is back and boy, aren't we all glad to greet the holy month again? The best part is, it comes with heaps of food promotions and deals! Clearly, Burger King is just as excited as the rest of us because they didn't just come up with a new menu but they also release Ramadan bundle deals and a mind-boggling contest with 24k gold as the first prize!
Burger King Rolls Out Triple Cheese Burger For The Ultimate Iftar Experience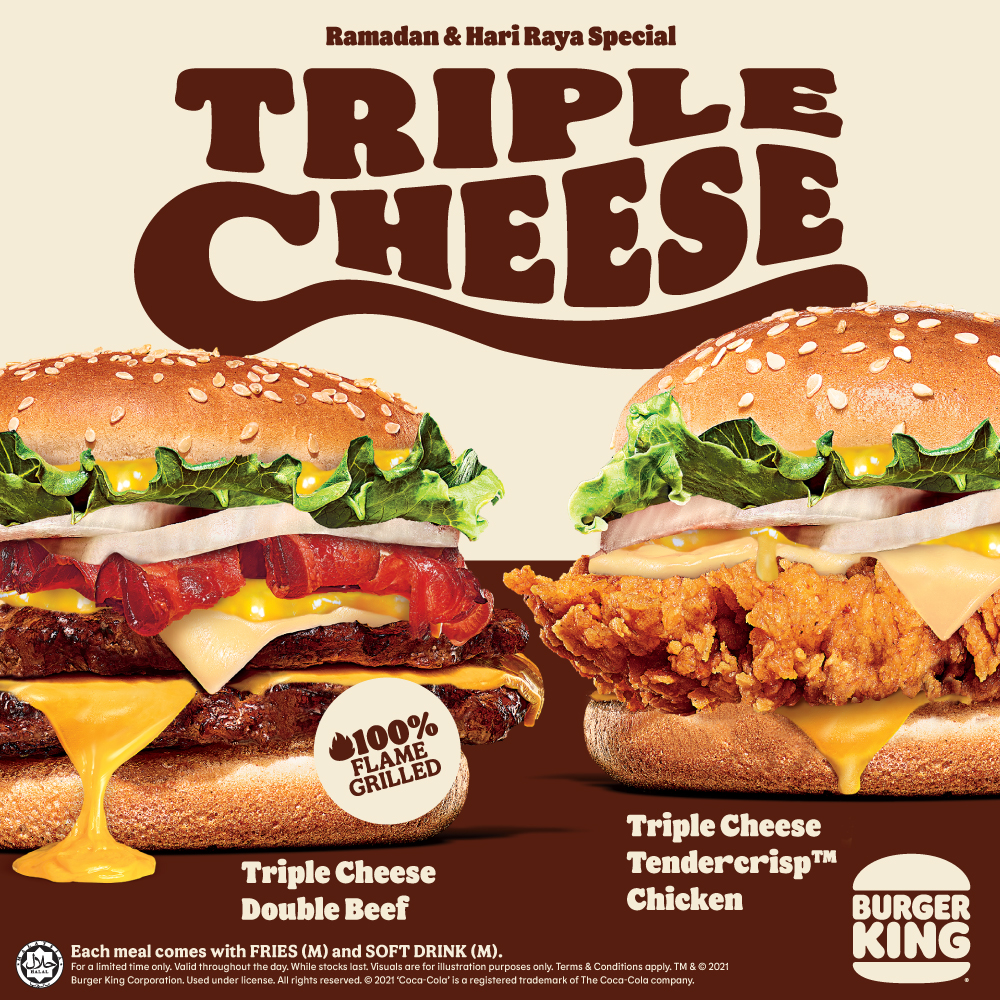 Introducing the all-time best-selling Triple Cheese burgers! A new series that will get you pumped up for Ramadan. You can choose between the ever so succulent Triple Cheese Double Beef and the indulgent Triple Cheese Tendercrisp Chicken for the ultimate 'buka puasa' experience. Additionally, these delicious burgers will be available starting 10th April – 15th May 2021 so you get to enjoy them all through Ramadan and Raya Aidilfitri!
Upsize The Triple Cheese Burgers To Win 24K Gold Coca-Cola Can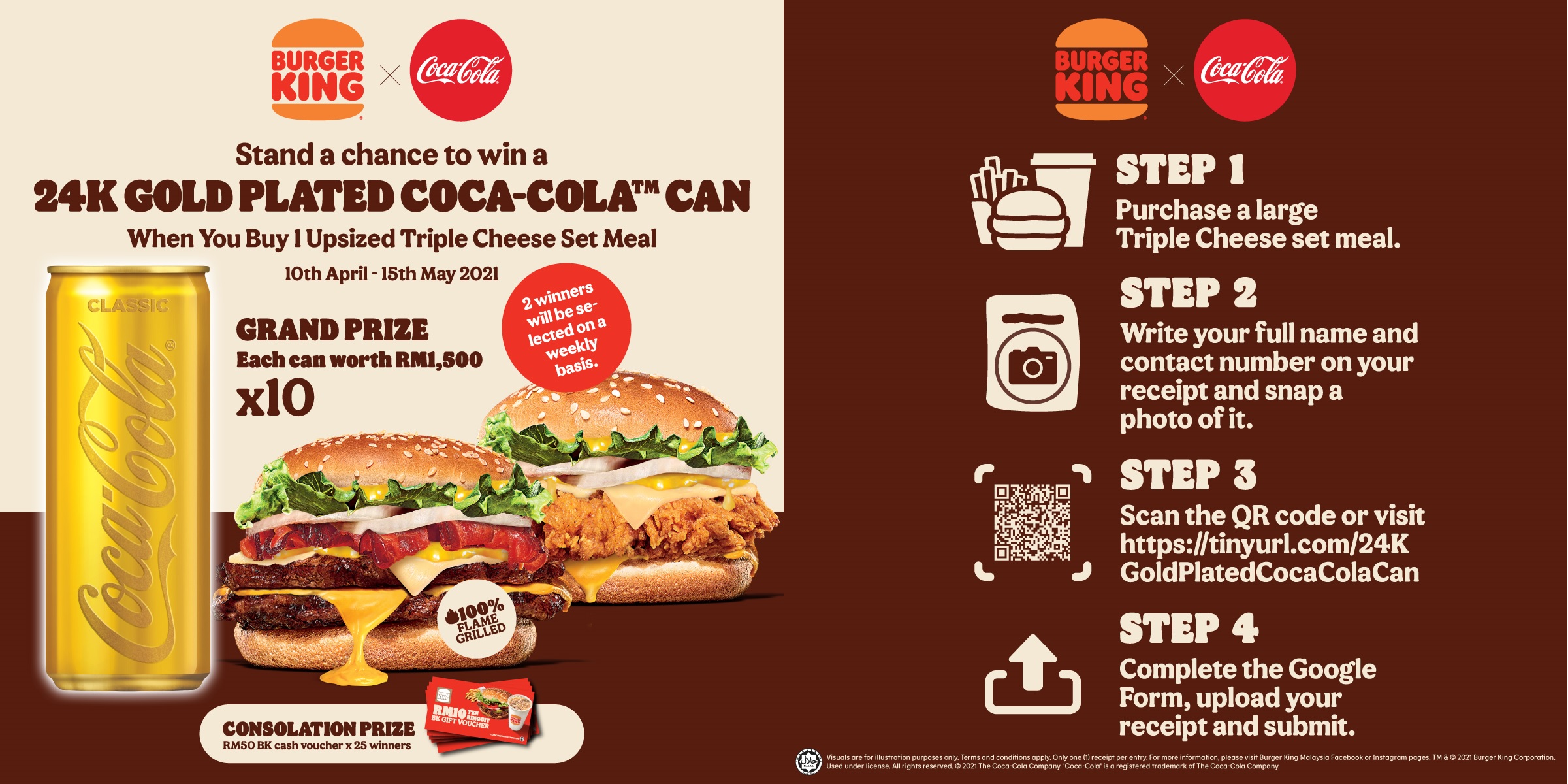 But that's not all! At the moment, Burger King is teaming up with Coca-Cola to release an out-of-the-world contest. With an upsized Triple Cheese set meal, you are eligible to win a 24K Gold Plated Coca-Cola can worth RM1,500 each! All you have to do is:
Purchase a large Triple Cheese set meal.
Write your full name and contact number on your receipt and snap a photo of it.
Scan the QR code in the poster or visit https://tinyurl.com/24KGoldPlatedCocaColaCan
Complete the Google Form, upload your receipt and submit.
Special Ramadan Bundle For A Fulfilling Iftar With The Family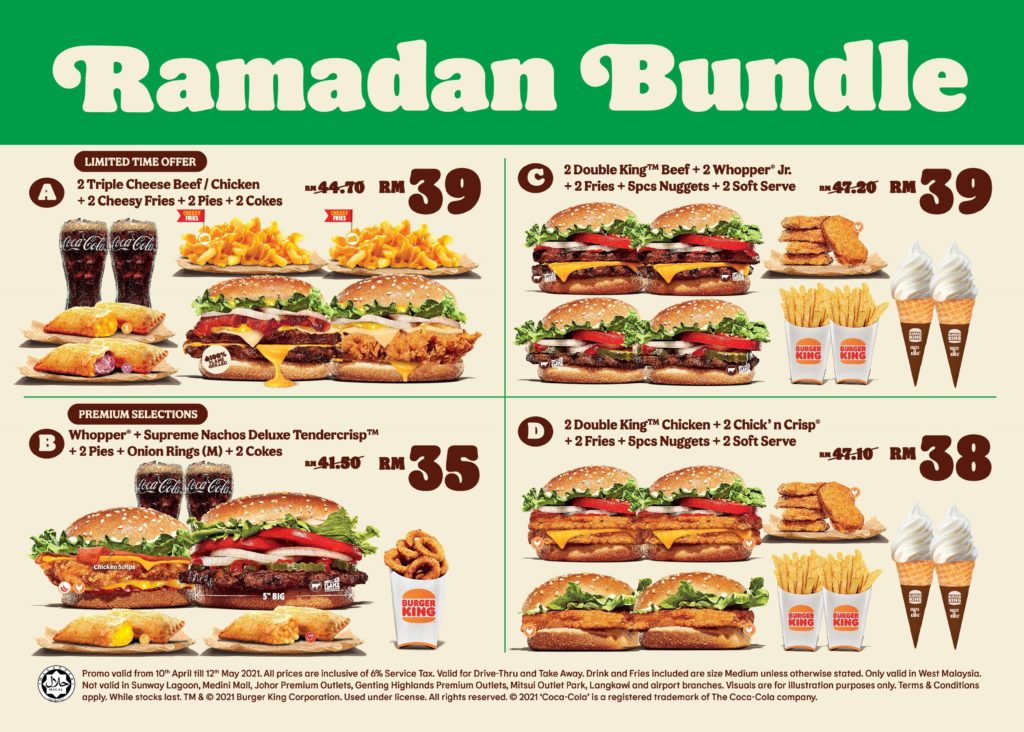 To top it all off, you might want to consider iftar with your family at Burger King because they will be releasing Ramadan Bundle! A value bundle that is best enjoyed with family and specially created for hungry diners. The value bundle will begin on 10th April – 12th May 2021. So mark the dates and don't miss out on these delicious deals. In addition, with every purchase of the Ramadan Bundle, you will get FREE 1 pack of Raya packets.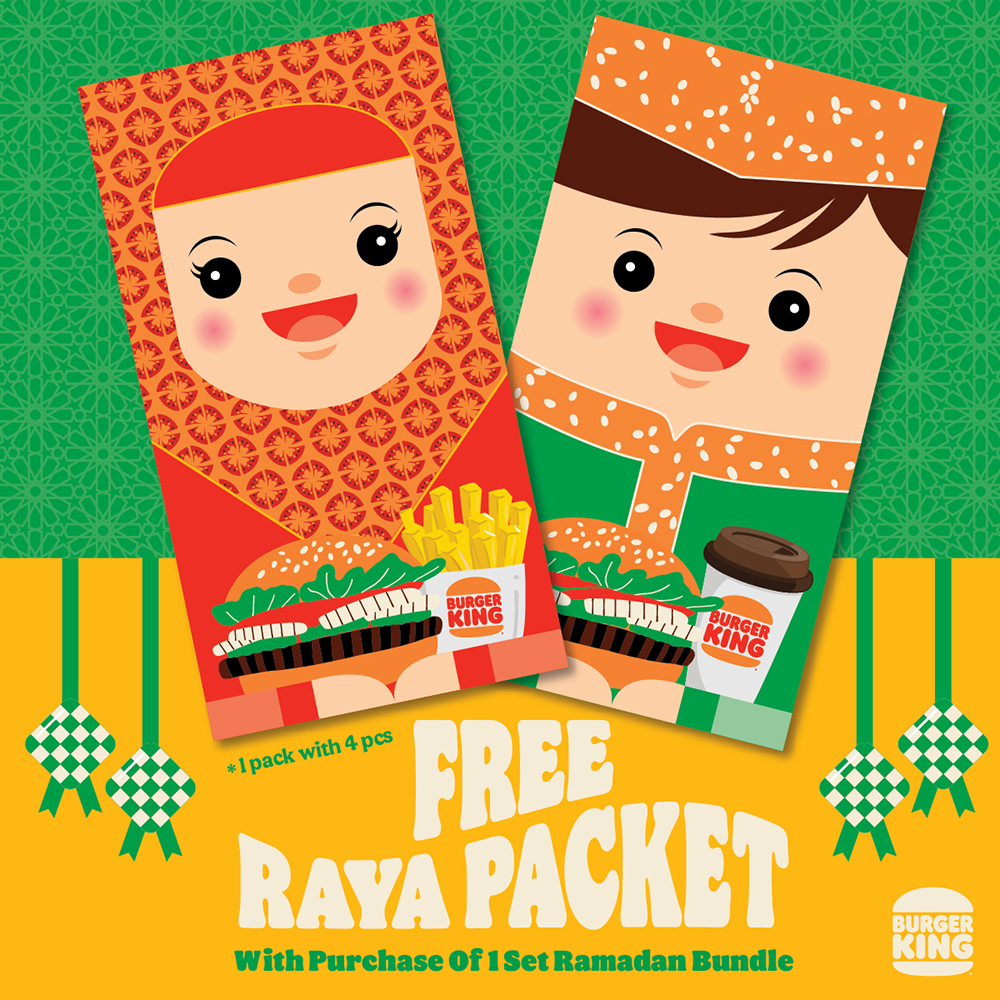 Replenish Your Energy With Burger King
It is important to eat good food during Iftar. We need the energy to power through tarawih prayers you know. So seriously, these food deals from Burger King should definitely fit the bill. Make sure to give them a try ya, happy fasting friends!
Also Read: Lotus Biscoff & Go Spotted In Malaysia & It's Perfect For Biscoff Lovers To Snack On The Go
–
We would like to invite you to join our New Private Community Group! Here you are free to ask questions, share your love for food, and explore the Klang Valley community! We will also regularly post about casual promos and latest findings.
Click on the button below and hunt good food with us today!