Hello, foodies! The pandemic has changed the way we think about hygiene and cleanliness. It has also changed the way we interact with one another. This topic especially expands to the F&B industry which illustrates both concerns of food service and food hygiene. It's no doubt that this pandemic has pushed F&B business owners to rethink or shall we say, re-strategise their operating procedures to a point of ensuring their customer's safety and more importantly – the safety of their own employees and, the business in the long run.
We wonder what it is really like behind the scenes of running an F&B business at a time like this. And, that is why we will be sharing with you some thoughts from a local F&B manager on what its like to run a steamboat restaurant during a pandemic! Check out this interview below with Amanda Wong, from Coco Steamboat!
F&B Manager From Coco Steamboat Shares Her Thoughts On Running A Steamboat Restaurant During A Pandemic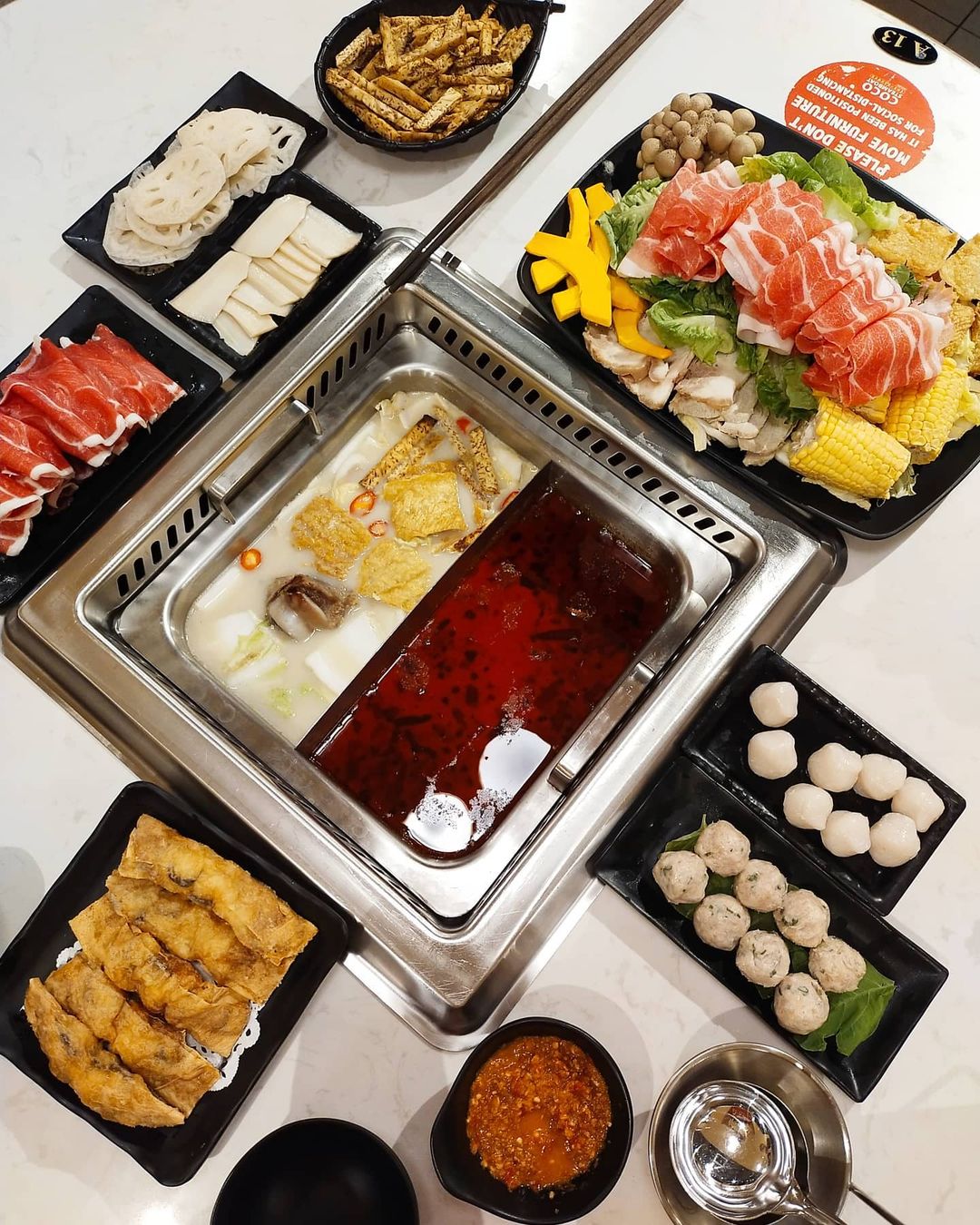 Pre-pandemic, steamboat and hotpot restaurants are usually packed to the brim and it always looks like a busy F&B scene. Many of us love eating steamboat and it is usually food that we enjoy outdoors. Meaning to say – we usually dine-in for it. Since the pandemic, steamboat restaurants had to heavily rely on takeaway and delivery to sustain their business. And, a large part of that was ensuring the quality transfer and experience of dining in the restaurant, and now to the homes of customers. It goes without saying that, it is one of the types of F&B business that had to drastically shift their strategy in order to survive.
An Interview with Amanda Wong, Business Development Manager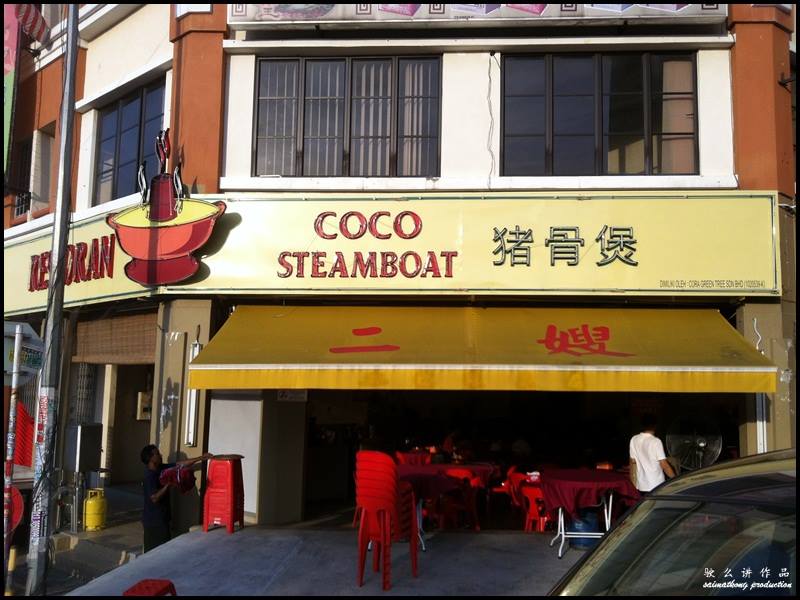 Ray Chel: Hi, could you please state your name and position at Coco Steamboat?
Amanda: Hello, my name is Amanda Wong. In name, I am a Business Development Manager, but we are a local family-run steamboat business which started 16 years ago. Because we are a small local family-run business, we do everything from operations to marketing, procurement and more, all together. I came back to help the business in 2019 because I saw potential in bringing my dad's legacy forward and to share our love for food to more people.
Ray Chel: Prior to this pandemic, it is obvious that a steamboat or hotpot restaurant heavily rely on walk-in customers and in-restaurant dining. How has the pandemic affected your business as a steamboat restaurant specifically?
Amanda: The pandemic has hit us badly. Prior to this in early 2019 and after 15 years in this business, my dad and I decided to revamp our concept to bring a better and more comfortable space to our customers. We moved to a bigger fully air-conditioned dining lot at Old Klang Road, in Scott Garden – with hopes in bringing a better dining experience to customers. I was hopeful and could not wait to kickstart the plan that I had for Coco Steamboat. Fast-forward to our opening in December 2019, we operated for less than three (3) months and we were hit by an unprecedented and unheard crisis called the "pandemic". My dad and I have never encountered such a crisis before and we didn't know what to do. It was plenty of sleepless nights, mainly because we didn't know how to operate when the only way we knew how to (in-restaurant dining) was taken from us. It took awhile but we eventually got on online platforms and kickstarted takeaway and delivery. But to be honest, it was really hard in the beginning because when you're in a hotpot business, you'd expect to mainly cater to walk-in/ dine-in customers, and sometimes, we could barely keep our head above the water.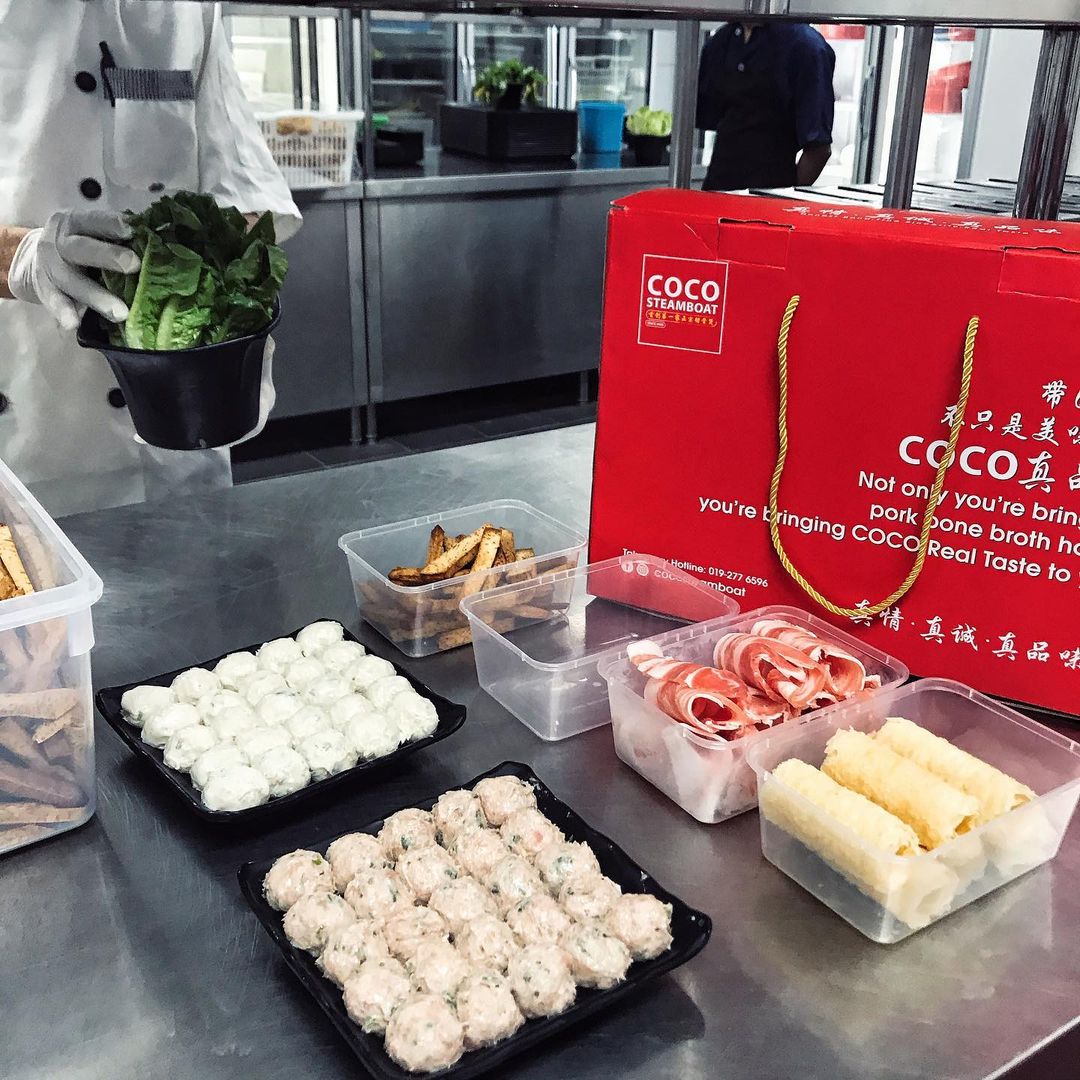 Ray Chel: What are your thoughts on this current operating system during this pandemic? Do you think it is enough to rely on takeaway and delivery orders?
Amanda: To be honest, from takeaway and delivery alone – it isn't enough for us to sustain the business because hotpot is not something that we can conveniently have when we are working or when we are in a rush because it has more meaning to it. Steamboat brings people together to celebrate, to catch up over food and to have a conversation with one another. Moreover, the inconsistent SOPs going on in our country does not help us to operate in a more consistent manner.
Ray Chel: Dine-in is now allowed in Klang Valley for fully vaccinated persons. As a business owner running a steamboat restaurant, are you prepared for this and will you open for dine-in (even if numbers are still high)?
Amanda: We're actually shocked with the premature dine-in announcement when the cases are still somewhat at its highest. For the sake of our staffs and customer's safety, we will not be opening our doors to dine-in until further notice. We look forward to welcoming back our customers soon but we want to make it safe for everyone to enjoy steamboat too!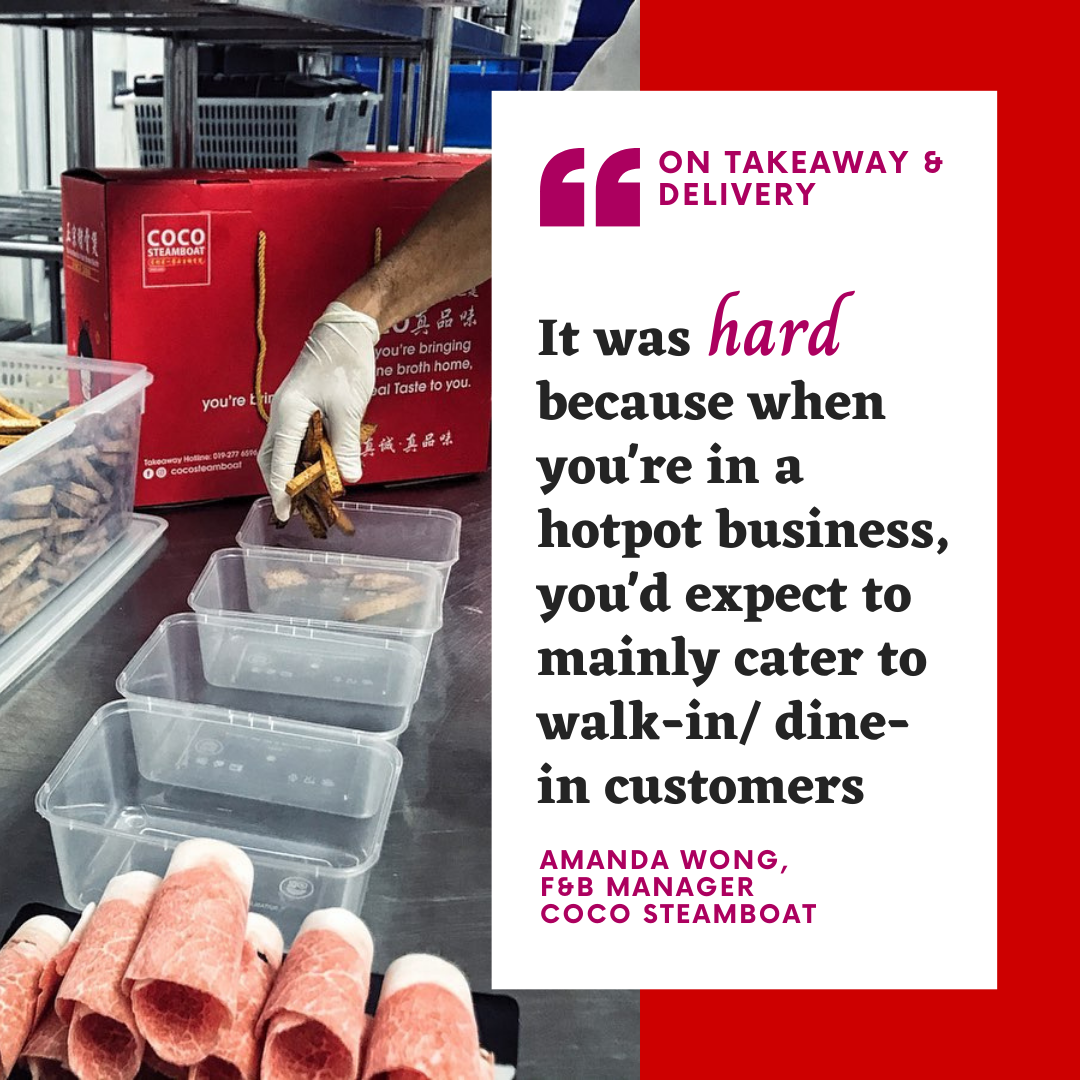 Ray Chel: Steamboat is usually a meal shared between people. Moving forward, what difficulties or struggles do you foresee in running this business and how will you adapt to ensure the safety of your customers and your staff or business?
Amanda: We recently joined a pay-it-forward initiative #ProjekSatuHati to help our business stay afloat and to help the marginalised community with hot food. We are on our fourth (4th) week now, and we have prepared over 400 meals for the marginalised community. With this initiative, we are able to keep our staff employed by making delicious hot foods for people in need during this hard time. That's what we've been doing so far, and because it's been good, we'll try to continue this moving forward.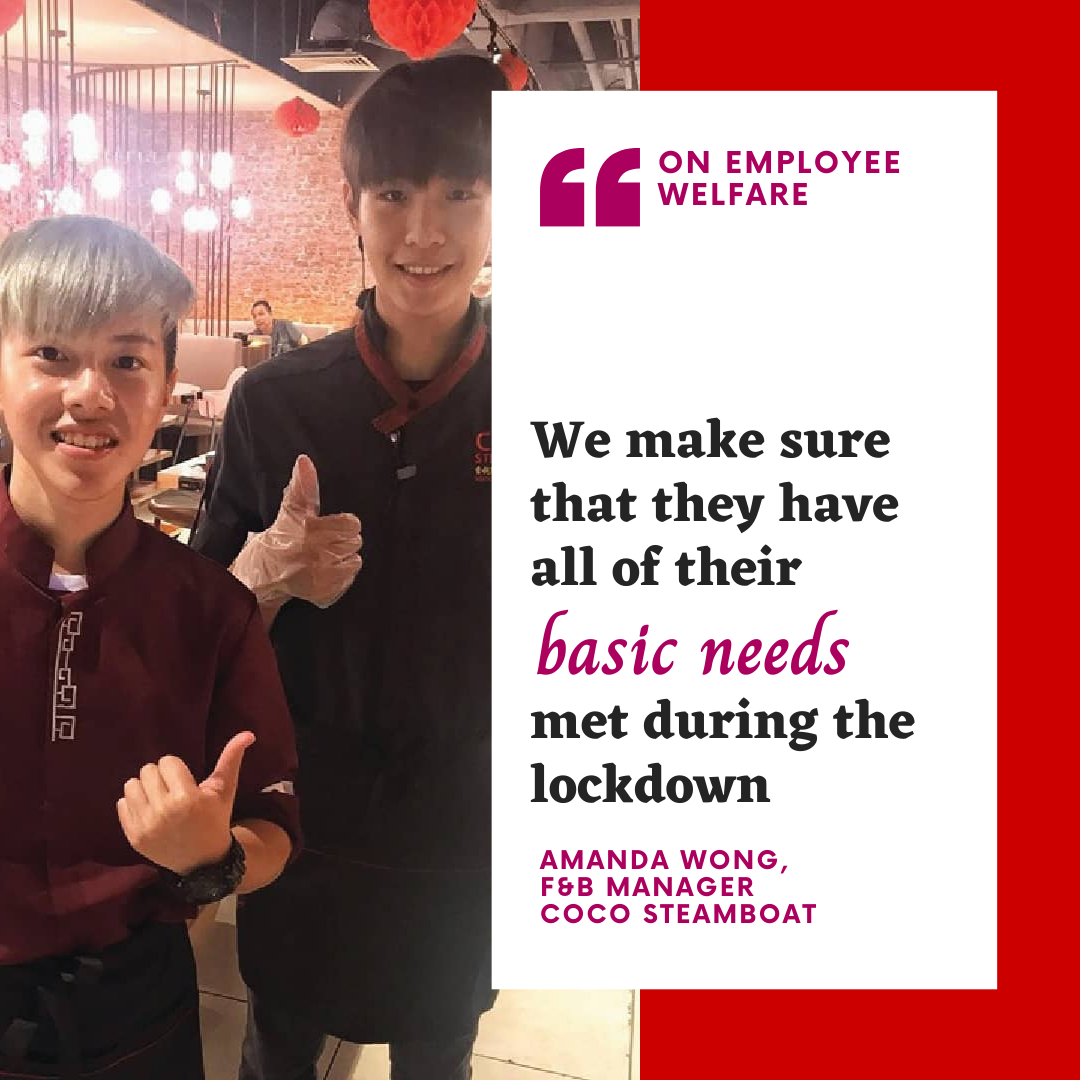 Ray Chel: How has your staff been enduring the pandemic? How do you keep them motivated and protected?
Amanda: It's been hard for them. Some of them miss home so much but they can't go back. So, we make sure that they have their basic needs met during the lockdown when dine-ins were not allowed. Also, we ensure all staff are vaccinated to get themselves prepared to get back on track when we reach herd immunity. In fact, some of them just got their second dose just a few days ago.
Ray Chel: F&B owners make most of their revenue from dine-in customers. Now that times are as such, what is your advice for other F&B owners in the hotpot and steamboat business such as yourself?
Amanda: It's been tough on all of us. But, I would say that it's a time to pivot our business and be proactive to look for other sources of income. Perhaps, it is even a good start to come out with a sub-brand that will help sustain your main business.
Coco Steamboat Will Reopen For Dine-In Soon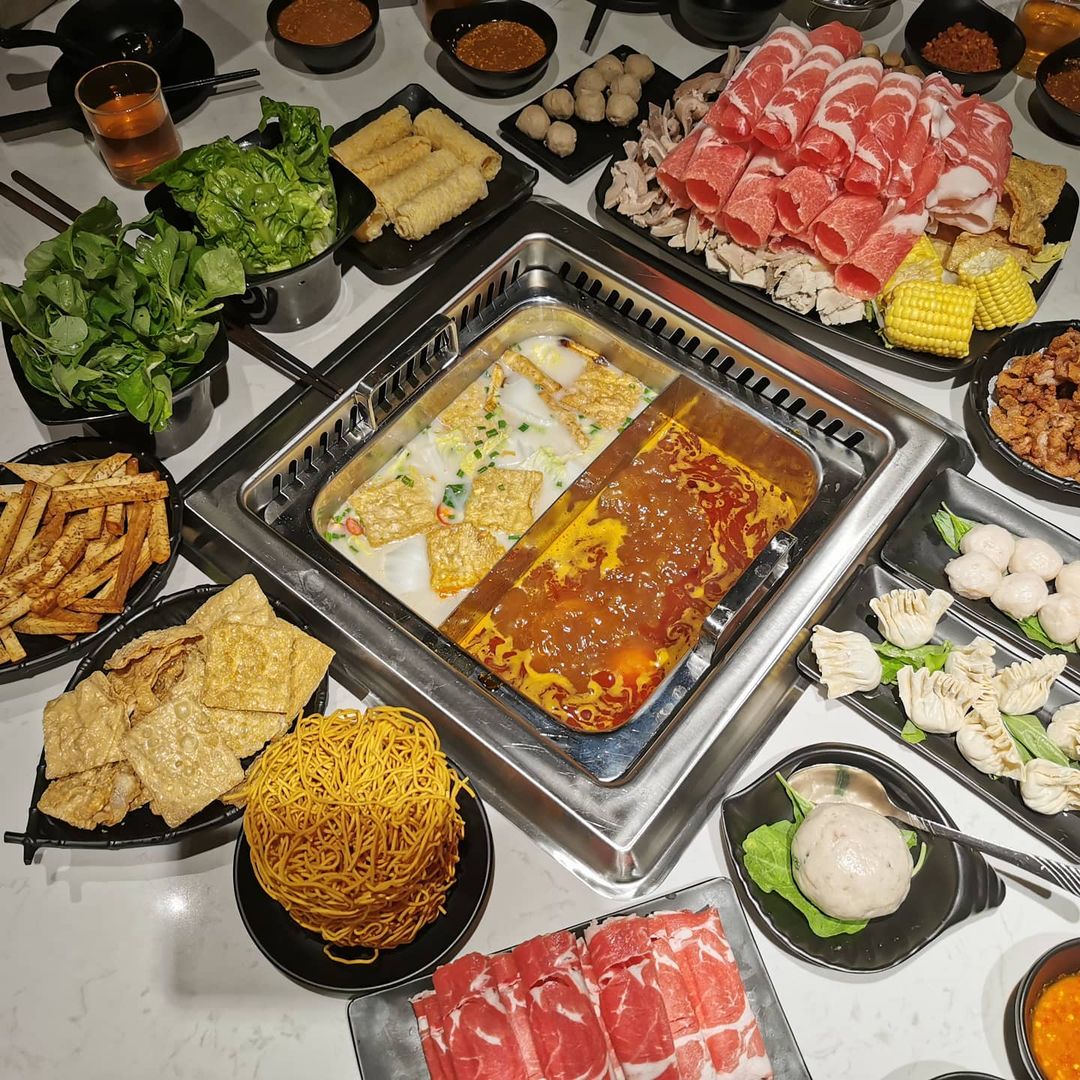 You heard it here first – most of Coco Steamboat's staff will be fully vaccinated soon and that's certainly good news! It is great to see hotpot restaurants like Coco Steamboat take the initiative to ensure as well as prioritise the safety of their employees. And, in the long run, we as customers can then rest assure that our dine-in hotpot experience is also a safe one. Do you miss having Coco Steamboat with your friends and family? We bet you do! But for now, we will all eagerly wait till they reopen for dine-in again. In the meantime, you can still support them via takeaway and delivery to satisfy your hotpot cravings!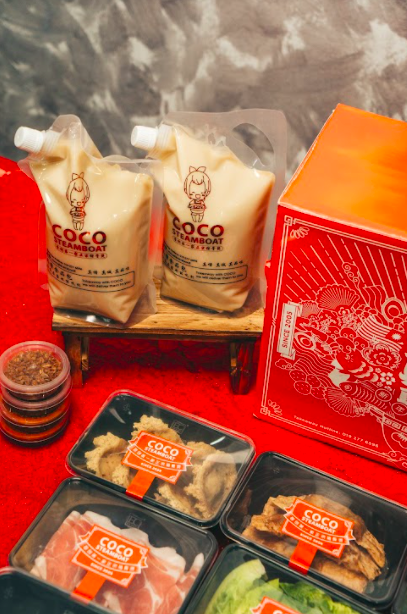 To order now (pickup or delivery), click here
Coco Steamboat Scott Garden
Address: Lot 1-01-A Scott Garden ,289, Old Klang Road, 58000 Kuala Lumpur
Opening hours: 12pm – 10pm (Daily)
Coco Steamboat Cheras Taynton 
Address: 25, Jalan 1/119, Taman Bukit Hijau, 56100 Kuala Lumpur, Wilayah Persekutuan Kuala Lumpur
Opening hours: 12pm – 10pm (Daily)
Link(s): Website | Facebook | Instagram 
READ Too Yumm Delivers Premium Sashimi & Fresh Seafood & Here's Our Thoughts After Trying
Now Playing, Catch New Episodes Every Friday At 7PM
New Shopee Deals: https://shp.ee/mwksseq
Lazada Everyday Low Price https://lzd.la/page
–
We would like to invite you to join our New Telegram Group! We will regularly post about good food, casual promos, giveaways, and interesting findings in Malaysia.