On this little island that experiences summer all year round, Malaysians are always scrambling to find ice-cold desserts for respite. Over the years, there have been many new dessert cafes popping up, serving Instagram-worthy dishes or novelty desserts to attract customers, but one can say that after all the boujee gelatos and waffles some things are best kept original. So here we are with Top Malaysian Desserts In Kl Under RM10.  Who says no to two best things in the world: Sweet and Cheap!
#1 Apom Balik @ Ah Loh's Apom Balik
Average Price: RM1.20 
You have the larger, softer pancake with a honeycomb-like pattern from the use of a rising agent like baking soda in the batter of eggs, milk, and flour. Then there are the crispy and crunchy ones that are small in size and well crunchier. One bite of a freshly-made appam balik and we reckon you will want more of the fluffy pancake filled with peanuts. Usually, it's sold as a breakfast item at stalls found in morning markets or as a snack when it's sold in the afternoon or at the night markets.
Stationed outside Koon Kee the vintage food cart is full of sweet surprises. For an after-lunch treat to take back to the office, get one (or two) of Uncle Ah Loh's Apam Balik (RM1.20). Made deftly on the spot, these local-style pancakes are soft and pillowy in the center while crisp on the edges. Peanuts are poured lavishly into the folds, alongside sugar that helps perfect its pleasantly sweet flavor. For a change from the classic, let Uncle recommend (in perfect English!) his grated coconut topping or the pandan-flavored pancakes, which tempt with a bright green color. Whichever you end up with, it will come fresh off the stove, cleaved into neat, thick triangles that are warm to the bite.
Address: Stall at Jalan Hang Lekir (off Jalan Petaling), KL.
Hours:1 PM  to 9 PM (Mondays to Fridays), 11.30 AM to 9 PM  (Saturdays and Sundays)
#2 Fruity Shaved Ice @ 939 Shaved Ice
Average Price: RM 6 & MORE
Locals trickle in here for a light snack of assorted Yong tau foo and a bowl of shaved ice to cool down. There are all kinds of fruit variations, like mango, dragon fruit and the list goes on. You also get a bubur cha-cha version with yam cubes. Even though the ice tends to be quite rough, the ais kacang is full of goodies like soft cooked red beans, cendol, cincau, creamed corn, and peanut. All of his goodness for less than RM 10. Yes Pleaseeee!
Address: 
1171e, Jalan SK 6/1, Kampung Baru Seri Kembangan, 43300 Seri Kembangan, Selangor
Hours: 11 AM to 11 PM. Closed on Tuesday. 
#3 Tau Fu Fah  @ Kim's Soya Bean
Average Price: RM 1.60 to RM 7.  
What's Tau Fu Fah? Smooth soya glaciers lounging on a sugary ocean, Tau Foo Fah or beancurd pudding is a comfort snack craved by all walks of life. Smooth, silky, and slithery, the Tau Foo Fah comes at many times of the day, be it for dessert, tea time, or perhaps a body coolant to duel the dry weather. Diagonally opposite Hong Leong Bank in Petaling Street is Kim Soya Bean. Small and unsuspecting, you probably wouldn't even notice it unless you looked for it. This small stall sells tau fu fa (RM 1.60 per bowl; RM 2.00 per box), Soya Bean a.k.a soy milk (RM 1.50 per cup; RM 1.60 per pack; small bottle RM 2.50; Big Bottle RM 7.00) and Soy Milk with Herbal Jelly (cincau) at RM 1.90 per cup or per pack. With over 70 years of history in the making, one can expect a balance between smooth tau fu fa and the rich, thick, undiluted black sugar syrup at Uncle Kim Corner!
Address: 
49, Jalan Petaling, City Centre, 50000 Kuala Lumpur, Wilayah Persekutuan Kuala Lumpur

Hours: 11 AM to 10  PM
#4 Muah Chee  @ Madam Tang Muah Chee
Average Price: RM 5 
Mochi/Muah Chee is a traditional rice cake dessert that originated in Japan. Made from glutinous rice that has been kneaded and shaped into large cubes, the pieces of mochi are then cut into tiny cubes with a large slate/blade. Madam Tang's voice has echoed through Petaling Street for years, telling of her legendary handmade muah chee (glutinous rice balls). Located by Jalan Hang Lekir's cross-junction, her run-down pushcart is easily picked up by the repetitive chant coming from a loudspeaker: "Yat lau yat lau, wat luet luet", which translates in Cantonese to mean "Top quality, silky smooth muah chee".
Her Muah Chee (RM5 a box) is prepared daily, and upon order, gets a generous coating of finely chopped peanuts. Texture wise, these larger-than-usual chunks are perfection — soft but chewy at the same time. Though the original remains a treasured choice, Madam Tang also makes her muah chee in locally-inspired flavors like Ribena, pandan and the fruity lychee. This will make a stellar stop after a satisfying meal in the area.

~Tripadvisor ~Facebook
Address: Jalan Petaling, City Centre, 50000 Kuala Lumpur, Wilayah Persekutuan Kuala Lumpur
Hours: 9.15 AM to 3 PM. Opens daily. 
#5 Indian Sweets @ Dalbir Sweets Corner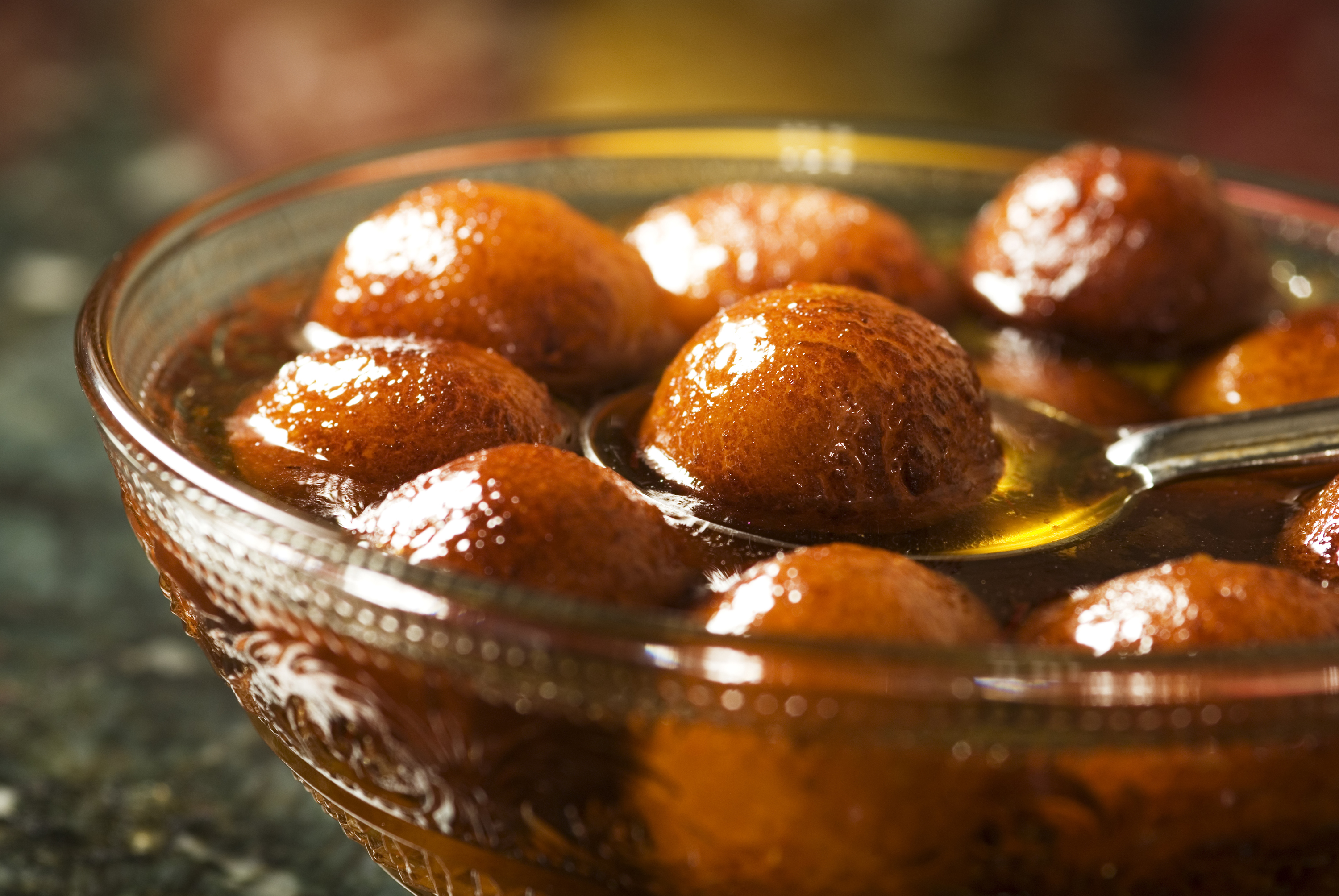 If you want ladoo, there are four different flour-based types to choose from, namely sugee, motichoor, boondi and dried fruits. With over 30 years of experience and passion through her hands as she makes them from scratch, Mrs Dalbir Kaur has the best sweets ranging from classic Punjabi sweets like barfi and jelebi to such staple South Indian delights as mysore pak, the sweets stall boasts an offering of 14 traditional candies that are made daily.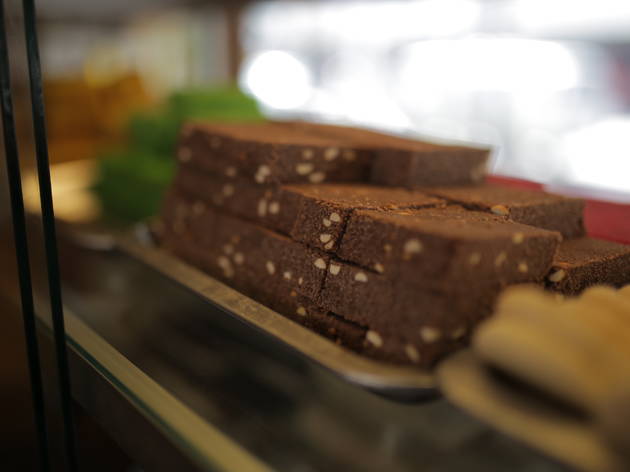 With Dalbir's offerings reasonably priced between RM1 and RM3, customers should try her other sweetmeats like the crispy and flaky soan papdi dessert or the colorful coconut candy.
Address: Gerai Makanan No 8, Lorong Madura off Jalan Tengku Kelana, Selangor  41000
Hours: 8 AM to 9 PM. Opens daily
Phone: 0166520036
#6 Gula Sagu Melaka @ Old China Cafe
Old China Cafe, located on Jalan Balai Polis, is famous for its Baba Nyonya cuisine which features interesting fusions between Straits Chinese cooking and Malay delicacies. One of Old China's best-sellers is the all-time favorite, Sago Gula Melaka which consists of plump-up sago, coconut milk, and gula Melaka (dark palm syrup). Priced at only RM7.90, the combination of rich coconut milk and sweet Gula Melaka is a perfect palette-cleanser after a heavy lunch or dinner.
Average Price: RM7.90 
~Facebook ~Tripadvisor
Address: 
11, Jalan Balai Polis, City Centre, 50000 Kuala Lumpur, Wilayah Persekutuan Kuala Lumpur
Hours: 11 AM to 11 PM. Opens daily 
#7 Pisang Goreng (Banana Fritters ) @ Pisang Goreng OUG
Average Price: RM 1
Make a beeline for OUG's favorite teatime snack! Run by an elderly couple, this food cart that embellishes Jalan Hujan Rahmat 5 every afternoon doles out delicious Pisang Goreng (RM1). What makes their pisang goreng a prized piece is their generous use of whole bananas — dipped into batter and then deep fried. The result is crunchy decadence, oozing with sweet banana flesh. Weekend afternoons will warrant a wait, but it also means you'll be one of the lucky few to get your orders fresh off the wok. While you're at it, give that sweet tooth a treat with their Fried Nian Gao (RM1.30) and Sweet Potato (RM1).

Address: Jalan 16, Taman Overseas Union, 58200 Kuala Lumpur, Wilayah Persekutuan Kuala Lumpur
Hours: 10.30 AM to 6 PM. Opens Daily.
#8 Bubur Cha Cha/ Tong Sui @ Hong Kee Desserts
Average Price: RM 1.20  to RM 3.00 
With over 20 types of tong sui ( any sweet, warm soup or custard served as a dessert at the end of a meal in Cantonese cuisine)  with a price tag of not more than RM 5, one gets to go on a thirst quench ride on bowls of  bee koh moi (black glutinous rice porridge served with coconut milk), gandum (pearl wheat porridge with palm sugar) and bubur cha cha (pearl sago, sweet potatoes, yams, bananas, black-eyed peas cooked in coconut milk). The best part is customers can choose from a wide variety from the menu, including some of their own creations and also between hot and cold dishes all for the same price. It's all the way 'go big' here!
~Facebook
Address: 
1082, Jalan 17/29, Seksyen 17, 46400 Petaling Jaya, Selangor

Hours: 5 PM to 11.30 PM
#9  Mini Egg Tarts @ Tai Zi Ta Mini
Average Price: RM0.90 & it won't stop there! 
Tan Zi Ta mini egg tarts are small tartlets filled with a burst of eggy custard flavor. Pop one of these mini egg tarts in your mouth and it'll be hard to stop at one especially when it's hot from the oven. The crust is reminiscent of puff pastry and slightly harder compared to the ones made with lard. Priced at RM0.90 per piece, you don't need to be asked twice to gobble up a few pieces in one sitting. Popping out of the oven with the silken texture of the fillings is light, with a flaky crust to complement the taste, take It all in a bite and get to the next one!
~
Facebook
Address: Jalan Bunga Mawar 2, Taman Muda, Cheras, 56100
Hours: 10 AM to 10 PM. Opens daily.
Phone: 
012-660 4616
#10 Nyonya Kuih @ A'Han Nyonya Kuih
Average Price: From RM1.20 
The PJ Hood are probably well-versed with this shop and no stranger to this when craved! The decades-old shop has not abandoned its trade and continues to make a plenitude of fresh Nyonya kuih daily. The Pulut Tai-Tai (RM1.20) is fantastic when eaten with their thick and eggy homemade kaya, and so are the Kuih Talam (RM1.20), Kuih Lapis (RM1.20) and bright-orange Ang Ku Kuih (RM1.40). Pouring their hearts into the delicate craft of making these dainty delights, A'Han is takeaway-only but owner Mrs.Lim is completely fine with it if you choose to gobble your spoils down on the spot. Pro tip: Drop in early for your teatime provisions. These goodies sell out by 3 pm!
~Tripadvisor ~Facebook 
Address: 
16, Jalan 21/22, Sea Park, 46300 Petaling Jaya, Selangor
Hours: 9 AM to 5 PM. Closed on Monday