It has been the longest time since any of us have stepped out of the country for a holiday. If you are a foodie, Taiwan is one of the best places to visit. With cultural influences from different parts of the world, Taiwan is never short of interesting eats. Have a look at its famous night markets! It stretches out as far as the eyes can see, greeting with street food dishes that will tickle your taste buds.
10 Michelin Bib Gourmand Street Food In Taichung
As the second most populous city in Taiwan, Taichung is a must-visit for remarkable cultural sites and delicious food! The major cultural hub is the home to the National Museum of Natural Science, the National Taiwan Museum of Fine Arts, Taichung Park, Lin Family Gardens, and many intricate temples. Did you know that it is also the home to many Michelin Bib Gourmand Street Food? Save this list for later!
1. Chin Chih Yuan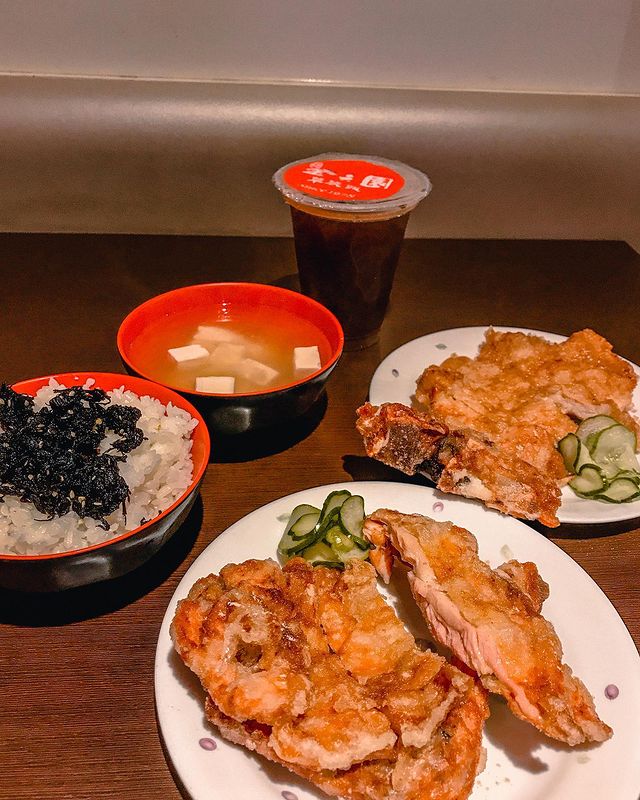 Established in 1978, Chin Chih Yuan is famous for a simple yet heartwarming dish, rice. When it first started, the rice is steamed in a soft rush-woven pouch that draws out unique aromas. Over the years, the method of cooking has changed, but the taste remains the same. The quality rice is topped with pickled potherb mustard creating a mixture of savoury sweetness. Best topped off with deep-fried pork ribs, and beef in sacha sauce!
Address: 170 Chenggong Road, Central District, Taichung, 400, Taiwan
2. Dong Shan Zhan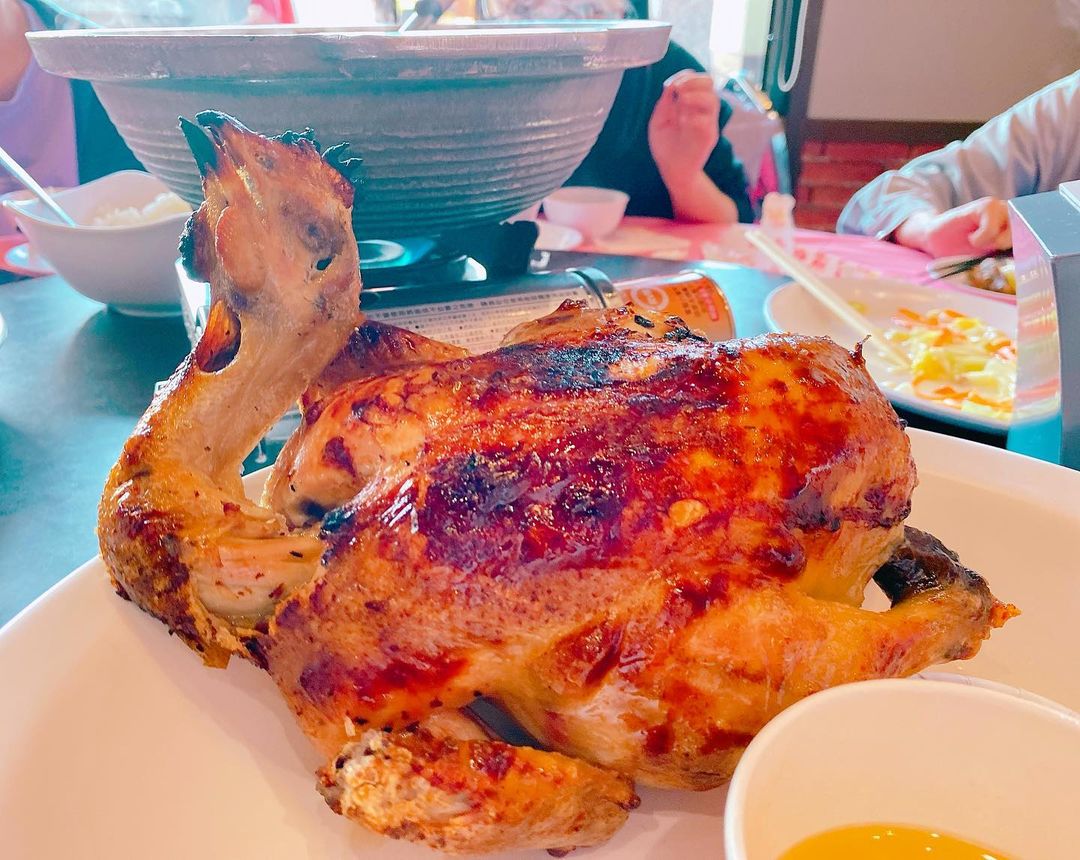 Since 1999, locals have made their way to Dong Shan Zhan for its must-try grilled chicken. The tasty dish is grilled over longan wood for an hour for its crispy golden skin and juicy silky flesh. Other delightful dishes here include drunken shrimps and veggies braised in chicken juices. Moved to a three-storey building in 2019, the latest location maintains a traditional charm.
Address: 380, Section 1, Dongshan Road, Beitun District, Taichung, 406, Taiwan
3. Fu Juang Yuan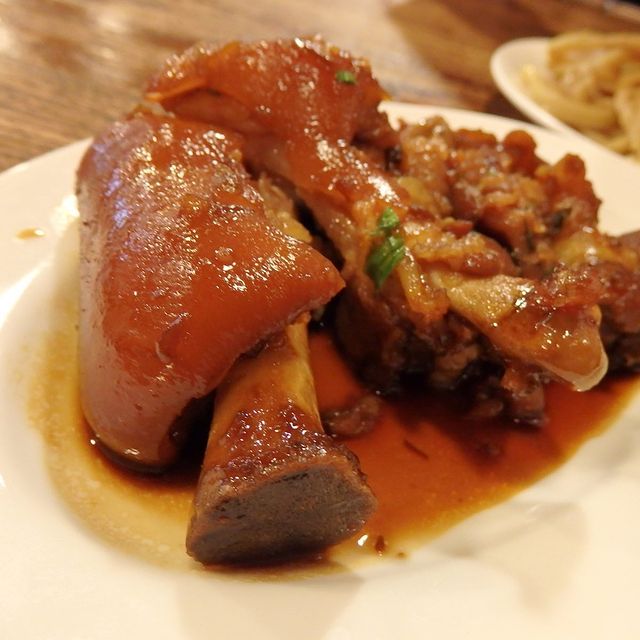 Fu Juang Yuan makes marinated pork trotters like no other. The beautiful marination shines with a combination of soy, rock sugar, chilli, and shallot. Have a bite, and you will be overwhelmed by the pork trotter's profound gelatinous texture. On the other hand, the upper leg cuts are the perfect balance between fat, skin, and meat. Top this extraordinary dish on a bed of fluffy rice, and your meal will be complete.
Address: 203, Section 1, Meicun Road, West District, Taichung, 403, Taiwan
4. Fu Kuei Ting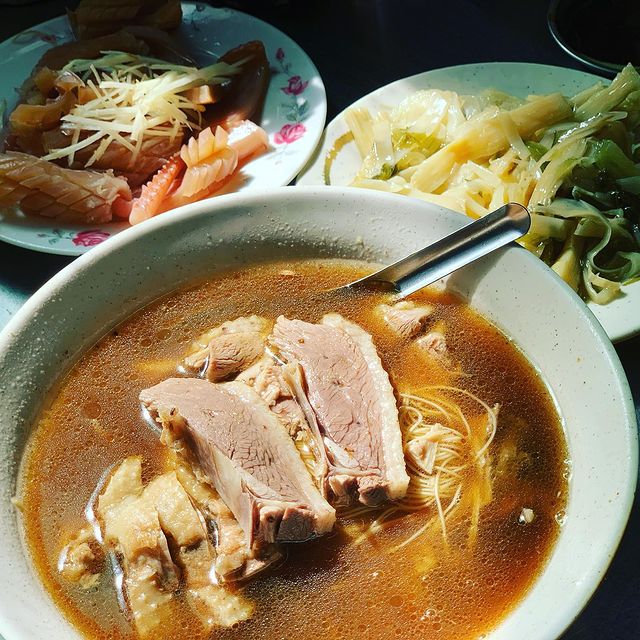 With more than 60 years of history in Taichung, locals have fond childhood memories at Fu Kuei Ting. Famous for signature goose noodle soup, the soup base is made with Chinese herb, Dang Gui, while the goose meat is notable for its springy flesh and robust flavours. It is so good that it is normally sold out in less than 30 minutes of operations. Not to worry, the duck version is equally fantastic.
Address: 31, Lane 18, Section 2, Sanmin Road, Central District, Taichung, 400, Taiwan
5. Orient Dragon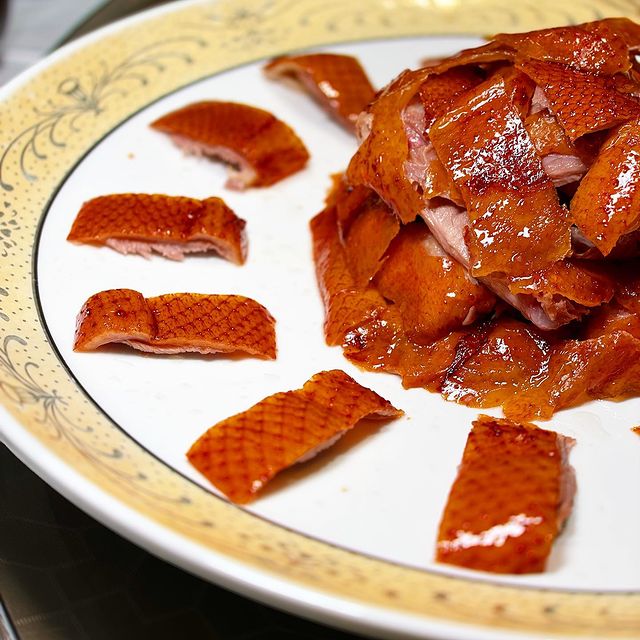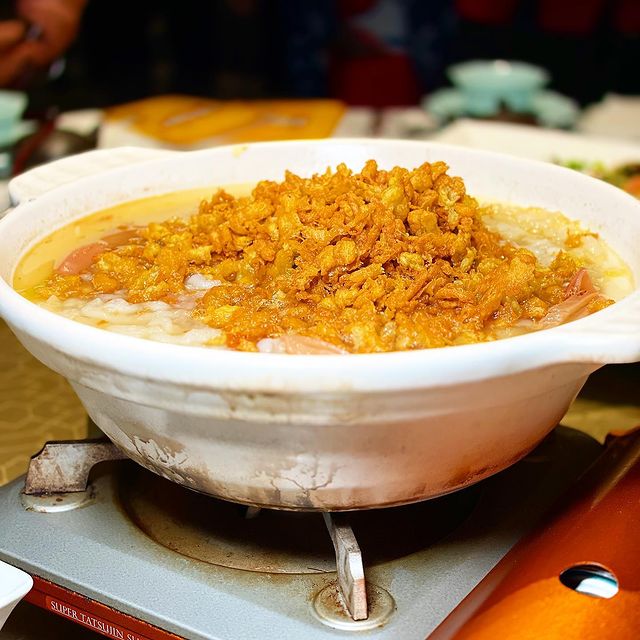 Although Orient Dragon looks pretty simple, trust that it certainly packs a punch. A perfect gathering spot for friends and family, Orient Dragon boasts a menu that focuses on Taiwanese home-style cooking, and a punch of novelty Sichuanese dishes. Some of the impressive highlights include three-cup Matsusaka pork, steamed fourfinger threadfin, and the aromatic sakura ebi fried rice.
Address: 271-1, Section 2, Gongyi Road, Nantun District, Taichung, 408, Taiwan
6. Peng Cheng Tang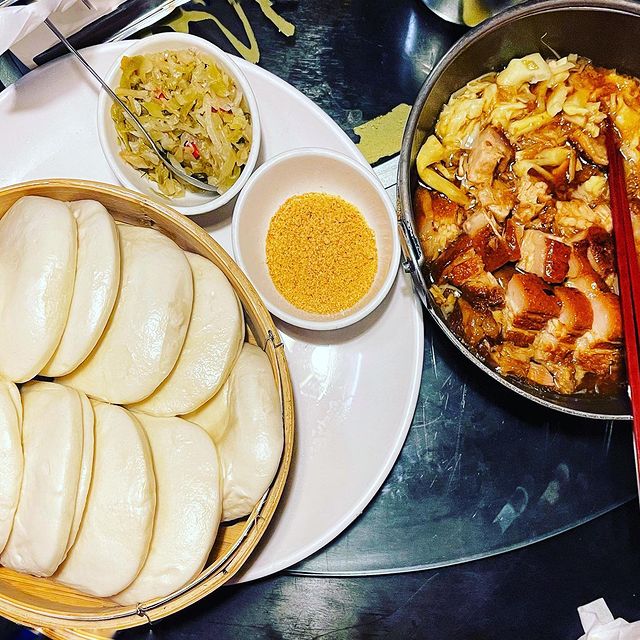 If you love gua bao, you will need to save this spot in your bucket list. Also known as pork belly buns, gua bao is a popular street food in Taiwan. No one does it better than Peng Cheng Tang. The steamed buns are stuffed with braised pork belly, bamboo shoot, pickles, and ground peanuts! Surrounded with vintage knick knacks, you will be transported to the wholesome 1960s.
Address: 377 Yichang Road, Taiping District, Taichung, 411, Taiwan
7. Tai Ke Meat Congee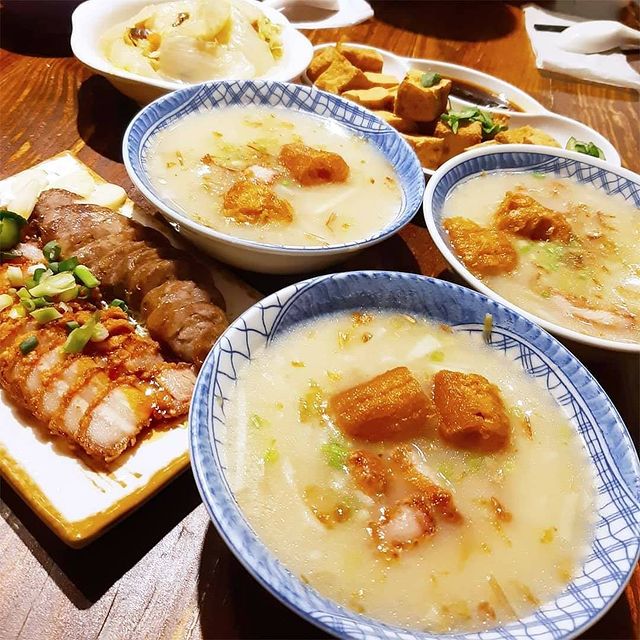 Tai Ke Meat Congee is relatively new, but the roots of this shop can be traced back to almost 50 years where the owner's grandfather previously operated a congee stall in Zhongxiao night market. Braised for hours with pork and chicken bones, the congee has a depth of flavour. You can add ingredients of your choice such as clams, beef, or fish. Don't miss out on deep-fried pork belly, it is beautifully marinated with more than ten seasonings.
Address: 722-1, Section 2, Wuquan West Road, Taichung, 408, Taiwan
8. A Kun Mian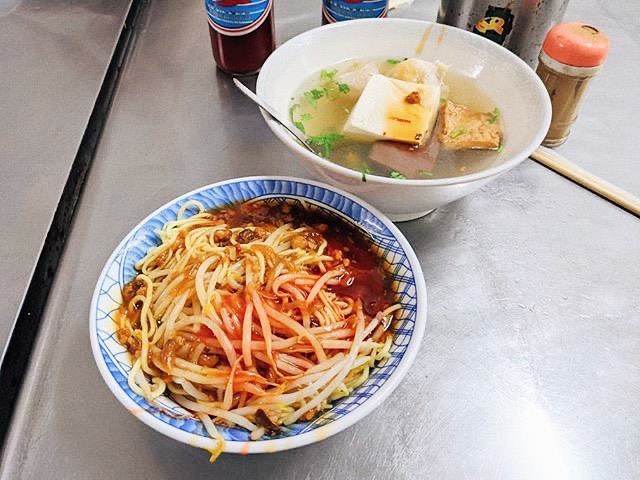 Famous among the locals, this spot has been around for more than five decades. The crowd favourite is now operated by the third generation of the family. A Kun Mian is famous for its blanched noodles tossed in braised ground pork sauce and scallion. Taking a dip in sweet chilli sauce is a definite must. Other favourites include soup with glass dumplings, fried tofu, pork balls, and blood pudding.
Address: 142 Pingdeng Street, Central District, Taichung, 400, Taiwan
9. No Name Noodles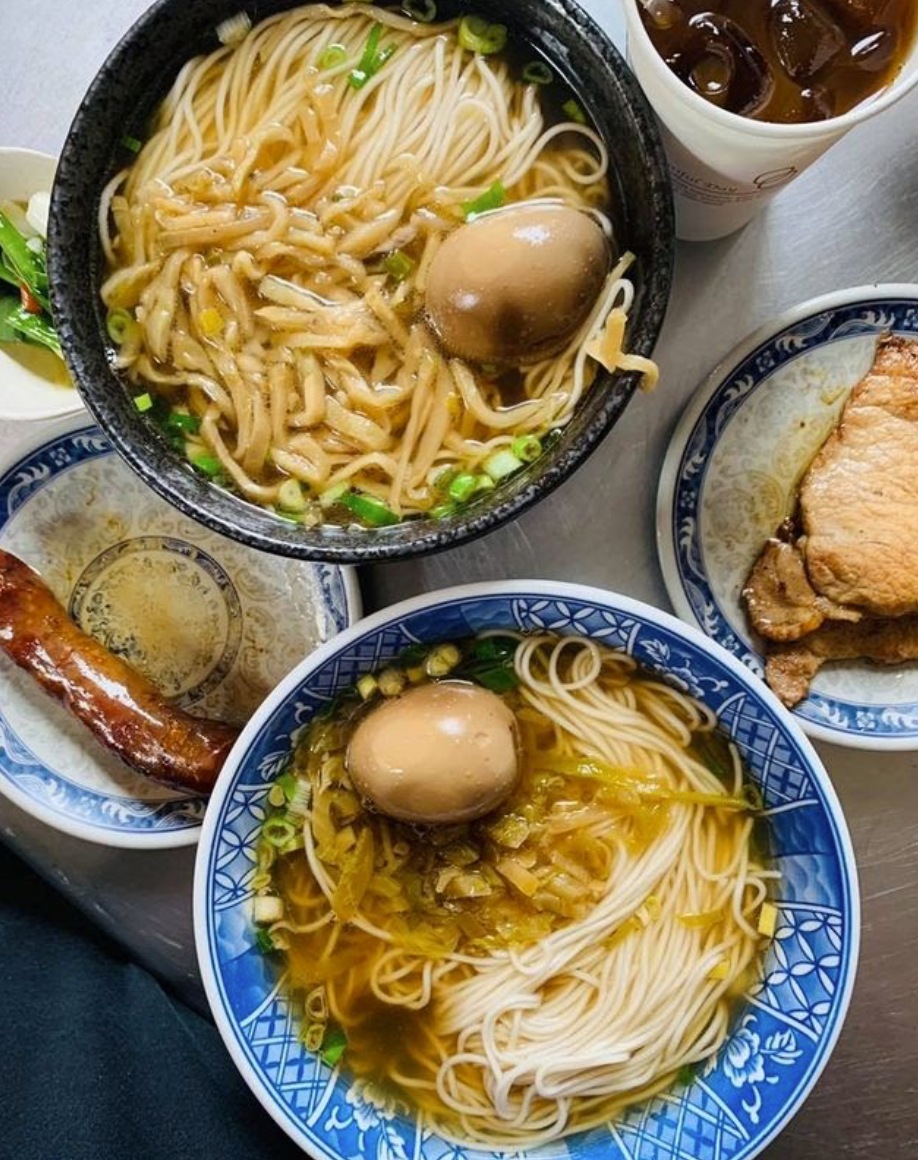 Although this eatery has been operating for more than 70 years, it still doesn't have a proper name. People make their way to No Name Noodles to feast on preservative-free Shanghainese noodle soup served with pork chop, beef shin or Zha Jiang sauce. The made-to-order pork chop is a match made in heaven with ice sour plum tea and the spicy pickled scallion and garlic.
Address: 69 Shifu Road, Taichung, 400, Taiwan
10. Gubami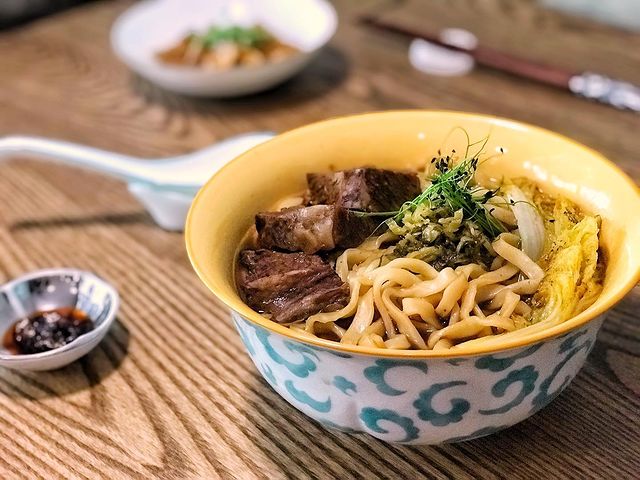 Last but not the least, this is a place that you will need to feast. Operated by a chef that had used to work in a French restaurant, the chef interestingly makes Eastern dishes with Western techniques. Noodles are partly made with Italian flour. Two must-try versions include clear broth, made with Miyazaki Wagyu, and red broth made using Canadian short ribs with truffle chilli sauce on the sides.
Address: 46 Cunzhong Street, Central District, Taichung, 403, Taiwan
Save Taichung In Your Travel List
Apart from this street food with Michelin Bib Gourmand, we are sure that there are still many things to try out in Taichung, and other parts of Taiwan! Will you be making your way to these spots in the future? It is time to save it to your list!
Link(s):
–
We would like to invite you to join our New Private Community Group! Here you are free to ask questions, share your love for food, and explore the Klang Valley community! We will also regularly post about casual promos and latest findings.
Click on the button below and hunt good food with us today!