Apom Balik is a sticky rice-flour pancake with creamed corn inside. The corn straight from the can into the cooking batter—eggy and fluffy—then deftly extricates the whole thing and folds it over like a loose taco, a shape that makes it possible to get both crispy edge and sticky interior in a single bite.

And then there are the soft, moist coconut-flavored South Indian-style sweet appam pancakes that are making a comeback in the popularity stakes these days. let's cut to the chase and dive right into the 10 Best Apom Balik & Apom in KL
#1 Indonesian Apom Balik @ Nusantara
Located in a dark little street in the middle of Kampung Baru, everybody aware of the area would swear by this Apom Balik at the 'Best'. With over 20 choices to choose from, Apom Balik Nusantara unlike the common crispy crust Apom Balik, is almost cake-like, as extra layers of butter and flour are put on the inside to make it thick and moist. Those who know it's true power will wait by the side of the road as the Pakcik makes it fresh and then, literally burning your mouth while eating its molten filling.
Address: 
No 14, Jalan Hamzah, Kampung Baru, 53000 Kuala Lumpur, Wilayah Persekutuan Kuala Lumpur
Hours: 4.30 PM to 11 PM. Opens Daily 
#2  Sri Lankan Apom  @ Love Mum Restaurant
Run by half Sri Lankan, Aunty Parames was known as Mummy around her neighborhood has devoted her love to making food from scratch resulting in a daily affair of a crowded restaurant. You can't stop at just one, so be prepared to eat more of these delicate pancakes with their oh-so-creamy centers until you're satisfied. With the 3 options of plain, sprinkled with brown sugar or with an egg, it never stops with just ones! While you're at it, dig into some authentic Ceylonese cuisine!
Address: 
12, Lorong Menalu, Taman Chi Liung, 41200 Klang, Selangor
#2 Penang Style Apom Balik @ Uncle Loh's Apom Balik
Crunchy and crispy or soft and fluffy, here on Jalan Hang Lekir in front of Koon Kee Wantan Mee, Uncle Loh's 30 years of experience will show you how good of an Apom Balik can look and taste! With a similar rendition of softer small Penang style, Apom Balik filled with freshly grated coconut, his Apom Balik is generously filled with coarsely ground peanuts that make every bite incredibly tasty. With a cost of rm1.20 for each slice, we wonder at what number of slices will you stop at ?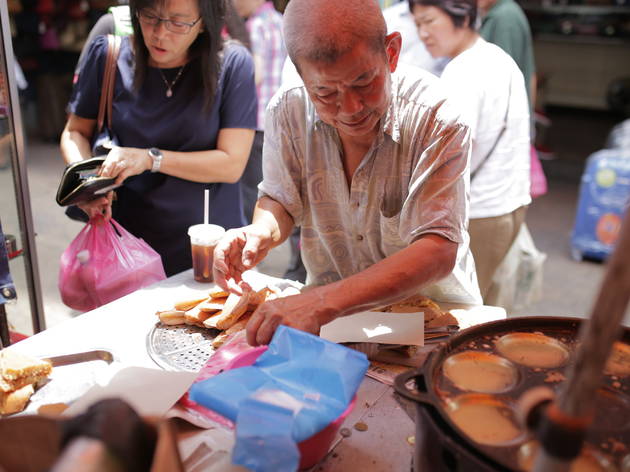 Address: Stall at Jalan Hang Lekir (off Jalan Petaling), KL.
Hours: 1 pm to 9 pm (Mondays to Fridays), 11.30am to 9 pm (Saturdays and Sundays)
#3 Best Bangsar Appam @ Chelo Appam
Tasting SO GOOD, it has gladly earned its place here! This humble 26-year-old stall in Bangsar churns out appam so yummy you'll wonder why haven't you ticked this place yet!  Either opt for plain appam with coconut milk or go weak for the brown sugar variety. The generous coconut milk and brown sugar are applied onto appam batter and swirled in a pan so the edges remain fluffy while the sides are brittle. This is then topped off with sugar chunks, so that every bite comes with a hint of caramel-coconut deliciousness. Wanting more?  The stall also does a great selection of kuih including a delicious kuih ketayap where the rice flour pancake is paired with freshly grated coconut and gula Melaka syrup.
~Halal ~Tripadvisor
Address: 
6A, Lorong Ara Kiri 3, Lucky Garden, 59100 Kuala Lumpur, Wilayah Persekutuan Kuala Lumpur
Hours: 10 AM to 10.45 PM. Opens daily
#4 Nutella Apom Balik @ Ding Heong Golden Apam Balik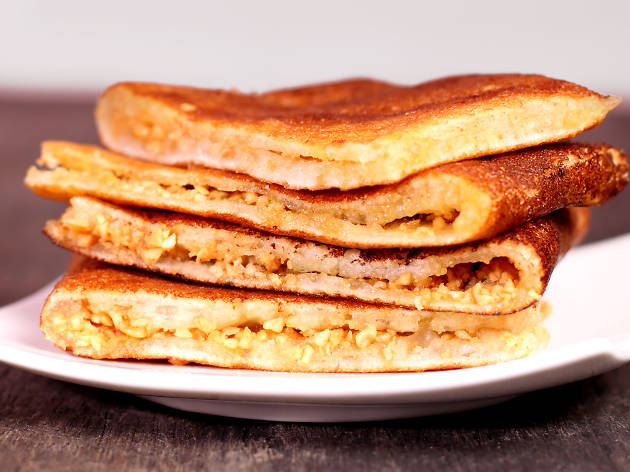 So the basic fillings in an Apom Balik are ground peanuts and sugar. Some add corn from the can or even freshly grated coconut. Imagine one with Ham with cheese, Nutella or even Marshamallow (Yassssss). Known as Dig Heong Golden Apom Balik, by staying relevant to consumer taste change, they be rolling and branching out to Pudu Plaza, Taman Yulek and Mahkota Cheras. Averagely priced at  RM3.30 and RM3.90 for each pan either thick or thin, ain't wrong to stop for a quick bite on your way back home!
Address: Opposite Golden Celebrated House coffee shop Jalan Landak Kuala Lumpur 55100
Hours: 1 PM to 9 PM. Opens Daily
#5 Brown Sugar Apom @ Yarl Restaurant
Up early and mum still not up yet to make you a good breakfast? Brush your teeth (please) and get riding, Yarl welcomes you as early as 7 am with appam's so soft and crispy at the same time, mornings will be cherished! These lace doily-like pancakes are cooked upon order, where you have a choice for the coconut milk to be cooked in the appam or served on the side as a dip. The heat of the appam gradually melts the brown sugar turning into a sweetly caramelized texture. The Best! Go for the version where the coconut milk is cooked with the appam and you will be happy with the soft wobbly centers. Besides making exceptional appams, this place also serves unusual fare like puttu mayam, puttu goreng or even just steamed puttu with mashed bananas. Yeap!
~Facebook ~Tripadvisor 

Address: 
50, Jalan Padang Belia, Brickfields, 50470 Kuala Lumpur, Wilayah Persekutuan Kuala Lumpur
Hours: 7 AM to 10 PM. Closed on Monday
#6 Fluffy Apom Balik @ Pasar Malam SS2
Where is the best place to snack on street food at one go if not Night Markets, and if you're in the ss2 hood, clearly you would know the biggest night market in Petaling Jaya area as its length spans the entire round of the SS2 commercial center, going around the block making a big round, surrounding the food court and car park lot. Though we ain't here for the size of the pasar Malam. Introducing the fluffiest layers and a filling of toasted peanuts and corn. It's thick, filling and unforgiving! You can also pick up the smaller, thinner crispy apom variety too
Address: SS 2, 47300 Petaling Jaya, Selangor
Hours: Monday 
#7  Savoury Appom @ Poomy's Kitchen
So there's plain appam, sweet appam, brown sugar appam, coconut and brown sugar appam, egg sweet appam, egg with pepper and salt appam, egg with milk appam, sweet corn appam, mixed fruit appam, sambal appam, kacang (nutty) appam, banana appam and chocolate appam. Better ate while it's piping hot! Relatively new in the appom making scene and catered right next to the famous Bangsar Fish Head Corner stall in Bangsar, these appoms are the ideal dessert option!
~Facebook
Address: Lorong Ara Kiri 3, Lucky Garden, Bangsar, Kuala Lumpur.
Hours: 2pm – 9.30pm (Monday to Friday) 1pm – 9.30pm (Saturday to Sunday)
Phone: 014-227 3741 / 014-383 2452
#8 Nestum Apom Balik @ Apom Balik Istana
Started from the bottom now we here is a story behind one turned into 3 branches of Apom Balik Istana. Began with the initiative of a few young men, Apom Balik Istana has captured the attention of the crowd and media with their passion, innovative ideas and strive to grow! Pretty cool I reckon! If you find yourself in the vicinity of these crispy snacks, grab a bite and tell us what you think!
#9 Kerala Appom @ Kayra
Kayra's entry into TTDI is a pleasant addition for all, but most memorably, for first-timers tasting Keralan food.In case you haven't a clue what or where Kerala is, here's a crash course. Kerala is a state in South India on the Malabar coast, popular for its coconut tree-lined beaches and many waterways. In terms of cuisine, the region is famed for its seafood dishes and affinity for coconut in all its permutations – coconut oil, fresh coconut, grated coconut, sliced coconut. You could say they're nuts about coconuts over there! and Appom is all about the coconut! You'll still get the tanginess from the fermented rice butter, but the egg makes everything better. Savory and peppery, douse on the coconut chutney served with it- very very spicy!
Address: 
46, Jalan Tun Mohd Fuad 1, Taman Tun Dr Ismail, 60000 Kuala Lumpur, Wilayah Persekutuan Kuala Lumpur
Hours: 11.30 AM to 10.30 PM. Opens daily
#10 Lankan Cafe
With a Sri Lankan chef in the kitchen, this family-run restaurant offers casual comfort food that brings a bit of Colombo to the Klang Valley. Popular for their Sri Lankan food, their appam is undoubtedly one of their bestsellers as I was told that 40% of diners just come to savor this treat. Danni, the owner of this restaurant ensures that quality is maintained from the moment the batter is poured into the shallow bowl-like pans to the emergence of appam's flower-shaped edges. Quite a pretty sight indeed. One set (each set comes with two pieces) of paal appam is priced at RM7, hoppers with brown sugar are RM7, one set egg appam is RM9 and one set of mixed appam is RM8.
~Facebook ~Tripadvisor 

Address: 
388, 1st floor, Jalan 5/59, Petaling Garden, 46000 Petaling Jaya, Selangor