Chinese New Year is just around the corner and what says CNY more than feasting on delicious baked goods. Especially when you are at a family gathering. You really can't watch what you eat because everything just tastes better with everyone around you. Sprinkle some magic on these moments with the newest collection of artisan pastries from Kitchen Confidante. A joyful marriage between East and West.
New Take On Traditional Chinese New Year Pastries
Inspired by timeless and popular CNY pastries, Kitchen Confidante pays homage to this culinary heritage by creating new varieties of cakes and cookies. Fusing old and new ingredients of the East and West. This home patisserie ensures that the essence of classic pastries is captured in these ultimate combinations. Promising you with good taste and wonderful aesthetics by Chef Karen.
Kitchen Confidante's 2021 CNY collection comprises 6 types of artisanal cookies, 3 different flavours of Kek Lapis, and an exceptional Ethiopian Arabica coffee by boutique roastery, Cao Le. This complete set will take you on an amazing gastronomical experience. Specifically created as gifts, you can choose between two desirable gourmet gift boxes to give to your loved ones.
Blossom (Gourmet Gift Box Set)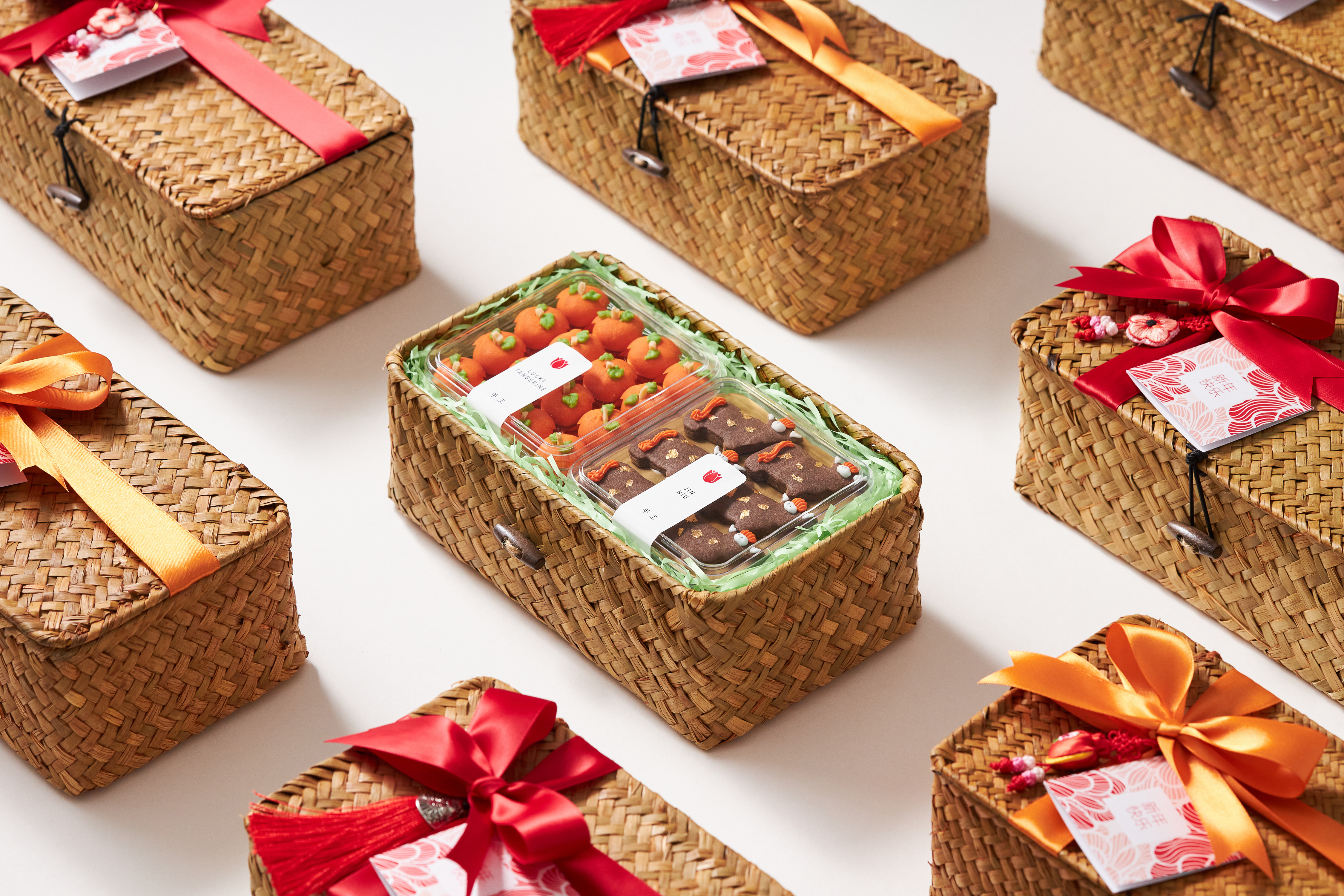 If you are looking for a small yet expressive gift, then the Blossom set is the perfect one for you. It is a rustic handwoven seagrass basket box dolled up with satin ribbon and charming oriental ornament. This set consists of 2 boxes of artisanal cookies or a Kek Lapis of your choice.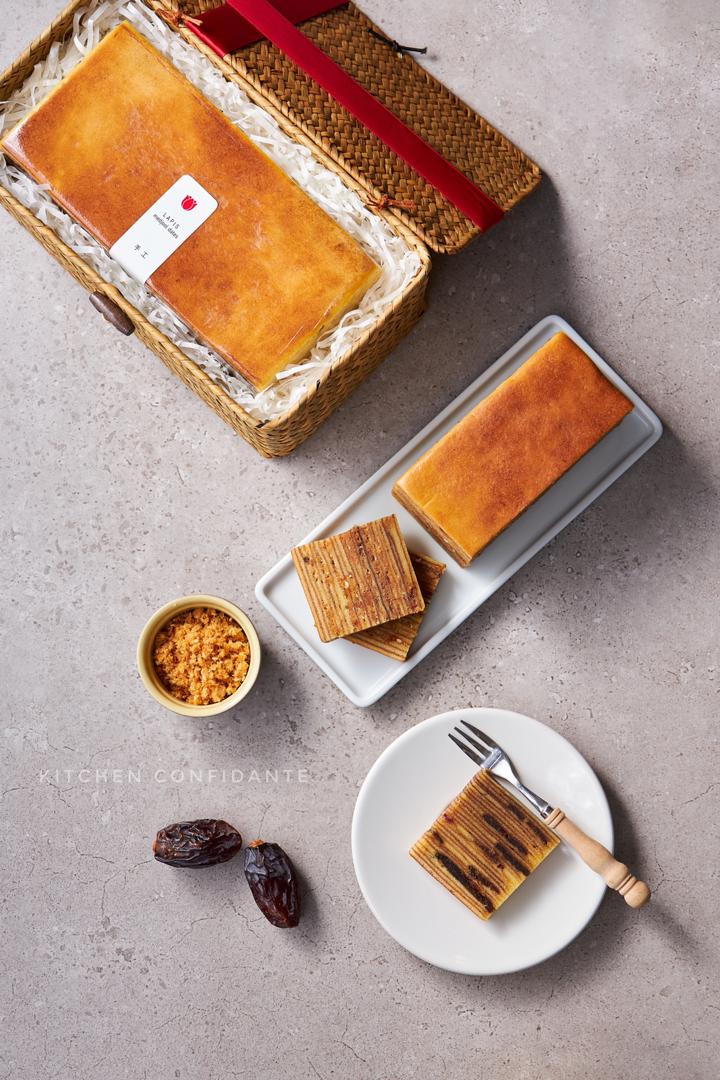 Spring (Gourmet Gift Box Set)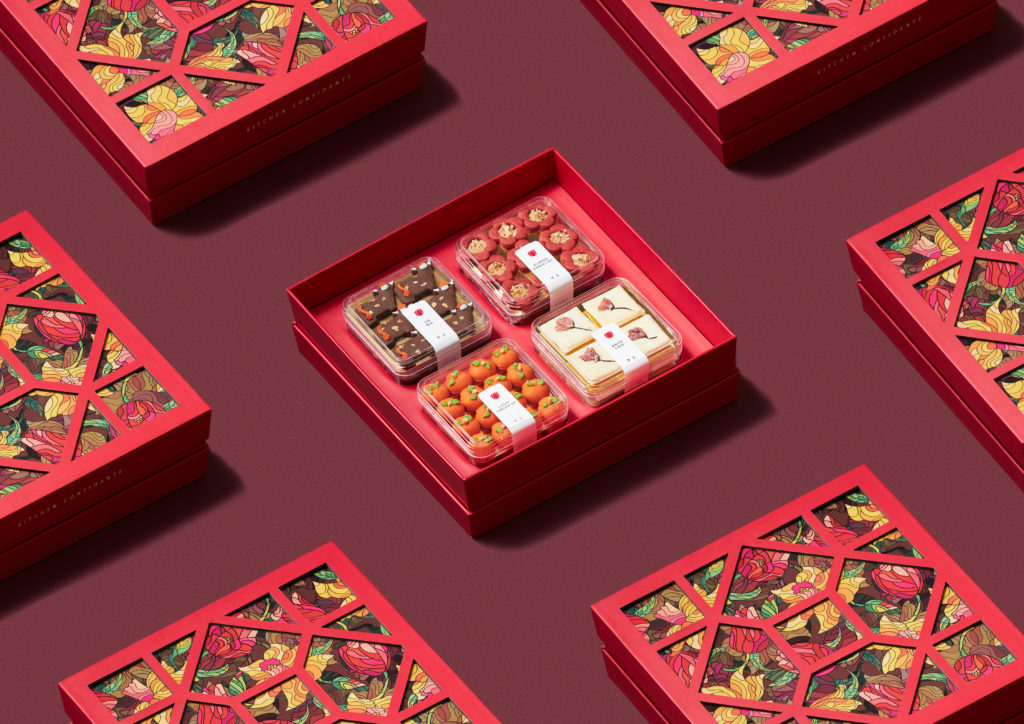 Uniquely designed to depict an oriental window frame with pink tulips and daffodils stained-glass patterns, Spring, the CNY themed gift box set is fashioned to hold 4 types of artisanal cookies. Additionally, you can even match the pastries with a box of specially curated drip coffee. This classy gourmet gift box is perfect for your corporate client. In fact, you can even impress your parents-in-law with it. Here's what you can choose:
Lucky Tangerine Cookie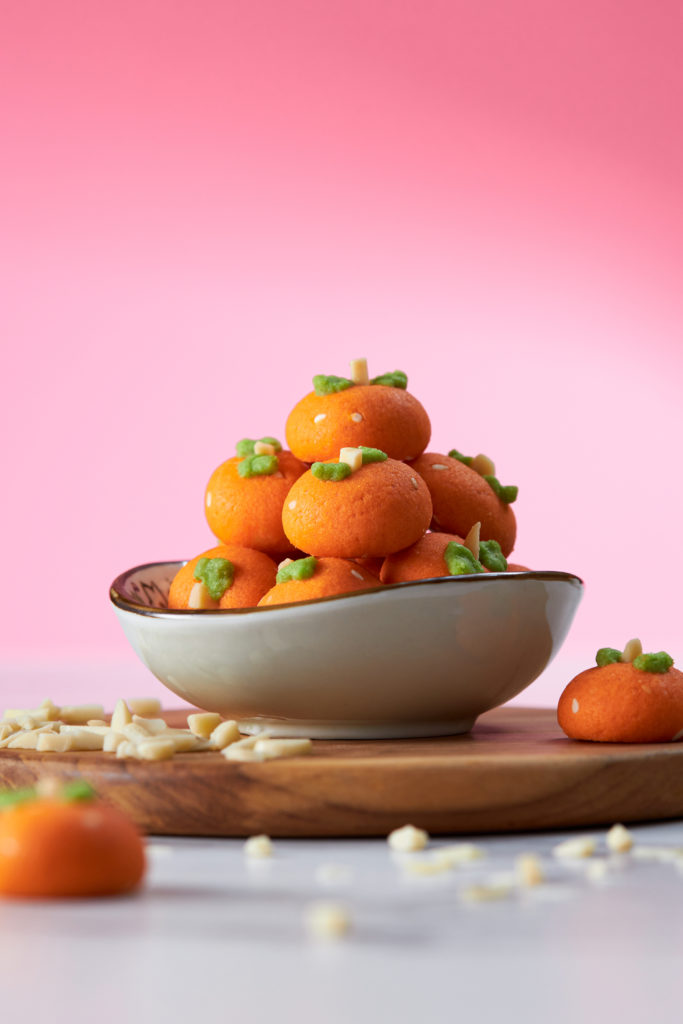 Made with a blend of almond flour, wheat flour, and sesame seeds, this cookie delivers a wonderful mildly sweet nutty taste (but don't be surprised 'cause it tastes nothing like tangerines!). Promised to leave you with a pleasant crunch in every bite.
Chicken Sambal Cookie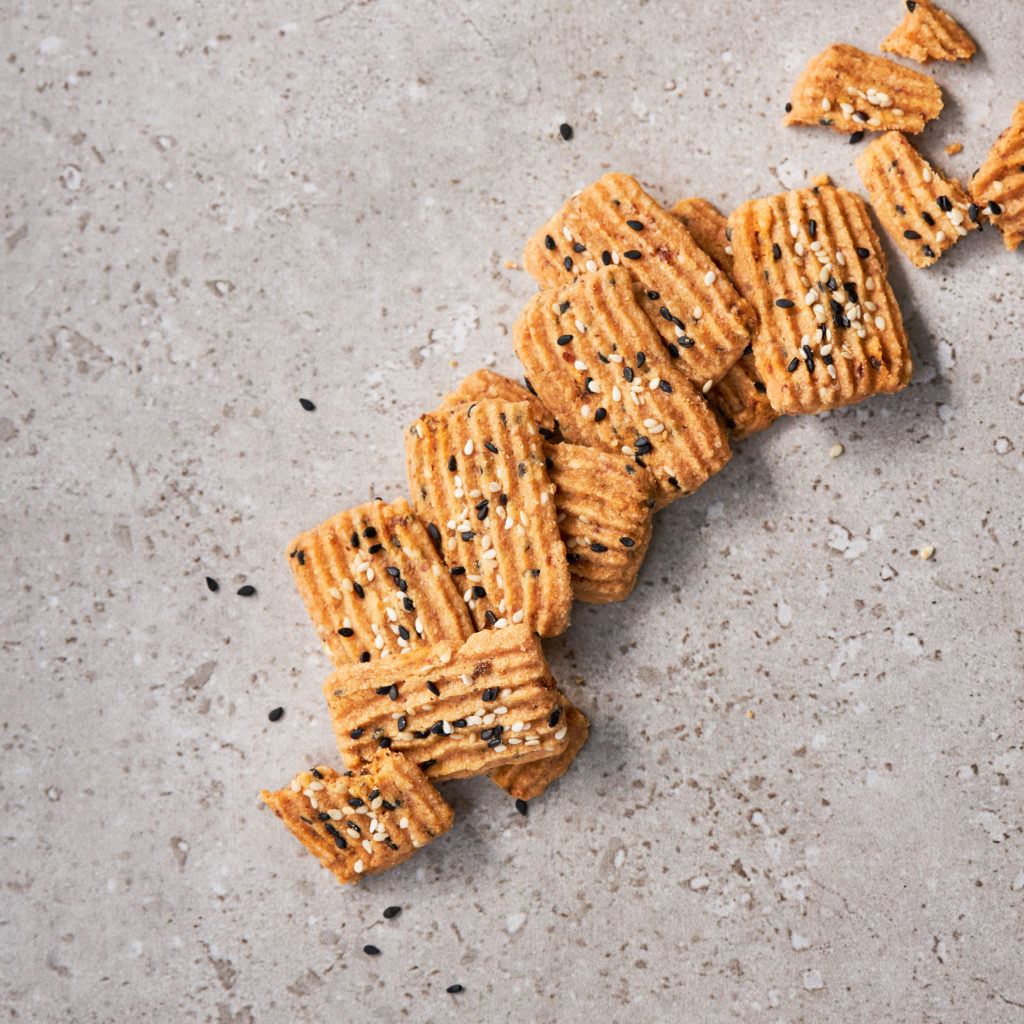 If you enjoy a little zing in your pastries, then this is perfect for you. Crumbles and melt instantly in your mouth, this buttery cookie is a concoction of crunchy chicken floss, sesame seeds, and sambal chilli prawns. An exciting combination of sweet and nutty umami with a slight spicy aftertaste at the end.
White Love Cookie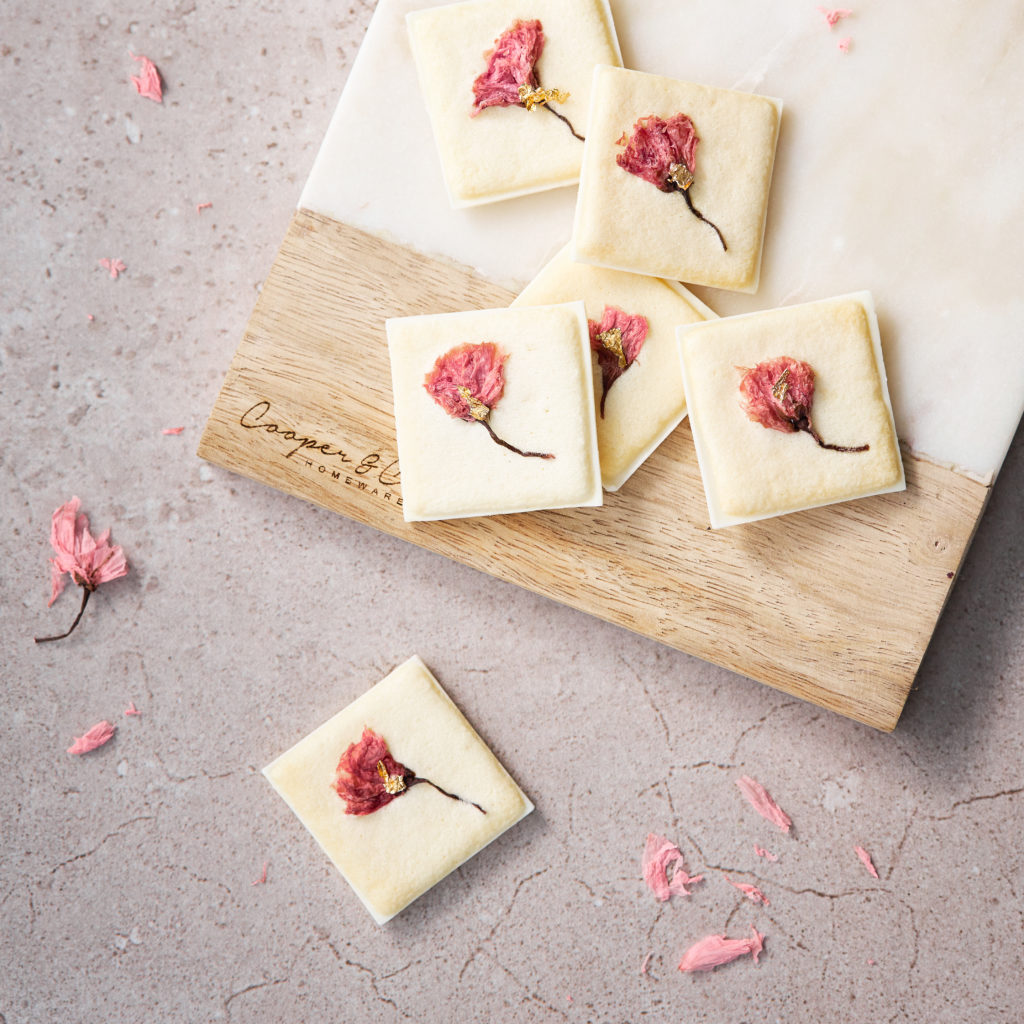 The White Love Cookie consists of velvety white chocolate sandwiched between French-style Langue De Chat cookies and garnished with dried pickled Japanese Sakura. It carries a smooth milky sweetness with a subtle saltiness and sourish flower's fragrance.     
Jin Niu Cookie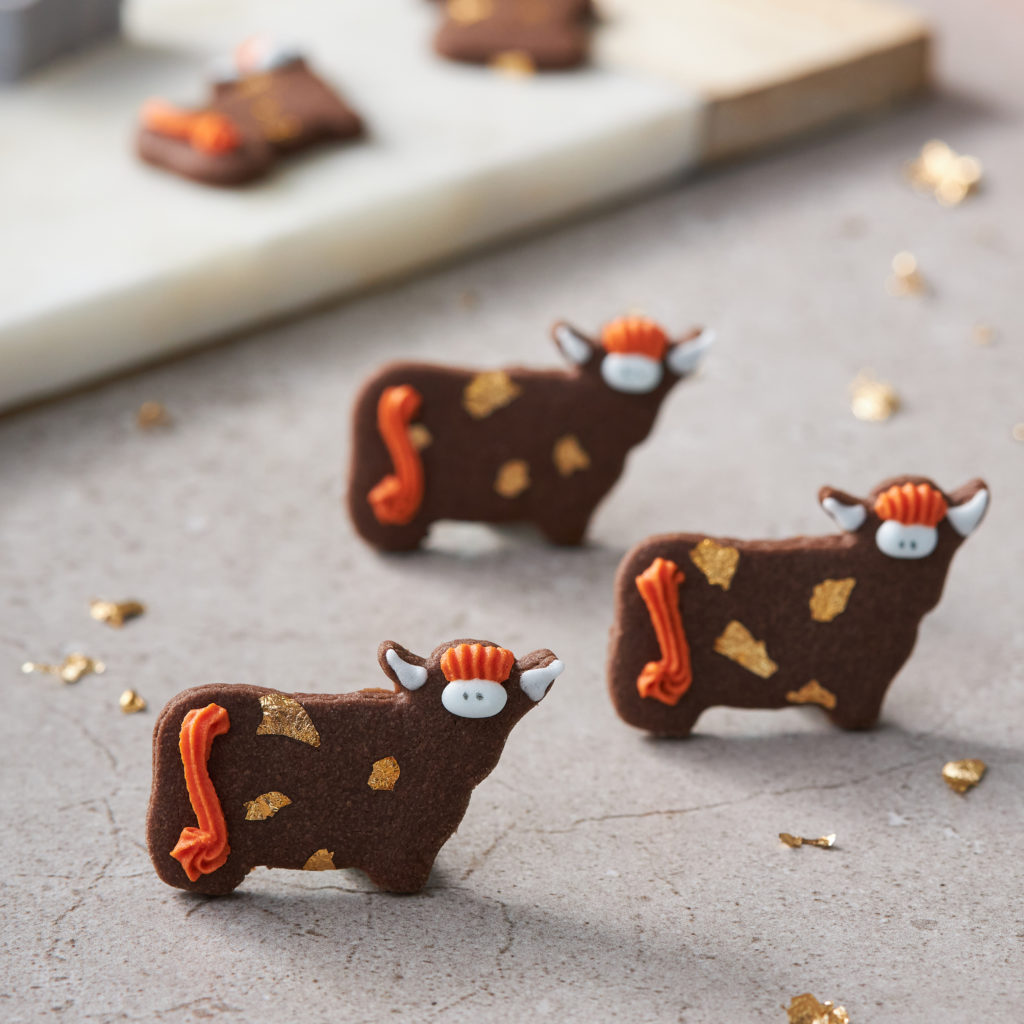 2021 is the year of the Ox according to the Chinese Zodiac. So how about an adorable Ox Cocoa cookie to usher in the lunar new year with good luck? With hand-piped royal icing details and gold foil garnishing, it's crumbly buttery texture and bittersweet dark chocolaty taste will make you crave for more.
Onde Cookie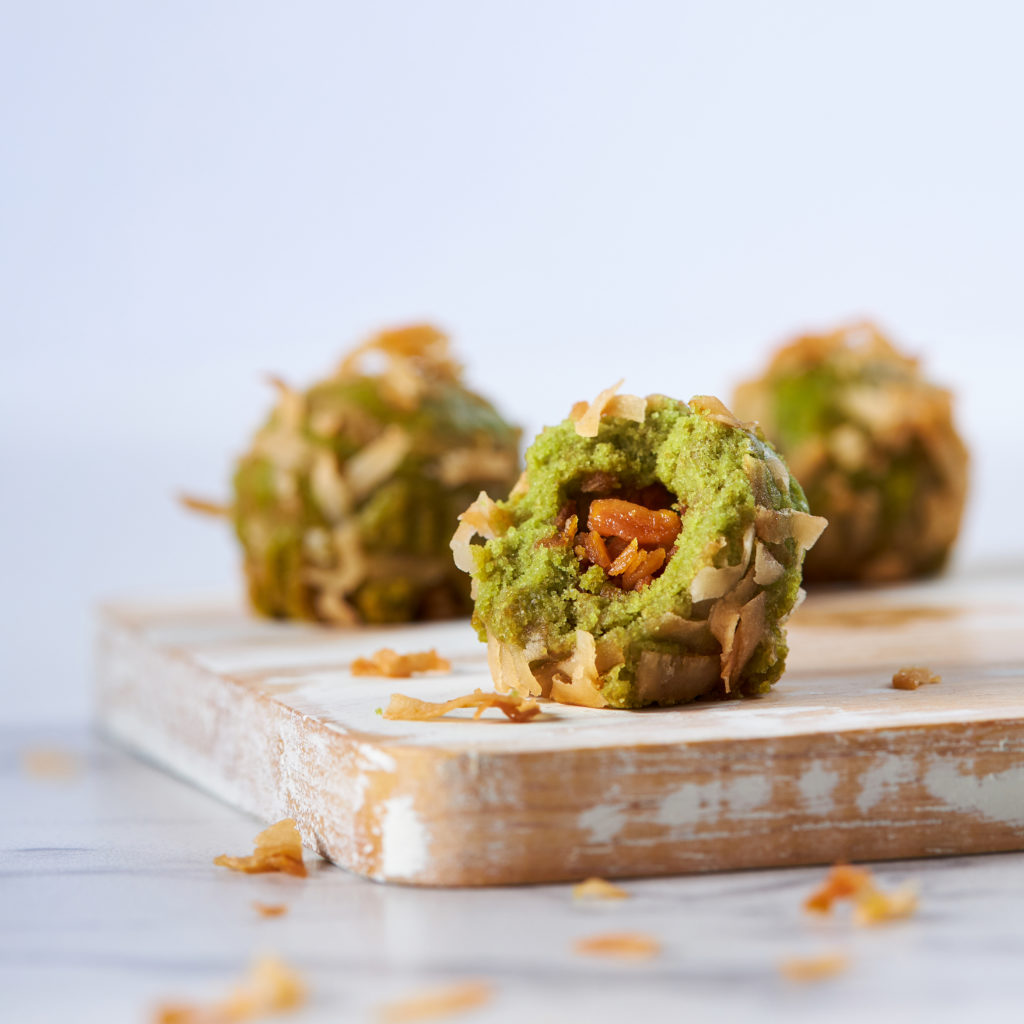 As the name suggests, this cookie is an innovative take from Malaysian's traditional onde-onde dessert. This crispy treat is made out of local ingredients such as gula melaka, santan powder, and pandan extract. Furthermore, it is filled with toasted coconut filling that will make you fall in love instantly.
Almond Nougatine Cookie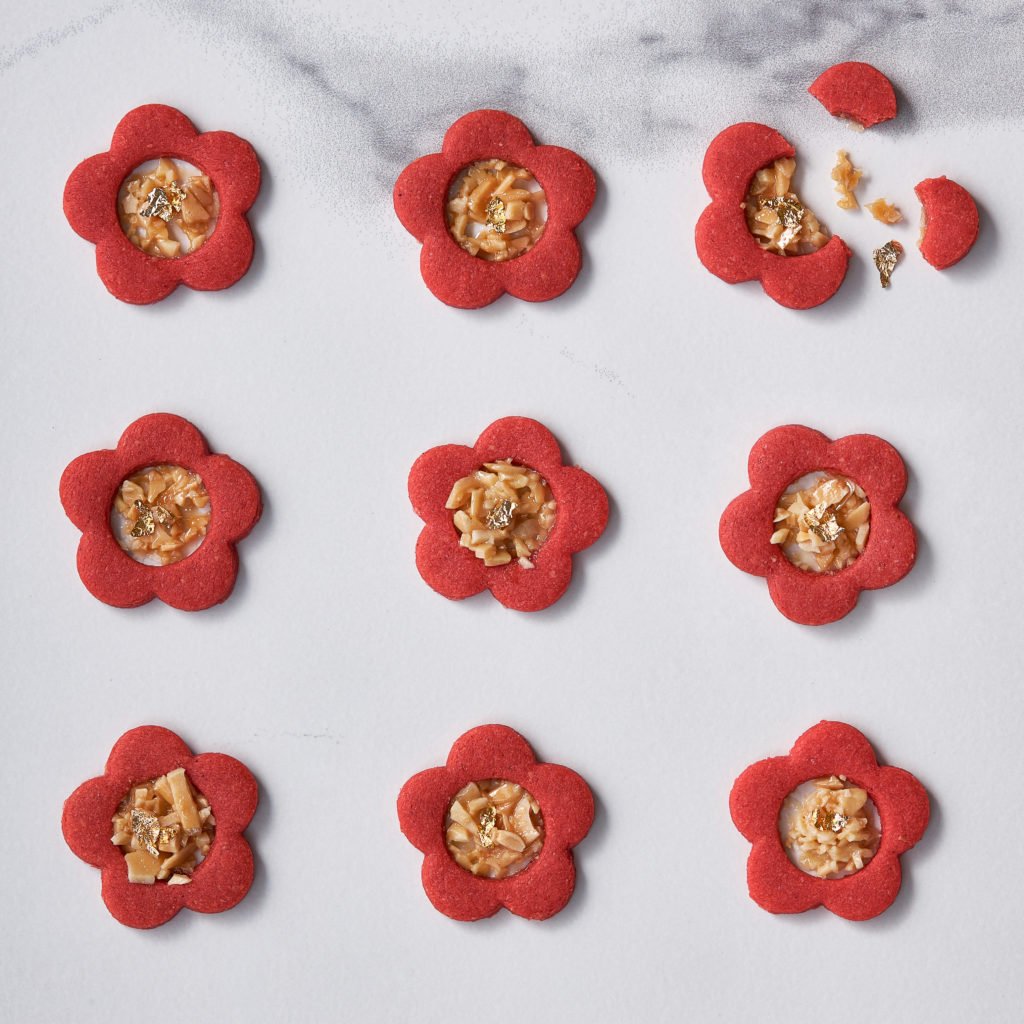 Almond Nougatine cookie consists of a nutty and buttery flower-shaped almond crust, circled around caramel candy embedded with chopped almonds. The nougatine achieved just the right level of caramel sweetness which is friendly to all. 
Kek Lapis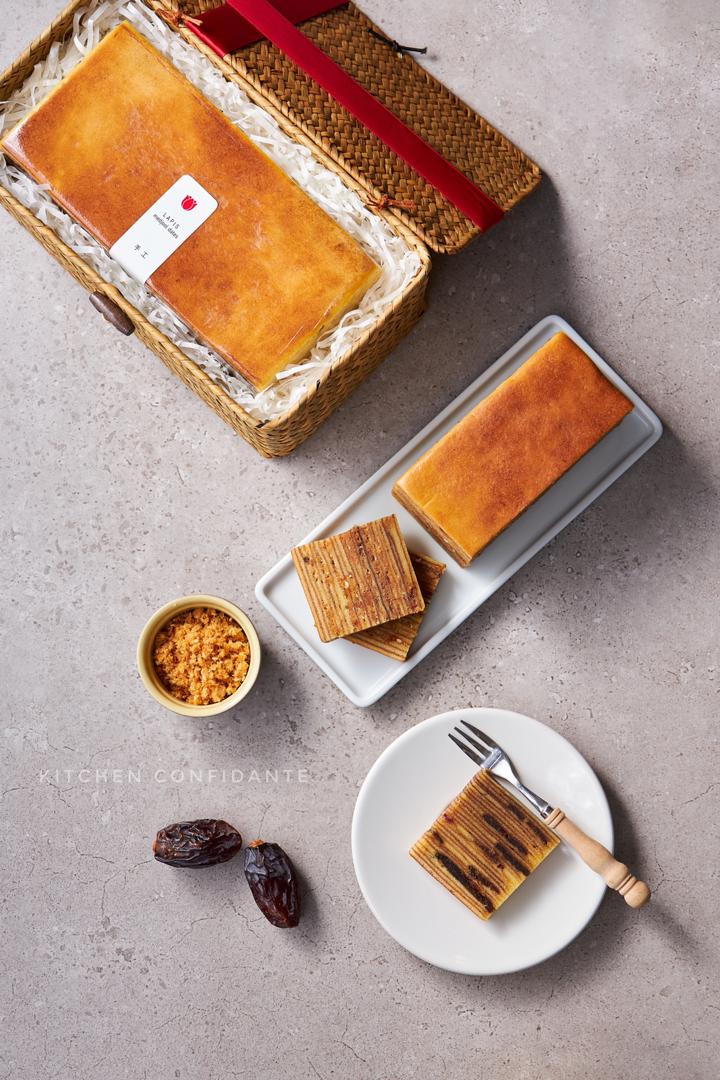 Kitchen Confidante's Kek Lapis is remarkably rich in taste. It has the right level of firmness and is made out of mostly egg yolks and specialty butter from New Zealand with a surprisingly little amount of flour. Basically, the thin layers are grilled instead of baked, to a perfect char, giving the cake a dreamy sweet umami taste. Among the flavours that you can choose are Classic, Medjool Dates, and Chicken Floss with Sesame.
Ethiopia's Medium Light Roast Arabica In Drip Bags By Cao Le Coffee Roastery
Much sought after heirloom Arabica beans from Guji Uraga and Yirgacheffe of Ethiopia are curated to pair perfectly with the pastry collection. Kent from Cao Le, a boutique coffee roastery, meticulously hand-sort for perfectly formed beans before roasting them. This rare and costly practice promises to give you the best coffee drinking experience.
Show Your Love With Specialty Treats From Kitchen Confidante
A great gift is one that is memorable and touches the heart and Kitchen Confidante's gourmet gift boxes and pastries are truly in that category.  If you are interested in these revolutionary CNY treats, do check out Kitchen Confidante's creations on their social media. Have a good day friends!
Also Read: USA's Famous 'The Cheesecake Factory' Spotted At Sunway Pyramid Mall
–
We would like to invite you to join our New Private Community Group! Here you are free to ask questions, share your love for food, and explore the Klang Valley community! We will also regularly post about casual promos and latest findings.
Click on the button below and hunt good food with us today!