We love to eat. After a long night out drinking, partying or sadly, working in Kuala Lumpur, sometimes, the only way to make everything feel better is to treat yourself with some serious grub and we're working towards making you smile. Literally 🙂 Picking the best from many right here on Top 9 Supper Spot In KL
1. Cheese Naan @ Steven's Corner
Nothing can go wrong with Steven's Corner especially during late at night!  Making the most sensational Cheese Naan (RM6.50)  for god knows how long, one's eyes will drool at the stringy mozzarella cheese in unsparing portions. The dish comes with a default light green dhal, a tasty but mild mung bean-based gravy that helps offset the rich, cheesy flavors.
Alongside: Batter Free-fried Chicken (RM4.50), Boom boom Shakalaka
*Halal*
Address: Jalan Kelang Lama, 18 & 18A, Jalan Hujan Rahmat Dua, Taman Perindustrian Oug, 58200 Kuala Lumpur, Federal Territory of Kuala Lumpur
Hours:  24 hours
Phone: 03-7788 8888
2. Ngau Kee Beef Noodles
This taste better and better with every bite! Located at the mabuk destination in KL, Changkat, this street food made with such dedication from an old uncle results in a bowl of Beef Noodle (RM10) encompassing a healthy portion of springy egg noodles, topped with a dark, delicious minced beef sauce. Served on the side, beef balls and tasty, tender sliced beef swim in a clear but deeply flavored broth. Looking for something to sober you up? Look no further.
Address: 23, Tengkat Tong Shin, Bukit Bintang, 50200 Kuala Lumpur, Wilayah Persekutuan Kuala Lumpur
Hours: 4 AM to 3 AM.Closed on Tuesday
3. Steamboat @ Hong Kong Hot Pot
101 tips: You need your gang for this! The average price per person: RM25 to RM35
Late at night and wanting to get a hot bowl of comforting soup decorated with your favorite fish balls and sort? Steamboat is the way to go!  Hong Kong Hot Pot Restaurant takes the selection of soup very seriously, such as "Sakura Pork Bone Soup", "Imported HK Century Egg & Coriander" and "Szechuan Spicy" (FAVORITE)  to name a few.
Must have: Hong Kong Fried Fish Skin (Beest had with a dip in their Chilli Sauce & Taiwanese Black Bean Sauce)
Address: no 39 lot 10-a level 2 Telawi square, 3, Jalan Telawi, Bangsar Baru, 59100 Kuala Lumpur, Federal Territory of Kuala Lumpur
Hours: 4 PM to 12 AM. Opens Daily.
4. Dim Sum @ Restaurant Yan Yan A One
It's something to have dim sum in the morning. It's a whole other lip-smacking thing to have it at 3 am in the morning. Selections are extensive, spanning Braised Chicken Feet to Pumpkin Dumplings, though we'll advise you save your stomach for the better executed fried goods. Not only it's 24 hours, dimsums here cost RM3 flat rate, you know WAZZGOOD!
Must have: Fried Carrot Cake
Non-Halal
Address: 
Jalan Klang Lama, Taman Shanghai, 58100 Kuala Lumpur, Wilayah Persekutuan Kuala Lumpur
5. Lok Lok @ Fat One Boy
Lok Lok comes in many forms to be dipped in many types of soup base. But the one thing with lok lok is that you can't just stop at 1 and Fat One Boy helps you get fat with their options and prices! Just to put it out there: pork, fish balls, kangkong, cuttlefish, oyster mushrooms, quail eggs, a variety of stuffed tofu, cockles, pork and chicken slices, fried bean curds and wantan. Prices ranging from M1.50 to RM4.
Must have: Free-Flow of Ice-Cream
Address: 22 & 23, Jalan PJS 8/17, Bandar Sunway, 46150 Petaling Jaya, Selangor
Hours: 4.30 PM to 12 AM. Opens daily.
Phone: 03-5612 2162
6. Nasi Lemak & Fried Chicken @ Nasi Lemak Bumbung
Bumbung Nasi Lemak Seapark at Maybank is indeed one of a supper place to hunt for when it comes to best nasi lemak in PJ.  A usual haunt of the locals due to its fragrant Nasi Lemak served with fried chicken and sunny side up egg. Though it doesn't go down as the best nasi lemak in town, it certainly does serve you during the times you need that sambal for the long morning ahead.
Must-Have: Fried Chicken with Maggi for the Maggi lovers.
Address: 
Jalan 21/11b, Sea Park, 46300 Petaling Jaya, Selangor
7. Roti Canai Masterpiece @ Mansion Tea Stall
Located in one of the oldest apartment buildings in Masjid India (accessible via the pedestrian bridge opposite Ming Annexe), this gritty 24-hour restaurant formerly known as Al Amnah is famed for their roti sardin and perfectly foamed teh tarik. However, what draws the crowds (all seated on plastic stools at rickety plastic folding tables) is the roti banjir special, roti canai drenched in dhal, sambal and fish curry and topped with two wobbly half-boiled eggs – a true masterpiece.
Halal
Address: 
Kuala Lumpur City Centre, 50100 Kuala Lumpur, Federal Territory of Kuala Lumpur
Hours: 24 Hours
8. Cheap Middle Eastern @ Oregi Restaurant
Located at the hood of SS15, here's a spot for late night eats with a side of shisha. Oregi's menu meshes Middle Eastern classics with a handful of Western plates. If the night calls for something hearty, order their Lamb Kabsa Rice (RM17.90) and mop up delicious Arabic-spiced, braised lamb chunks with long grain basmati rice. Otherwise, get the Araes (RM10.90) for sharing. Resembling crispy quesadillas, the charcoal-toasted Arabic bread stuffed with minced lamb kebab meat is cut into triangles for easy snacking.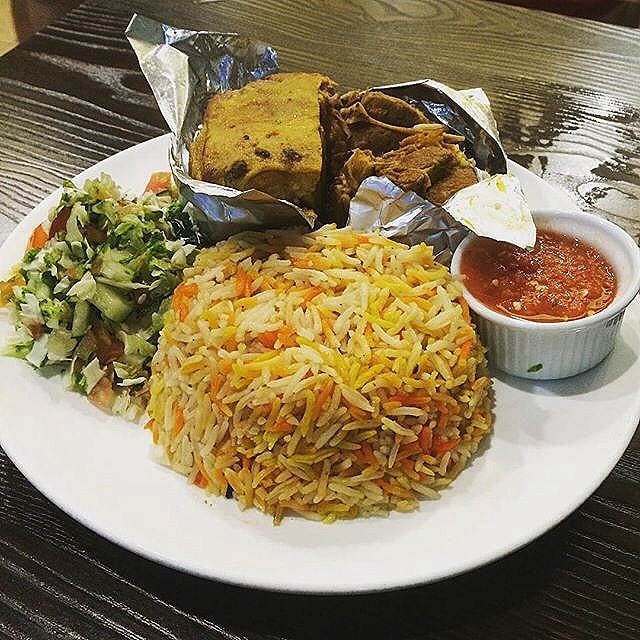 Address: 53, Jalan SS 15/4b, Ss 15, 47500 Subang Jaya, Selangor
Hours: 
 11 AM to 2AM. Opens daily
9. Zinger Burger at RM 4 @ Burger Baek Crispy Chicken Burger
RM 4 FOR A BURGER IN KUALA LUMPUR??? Erm Yes Please!  Deep Fried Chicken Thigh, lightly doused with their in-house cheese sauce, some chili sauce and a dab of mayo for good measure. That's how straightforward it gets and with just a right amount of sauce, each bite gets better and juicier and something you need to get before its too late.
Address: Jalan PJS 8/14, Bandar Sunway, 46150 Petaling Jaya, Selangor
Hours: 7 PM to 3 AM. Opens daily.
Phone: +6017 200 1814