Think of Brickfields and follow this list for a hassle-free initiative to decide' Where to eat' at our favorite 'Little India', a neighbourhood decked out in colorful lights and busy offices, a banana leaf rice eatery flourishes alongside a family restaurant for steamed rice and a roadside stall for frosty ice kacang. From Briyani to Banana leaf rice and pork noodles, we've got you covered in our Top 10 Must Eat Food In Brickfields
1) Indian Economy Rice @ Lawanya Food Corner
What's good: Authentic and home-cooked breakfast and lunch under RM5. Visiting for breakfast means there will be hot thosai on the hot stove with an ample of choices including mee goreng, fried eggs, and gravies done right 'Malaysian Style'.
VEGETARIANS will be spoilt for choice with 20 varieties of classic Indian vegetable dishes at Lawanya Food Corner on Lorong Scott in Brickfields, Kuala Lumpur. Situated in Lorong Scott against a bright green wall ( located nearby the Hanuman Temple), the humble stall has been the cornerstone for hearty and home-cooked Indian food.  Name at all anything you'd wanna have, it would be on the table!
Address: 
1077/ 50470, 8, Jalan Scott, Brickfields, 50470 Kuala Lumpur, Federal Territory of Kuala Lumpur
Hours: 
 5.30 AM to 5 PM. Closed on Sundays
2) South & North Indian @ Chat Masala
South and North Indian cuisine is Chat Masala's specialties here and trusts me when I say that you wouldn't realize it's purely vegetarian food unless mentioned. Served with an aim to deliver, Chat Masala here takes it up a notch with their quality meals.
Paneer Butter Masala, Collieflower Gopi 65, Gopi Manchurian, Chicken Manchurian, Chilli Chicken, Mutton Varuval and Chicken Masala are some of Chat Masala's must orders!  Be sure to not leave the place without trying their sweet payasam that comes without asking!
Oh and when you get this stuffed dough knowns as pani puri, you either dip it in masala or just 'pour' the masala water into the Puri's using a spoon and all you need to do is shove it all into your mouth where it explodes into a crispy-spicy treat!
Address: 259, Jalan Tun Sambanthan, Brickfields, 50470 Kuala Lumpur, Wilayah Persekutuan Kuala Lumpur
Hours: 7.30 AM to 11 PM. Opens Daily
Phone: 03-2260 3244
3) Briyani Rice @ Dindigul Thalapakkatti Restaurant
You search high and low, through thick and thin for something aromatic, nice, slightly peppery and covered with a twist of spice. The perfect meal to fit these requirements? Nasi Briyani, of course and the Thalappakatti Biriyani roots can be traced all the way back to 1957. Serving authentic briyani just like the ones served in India, this is one is a must!
Must try alongside the biryani: Kuthu Parotha. If you don't know what it is, order it and thank us later!
Address: 
130, Jalan Tun Sambanthan, Brickfields, 50470 Kuala Lumpur, Wilayah Persekutuan Kuala Lumpur
4)  Chettinad dishes  @ ANJAPPAR Indian Chettinad Restaurant
Chettinad cuisine is known for heavy use of spices, making it one of the most aromatic in India. They say they've got some of the town's Best Briyani! Chettinad cuisine is among India's spiciest, and Anjappar's Chettinad chicken masala, chunks of tender bone-in chicken bathed in a gorgeous brick red sauce fragrant with cinnamon, cloves, cumin, and especially black pepper, certainly lives up to the billing, leaving lips a tingle and tongue on fire.
Address: 
136, Jalan Tun Sambanthan, Brickfields, 50470 Kuala Lumpur, Wilayah Persekutuan Kuala Lumpur
Hours: 
 10 AM to 11 PM. Opens Daily.
5)  Hidden gem @ Yap Kee Coffee Shop
If you have arrived in Klang by KTM and find yourself hungry for a banana leaf meal, head to Yap Kee Coffeeshop.
Such coffee shops are usually associated with uncles sitting on a roundtable gossiping more than ladies do it while slurping on some Wan Tan Mee or some noodle for a kickstarting day! Ever wondered if any Chinese uncle and an Indian uncle back in 1923 sat down one day and came up with an idea to put 1+1 and serve the best economical Indian banana leaf rice in a Chinese Shop that serves your favorite 'Teng Lang TehJua'. Right Here Peeps!
What to try: you'll get a choice of chicken or mutton curry and the platter will include fresh slices of cucumbers (not Raita ya, just fresh sliced Cucumbers) and another 'vege-of-the-day' (if you're lucky, Kubis will be served. You're lucky ) and if you have some extra room, try their crunchy and moist Fried Chicken that is seasoned with their secret spice mix.
Address: 
26, Jalan Besar, Kawasan 1, 41000 Klang, Selang
Hours: 10.30 AM to 4.30 PM. Opens Daily 
6) Pisang Goreng @ Brickfields
Thought we'd rather opt for waffles or crepe drizzled with honey and bananas, no Malaysians would not turn their head at the mention of Pisang Goreng (Banana Fritters). This uncle here has been doing it right for the past 33 years and has been abundantly gifted with Pisang Goreng lovers worldwide.
Most pisang goreng varieties are rich in oil and batter, but when you sink your teeth into these golden brown ones, the caramelized banana remains the main attraction. Uncle Chiam's following has grown extensively with his authentic flavor that his stall actually has a Google Map pin drop entitled "Brickfields Pisang Goreng".
No more talking. Just actions! Tips: Queue is always there. Pay for your choices, go shop and collect them back!
Address: 
21,, 19, Jalan Thambipillay, Brickfields, 50470 Kuala Lumpur, Federal Territory of Kuala Lumpur
Hours: 12 PM to 5 PM. Opens daily
7) Local's Favorite Hawker food  @ 
Sin Kee Restaurant
Within the radar and hungry for some comforting 'Not so spicy' meals between noon to2.15pm? This Shophouse transforms into a bustling daytime dive serving their signature dish: Sin Kee Steam Rice (RM10). Lift that overturned bowl to reveal a bed of sauce-smothered rice splendidly topped with pork, seafood, sausages, egg, and greens — the poster child of comfort food.
T. Apart from the foolproof favorite, the stalwart restaurant also cooks up a ravishing Hainanese Chicken Chop (RM14) loyal to its name, doused in a tasty gravy alongside peas, fried potatoes, and onions.
Must Try:  the Nam Yu Ribs (RM23), Butter Cream Chicken (RM25) or the market-fresh Sweet & Sour Fried Garoupa (seasonal).
Address: 
194, Jalan Tun Sambanthan, Brickfields, 50470 Kuala Lumpur, Wilayah Persekutuan Kuala Lumpur
Hours: 12 PM-2.15 PM, 6 PM to 9.15 PM 
8) Queue-less Briyani @ Sami's Corner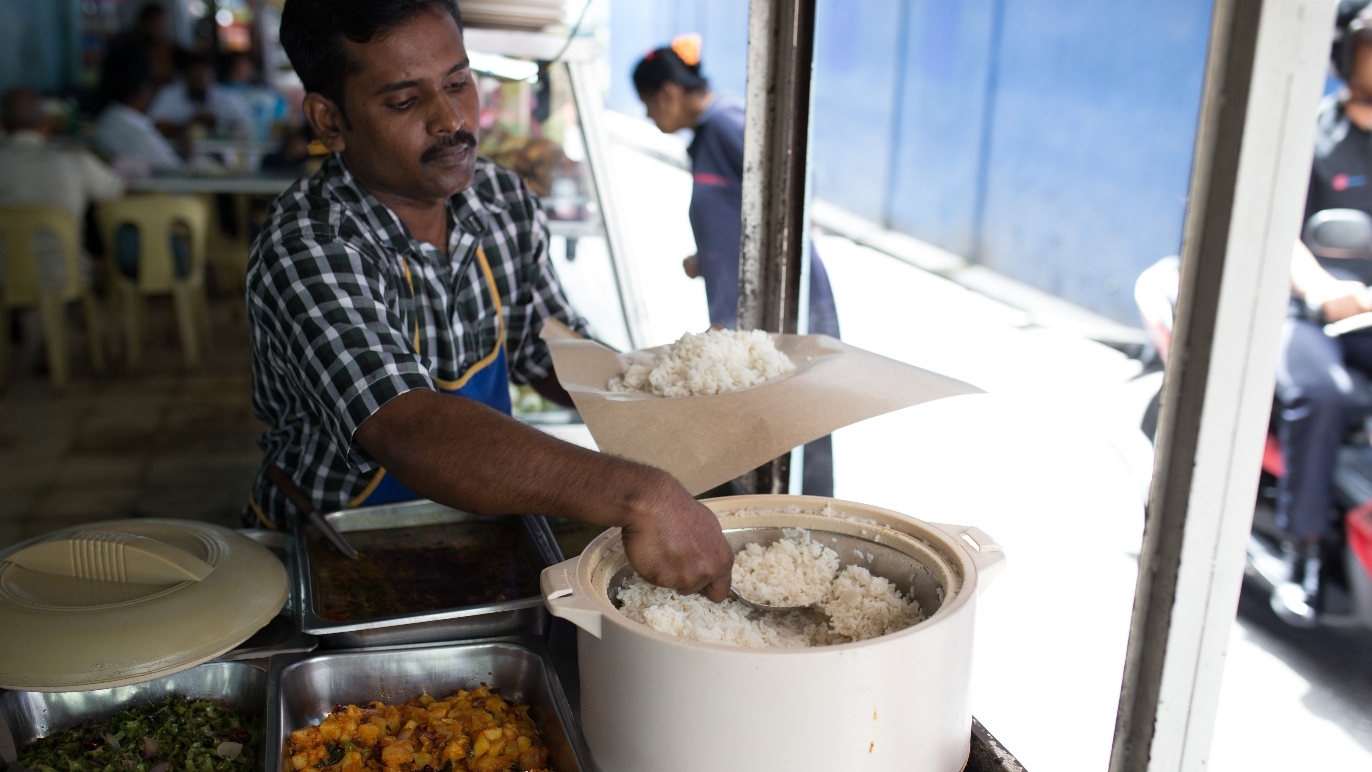 No articles on Brickfields s gonna without spotting a few briyani serving gems and for RM 8 and a minus of queue, you'll get Chicken briyani, an egg, and iced sirap- not too shabby we'd reckon. Look out for this warung tucked between a dingy bar and a budget hotel. Seats are limited so bringing your own Tupperware to pack your food is a good idea.  There's also sup kambing, mixed rice, and other options. Complete your lunch with cut fruits from the stall operating next to Sami's.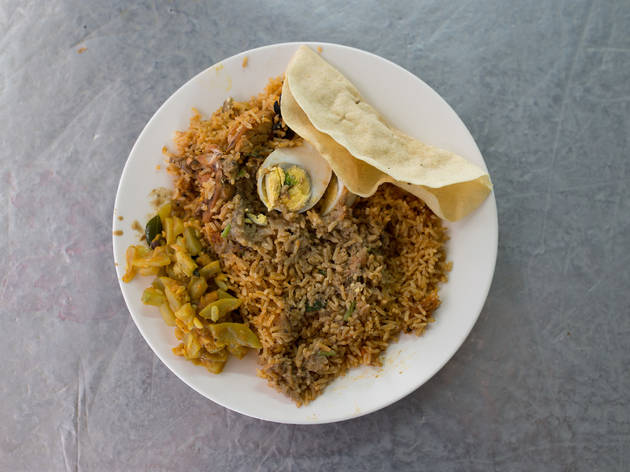 Address: Lorong Jalan Tun Sambanthan Kuala Lumpur 50470
Opening hours: Daily, 24 hours
9) North Indian Heaven @ Jai Hind Restaurant
Eh, so Indians means only people who speak Tamil and dance like the Kabhi Kushi Khabi Gham Like that? Very wrong my friend! While The majority of Indians in Malaysia are Tamils, and they speak Tamil Other Indian languages in Malaysia are Telugu, Malayalam, Hindi, Punjabi and Gujarati and once you've tried Our GUJARATI STYLE DISHES, YOU AIN'T GOING BACK!
Located at the tube down Masjid Jamek. further along OCBC Bank, Jai hind is Klang's big-time favorite serving the City's best mind-boggling mock meats and decadently cooked vegetables on one end to mutton bones piled high in dark gravy on the other. The palak paneer, a staple at any North Indian restaurant in KL, is the best you'll eat in the city. The house-made buffalo milk paneer cubes are juicy and firm, bathed in a rich, forest-green gravy of puréed spinach. Needless to say more, best visited earlier as possible because they run out, too quickly!
Must try: Gulab Jamun!
Address: 
13, Jalan Melayu, City Centre, 50100 Kuala Lumpur, Wilayah Persekutuan Kuala Lumpur
Hours: 
 8 AM to 8.30 PM. Opens daily
10) Peter's Pork @ Money's Corner
Wihout ending the article with some comforting bowl of soup , this hidden gem in Money's Corner hawker center is the result of a 37-year-old web of networks between Peter Tay since he moved from Taiping to KL in 1978 to fry char kuey teow. The delicious broth in their beef noodles is an old secret recipe, and it still tastes of savory warmth and nostalgia.
The soupy noodles come with fragrant ground pork, tender springy pork balls, and some juicy vegetables. A small bowl here will run you about RM6, while the large bowls cost RM 6.50. For an additional RM0.50, they will even drop in a silky poached egg.