Foodies, let us all shake off the bad vibes and ring in the Lunar New Year 2022 with a bang! It's that time of the year again where friends and family gather around for a reunion and feast on festive dishes. Tired of the same traditional dishes every year? Impress your friends and relatives with these simple yet lip-smacking festive dishes using Angel Brand Sauces!
Chinese New Year Recipes You Can Try Making Using Angel Brand Sauces:
#1 Eight Treasures Rice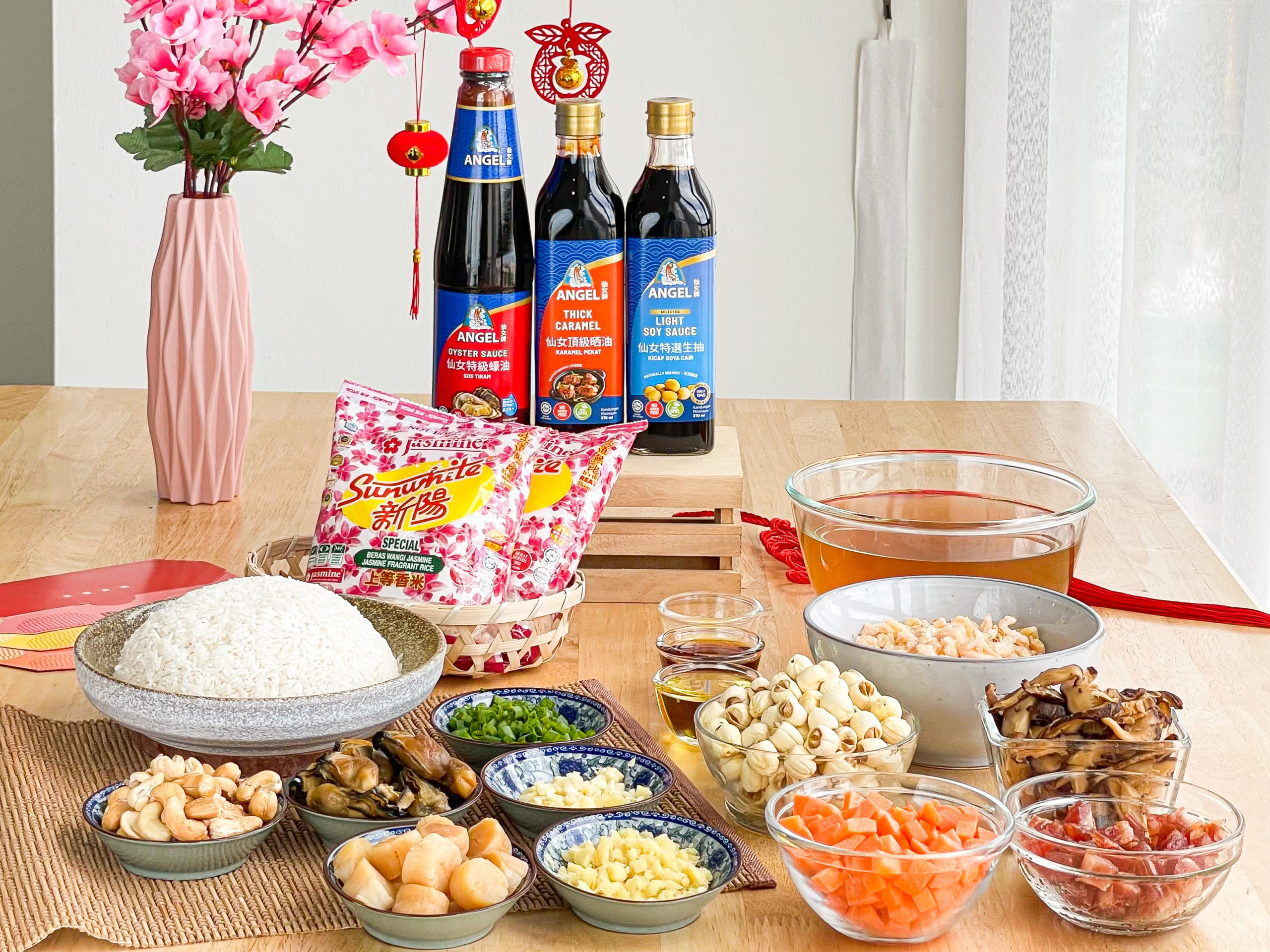 While traditionally Eight Treasures Rice is a dessert made from sweetened sticky rice, topped with eight different toppings or "treasures" and stuffed with red bean paste, we'll be making a meatier variant that's closer to the Malaysian taste buds. We've tweaked the recipe a little so it's more convenient to make but still packs a punch of flavours, and is especially aromatic when you pair the recipe with Angel Brand Sauces.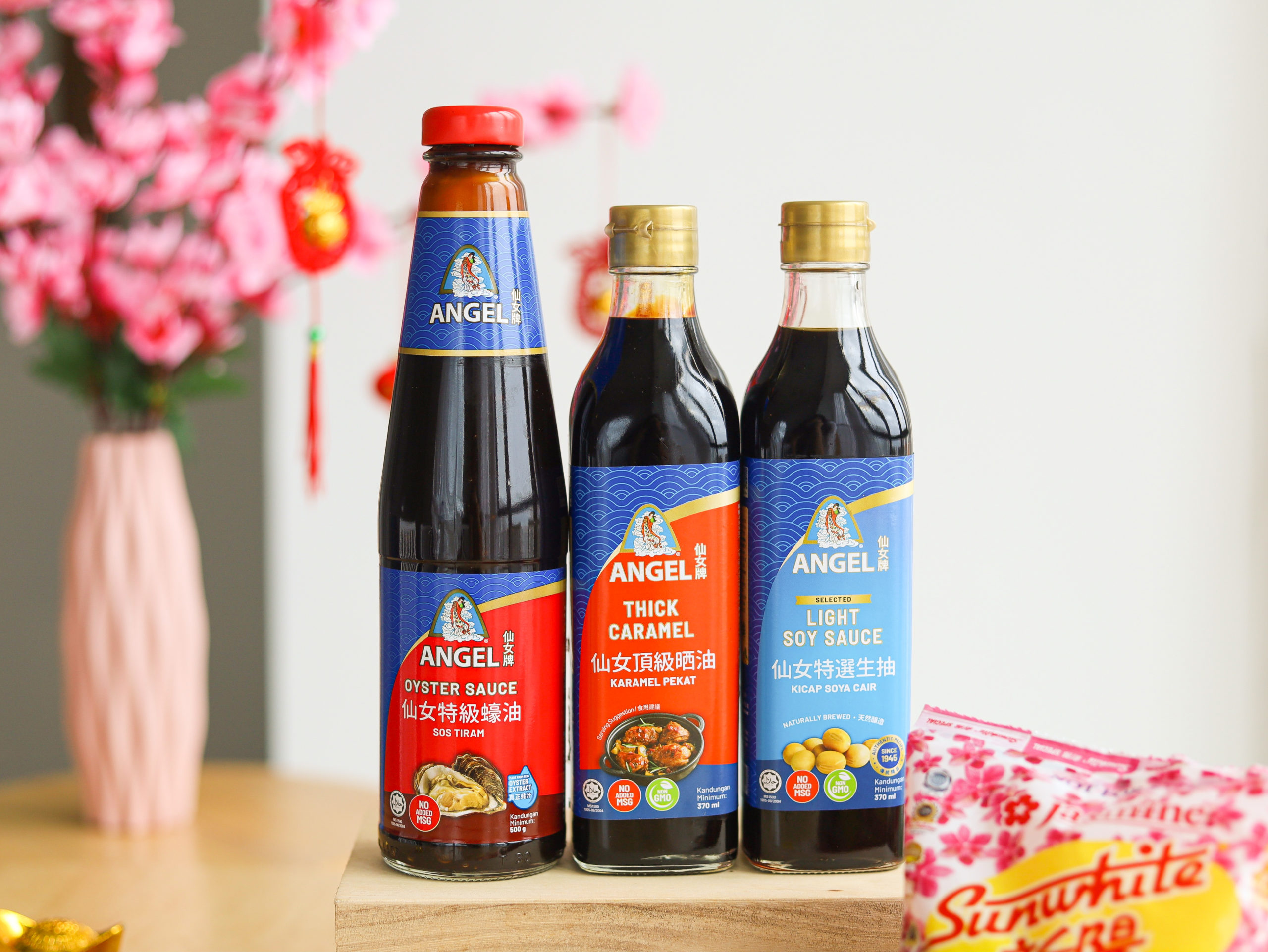 Ingredients: 
400g Jasmine Sunwhite Fragrant Rice, washed and drained
4 tbsp Angel Light Soy Sauce (Selected)
10 tbsp Angel Oyster Sauce
1 tsp Angel Thick Caramel
40g minced ginger
80g minced garlic
100g dried prawns, soaked until soft and roughly chopped
50g dried scallops, soaked overnight with liquid reserved
50g dried oysters, soaked overnight with liquid reserved
100g Chinese sausages, diced
200g carrots, diced
50g dried shiitake mushrooms, soaked overnight with liquid reserved, sliced
130g fresh lotus seeds
1000ml liquid (reserved from scallops, oysters, and mushrooms)
1 tbsp butter
2 tbsp cooking oil
2 tbsp sesame oil
Garnish
100g toasted cashew nuts
2 spring onions, thinly sliced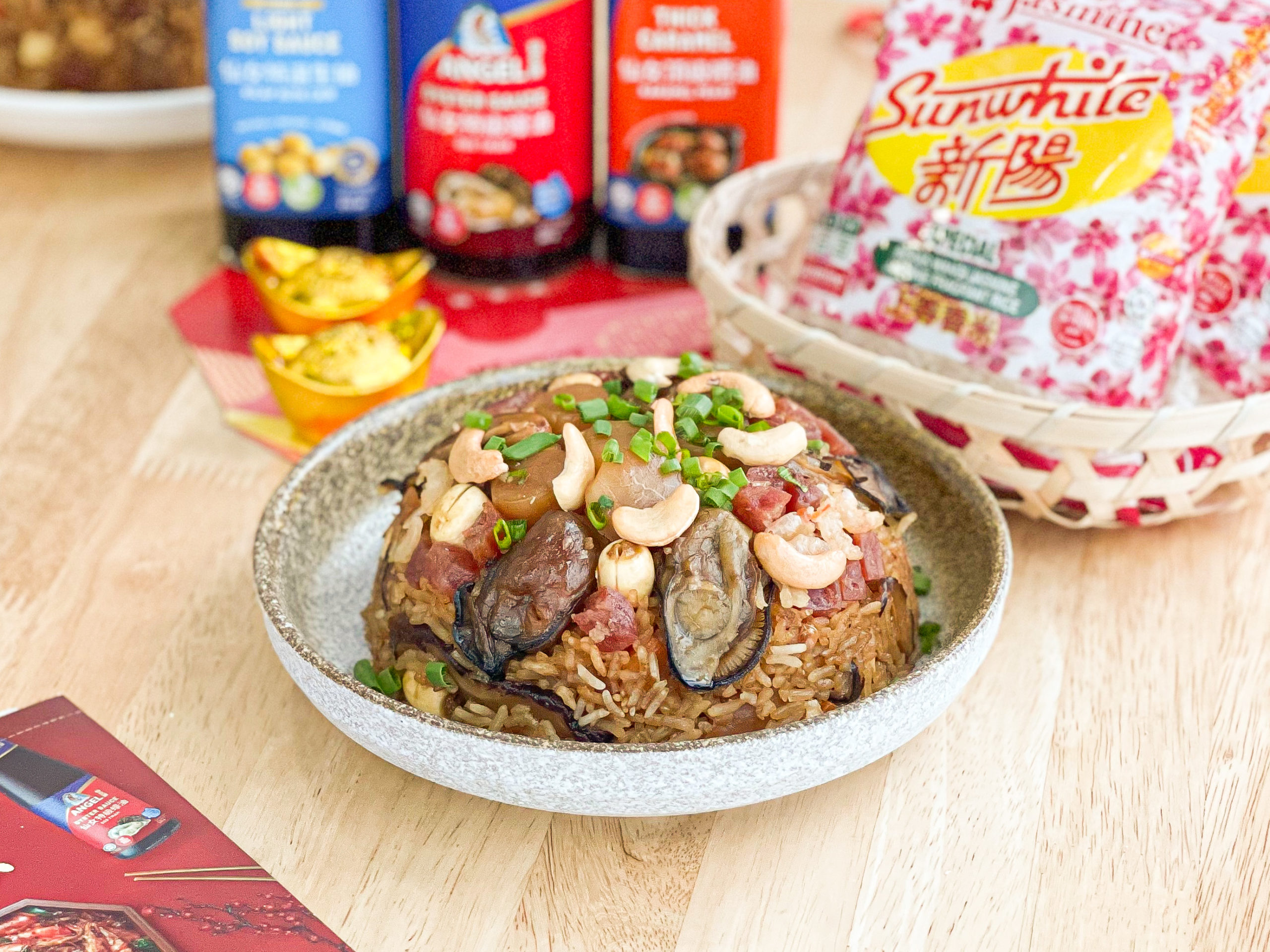 Steps: 
Add in Angel Light Soy Sauce (Selected), Angel Oyster Sauce and Angel Thick Caramel into Jasmine Sunwhite Fragrant Rice. Mix well.
Heat up cooking oil and sesame oil in a wok, add ginger, garlic and dried prawns into the wok. Stir fry until fragrant.
Add the premixed fragrant rice and stir fry for 5-6 minutes.
Add in carrots, shiitake mushrooms, lotus seeds, dried scallops, dried oysters and Chinese sausages and continue to stir fry for another minute.
Pour in 250 ml of liquid. Stir fry until all liquid is absorbed into the ingredients and repeat for another 3 times. Remove and set aside.
Brush a bowl with a layer of butter. Layer the bottom of the bowl with the cooked ingredients first (deco based on your preferences), followed by the remaining rice mixture.
Steam for 30 minutes using medium-large fire (or may use rice cooker to steam).
To serve, flip the bowl upside down on a plate. Remove the plate and garnish the Eight Treasures Rice with cashew nuts and spring onions.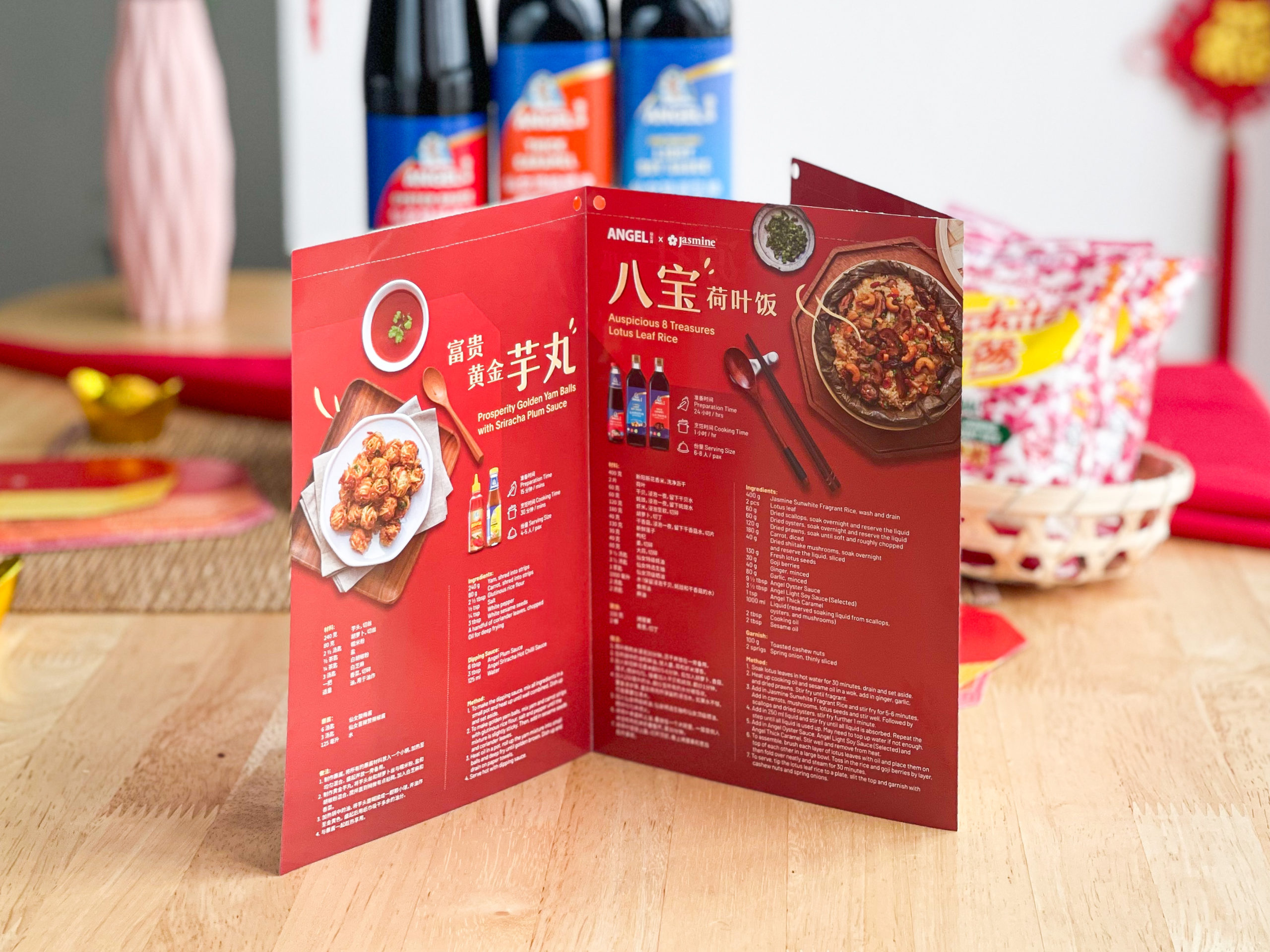 #2 Kung Pao Chicken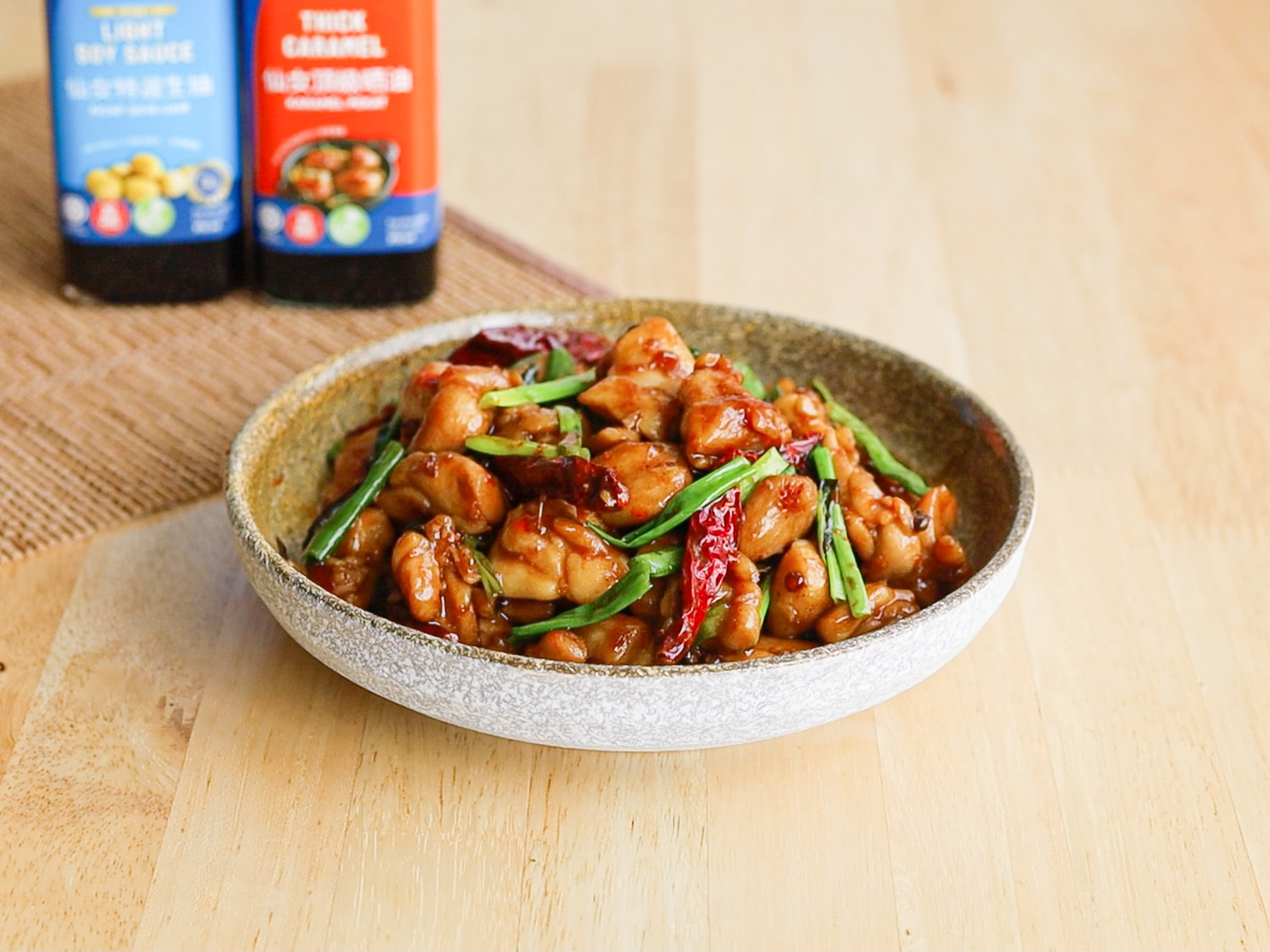 Ever had Kung Pao Chicken at a Chinese restaurant and went like "It's so good I wish I can have it at home too." Now's the time for you to shine! Recreate this famous dish that tastes just as good as Chinese takeouts, all made possible with Angel Brand Sauces. Not to mention this dish is fairly easy to make, even for beginners!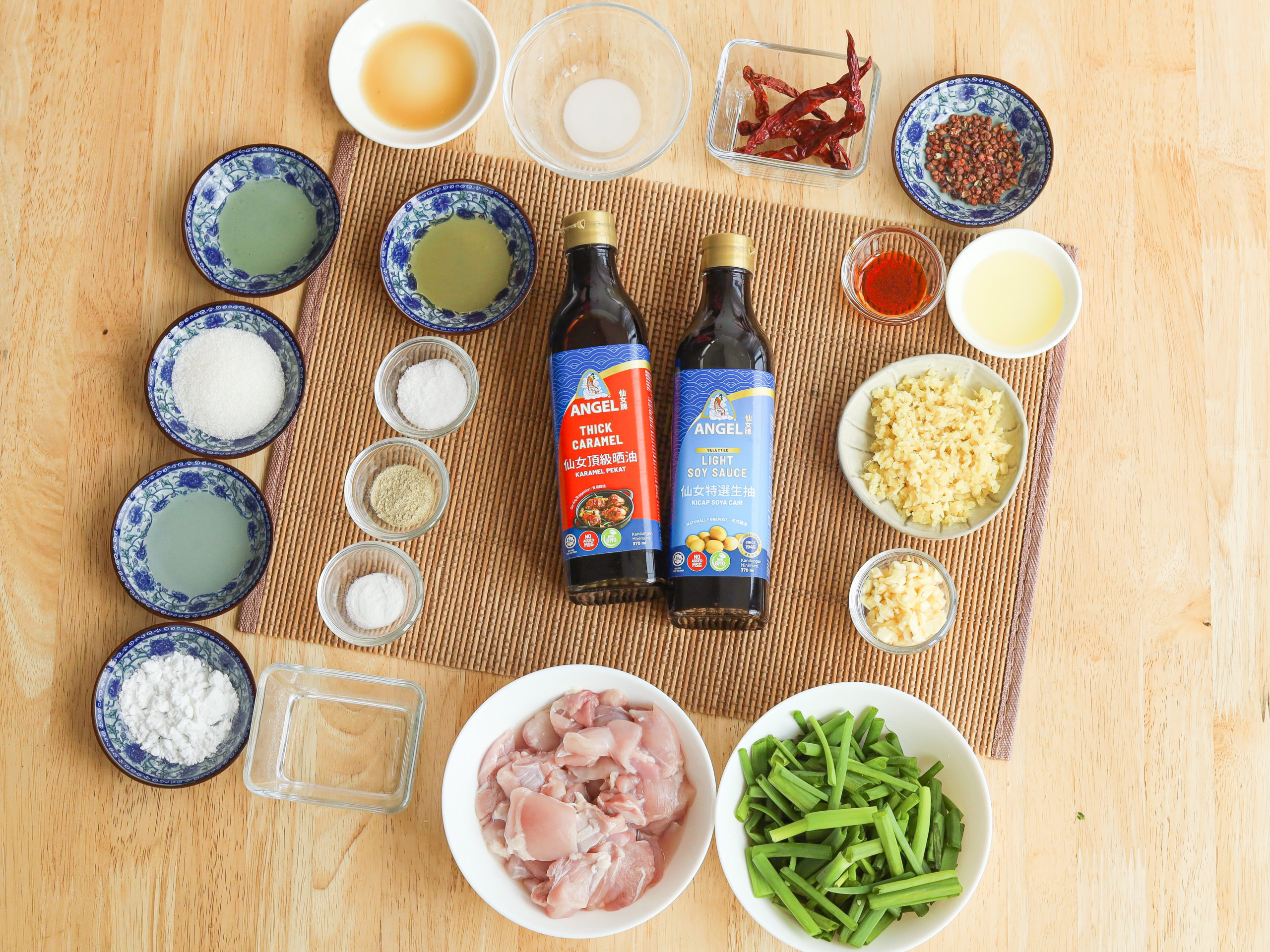 Ingredients: 
300g deboned chicken thigh
5pcs dry chillies
1 ½ tsp Sichuan peppercorn
40g minced ginger
20g minced garlic
80g chopped spring onion
1 tbsp chilli oil
1 tbsp cooking oil
Marinade
½ tbsp salt
1 tsp ground pepper
½ tsp soda powder
1 tbsp cooking wine (optional)
3 tbsp water
1 tbsp potato starch
½ tbsp cooking oil
Sauce Mix
1 tbsp Angel Light Soy Sauce (Selected)
1 tsp Angel Thick Caramel
4 tsp sugar
1 tbsp rice vinegar
1 tsp sesame oil
1 tbsp starch water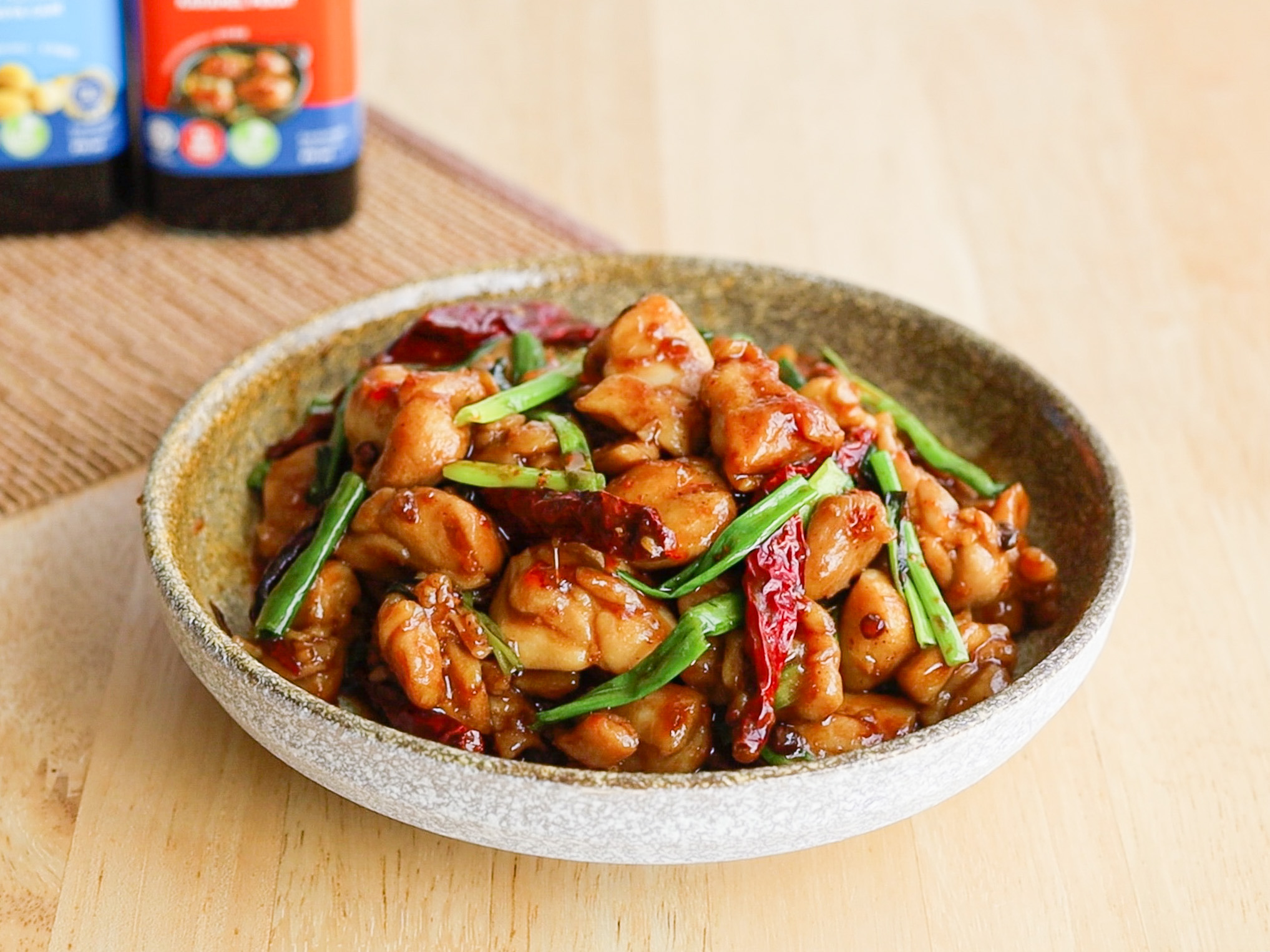 Steps:
Cut the deboned chicken thigh into cubes and add them into a mixing bowl.
Add salt, ground pepper, soda powder, cooking wine and water and massage the chicken until it shows stickiness. Then add potato starch and cooking oil, mix well and let it rest for 20 minutes.
Heat cooking oil in a pan or wok. Add the marinated chicken cubes. Stir fry until cooked.
Add dry chillies and Sichuan peppercorn, continue frying. Add ginger and garlic and stir fry until fragrant.
Then add spring onion before pouring in the premixed sauces. Stir fry until the sauce and chicken are well combined.
Pour chilli oil over the Kung Pao Chicken before serving.
Try Out A Variety of Chinese New Year Recipes Using Angel Brand Sauces: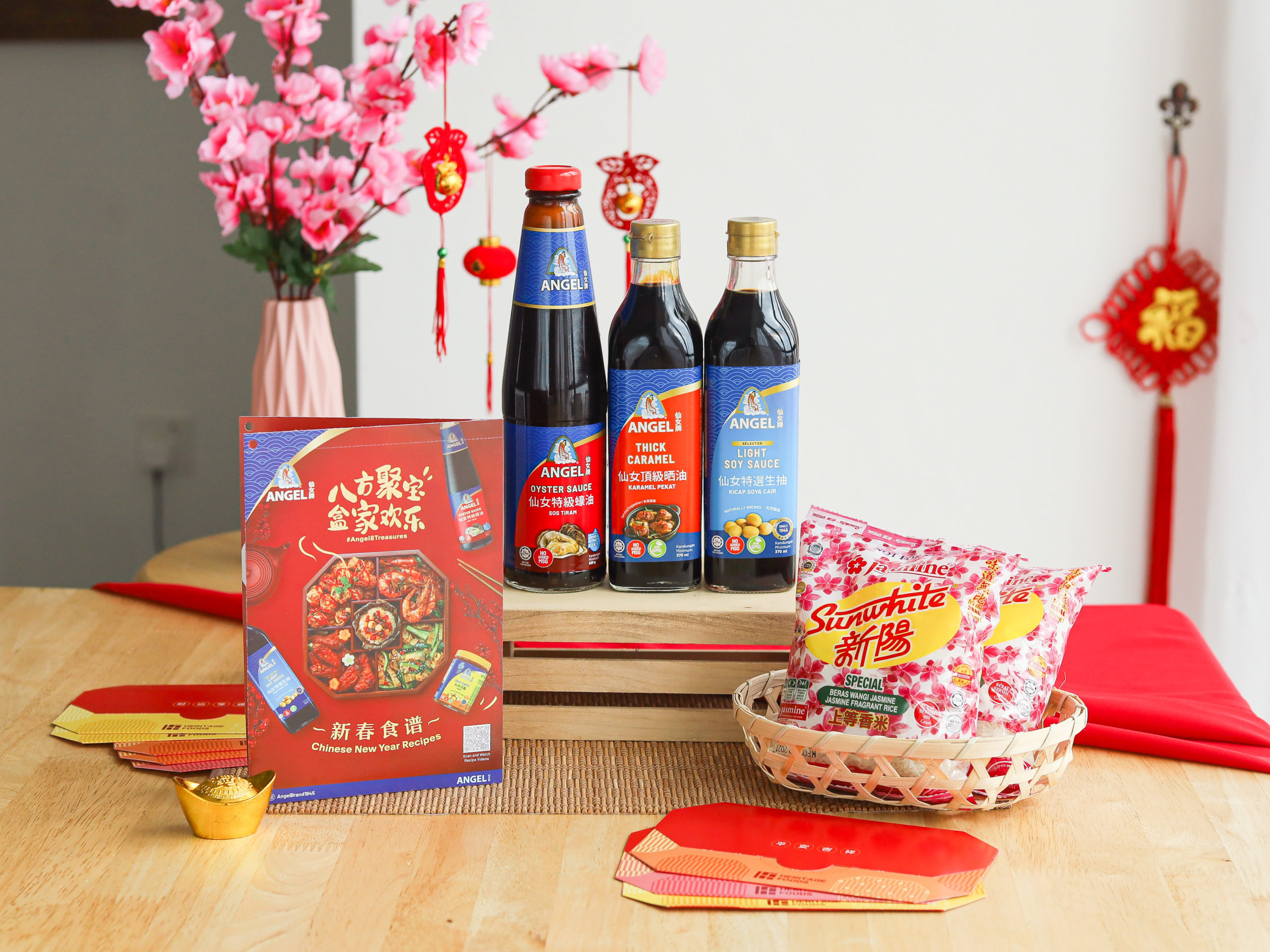 Not just Eight Treasures Rice and Kung Pao Chicken, you can recreate and easily whip up many other festive dishes with Angel Brand Sauces. To make cooking easier, the brand is running a CNY promotion that you shouldn't miss. Grab the Bundle package that includes Three Angel sauces [Light Soy Sauce (Selected) 370ml, Thick Caramel 370ml and Oyster Sauce 500g], Two packets of Jasmine Sunwhite Fragrant Rice 400g, Two packs of Ang Pao, plus One small CNY recipe booklet!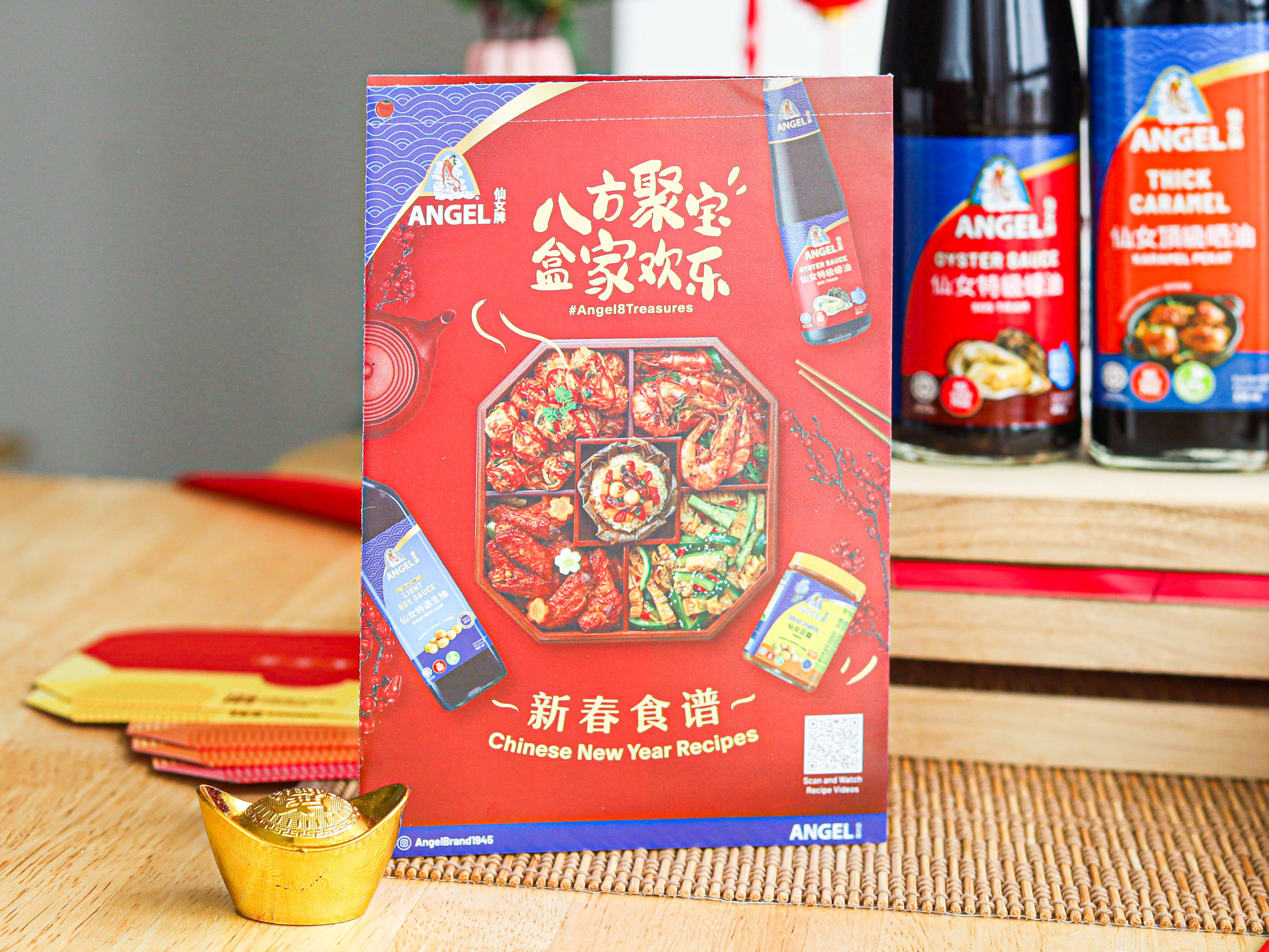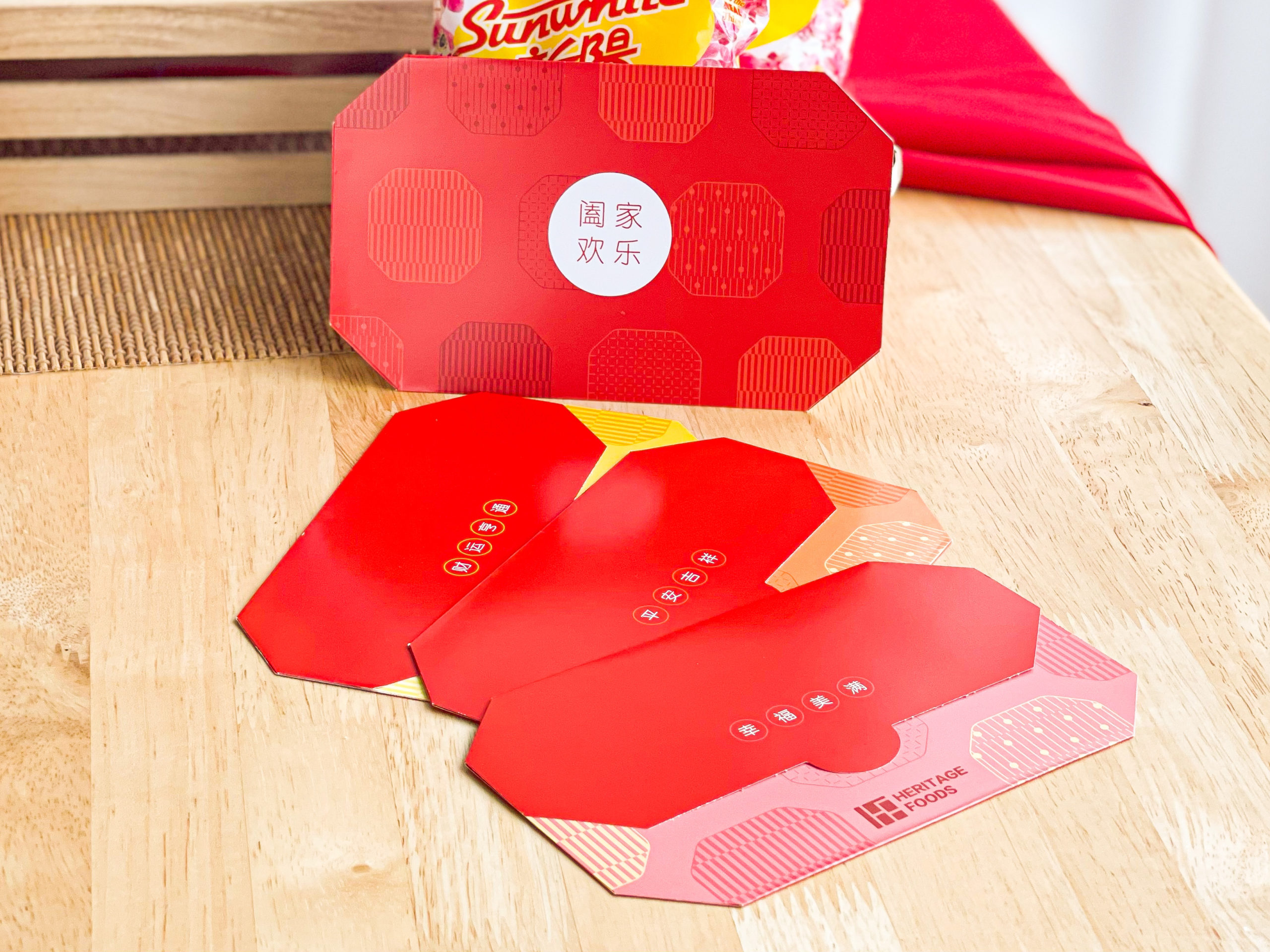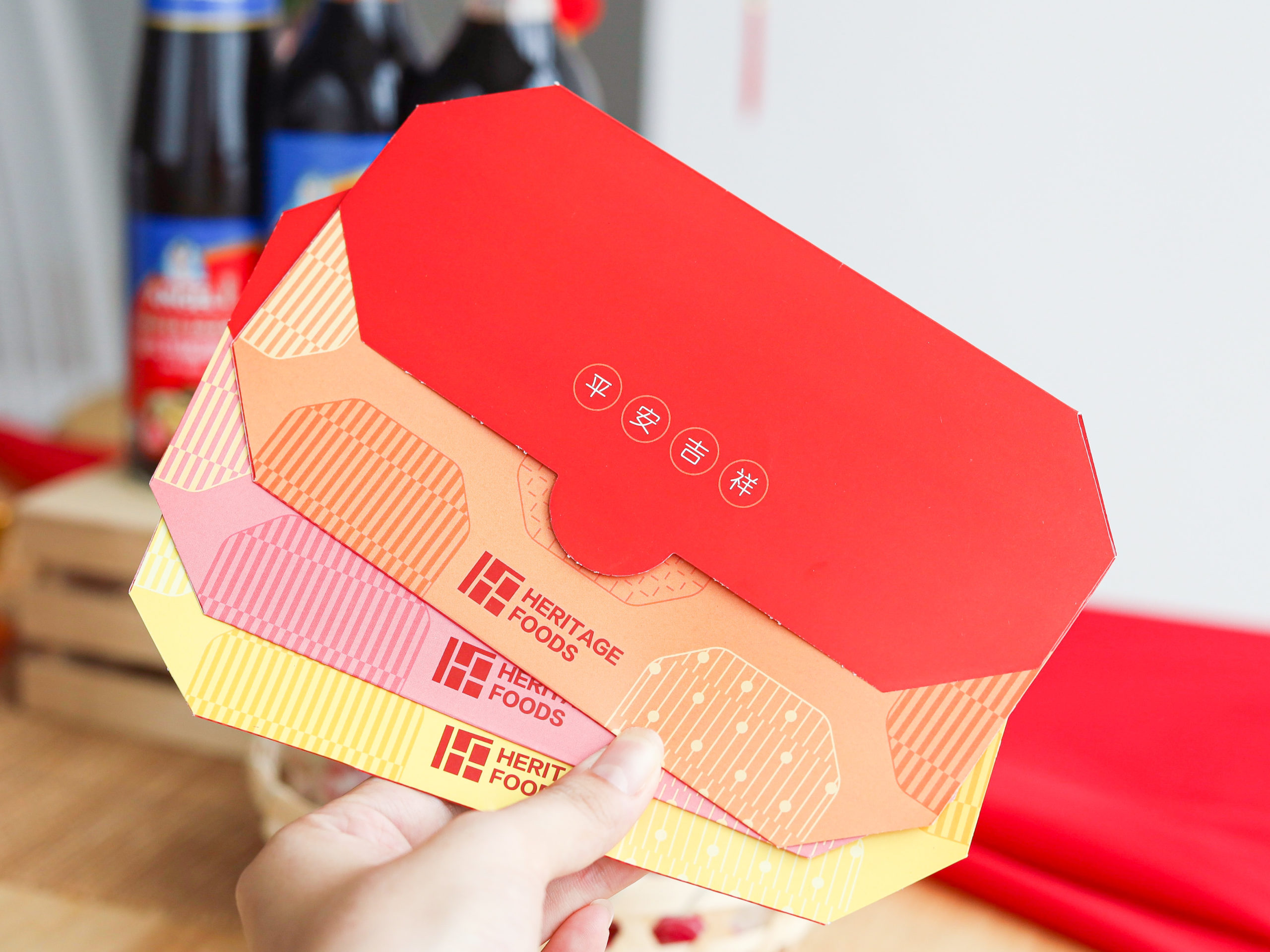 If you notice, the numbers add up to eight, which rhymes with "HUAT" in Chinese dialects. That's right, Angel Brand Sauces is bringing eightfold of abundance to you this Chinese New Year! So what are you waiting for? Get the bundle package and start whipping up delicious CNY recipes!
👉🏼 Shop now on Angel Brand official e-stores:
Shopee: https://bit.ly/38J6OeM
Lazada: https://bit.ly/3aNjUue 
👉🏼 Follow Angel Brand Facebook page for more attractive promotions and recipes!
Angel Brand Facebook: https://www.facebook.com/AngelBrand1945 
Win Up to RM28,800 With Angel Brand Sauces
We have one last good news to share! Make way for an abundance of luck and prosperity this year because Angel Brand Sauces is giving you a chance to win prizes worth up to RM28,800! 
All you need to do is: 
Purchase min.RM15 worth of Angel products in a single receipt at any participating supermarkets or Angel Brand official e-stores. 

Send a copy of your receipt, attached along with your details to +6019-3311251 via Whatsapp.

A total of 68 winners will be selected. 
Join the contest now and have an Ong-spicious New Year! 
Also Read: This Hidden Restaurant By A River In Bukit Tinggi Lets You Enjoy Farm-To-Table Dishes Amidst Nature
Now Playing, Catch New Episodes Every Friday At 7PM
New Shopee Deals: https://shp.ee/mwksseq
Lazada Everyday Low Price https://lzd.la/page
Track your parcel: https://trackie.my
Also Read: This Steakhouse At Bukit Jelutong Serves One Of The Best Dry-Aged Meat Dishes In Town
–
We would like to invite you to join our New Telegram Group! We will regularly post about good food, casual promos, giveaways, and interesting findings in Malaysia.