TL;DR
MCO 3.0 is currently effective in several states and/ or districts (listed below) across Malaysia.
Inter-district and inter-state travel is strictly not allowed, unless with travel permit approval by police.
Source: The Star 
List of States and/or Districts Under MCO 3.0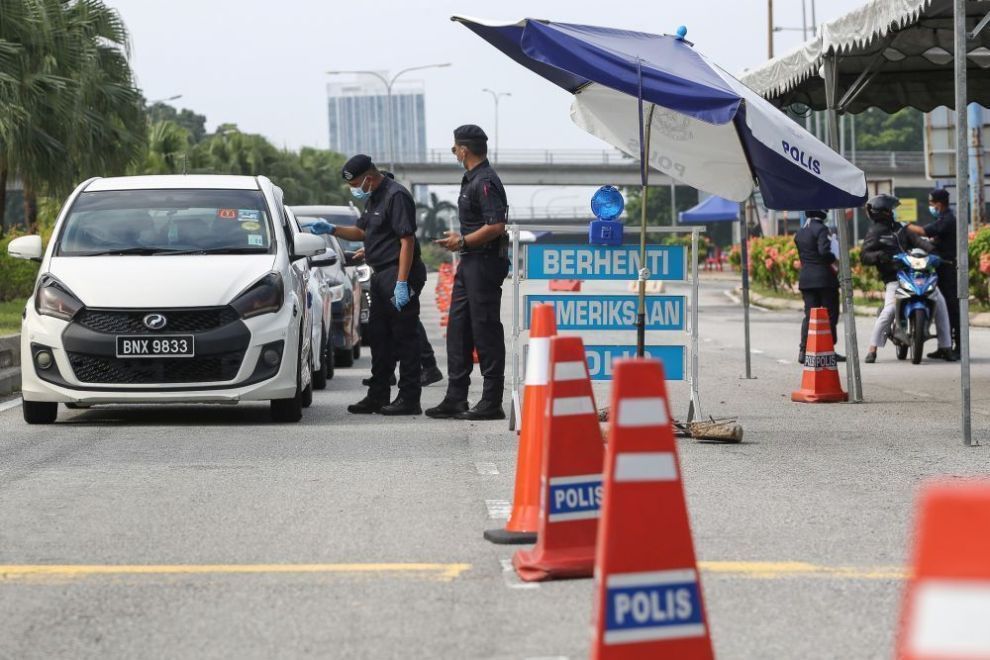 Following a news excerpt from The Star, below is an "MCO Checklist" that will guide you on the new and current rules as well as SOPs that you must take note of in the current Movement Control Order this May 2021. Check out below for the list of areas in which MCO is now effective —
Selangor (Hulu Langat, Petaling, Gombak, Klang, Kuala Langat, Sepang): 6/5/21-17/5/21
Kuala Lumpur: 7/5/21-20/5/21
Kelantan: 29/4/21-17/5/21
Johor (Johor Baru, Kulai, Kota Tinggi): 7/5/21-20/5/21, (Kluang): 11/5/21-24/5/21
Perak (Taiping, Larut Matang, Selama): 7/5/21-20/5/21
Terengganu (Besut district except Hulu Besut): 7/5/21-20/5/21
Hulu Kinta (Ipoh, Lahat, Chemor, Tanjung Rambutan): 10/5/21-23/5/21
Hulu Perak (Pengkalan Hulu, Belukar Semang): 10/5/21-23/5/21
Pahang (Kuantan): 10/5/21-23/5/21
Penang (Timur Laut, Seberang Perai Tengah, Seberang Perai Selatan, Mukim 12, Barat Daya, Bandar Butterworth, Seberang Perai Utama, Mukim 14): 10/5/21-23/5/21
List Of SOPs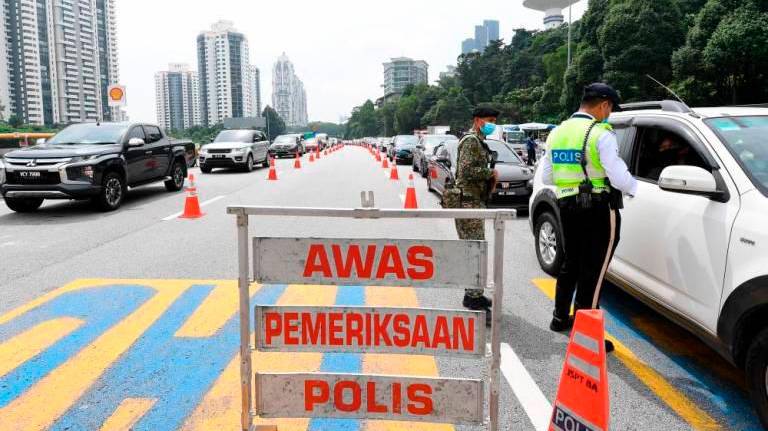 Rules and SOPs that you must be aware of for MCO 3.0 —
No inter-district and inter-state travel without police approval (nationwide)
Bazaar Ramadan and Aidilfitri not allowed
Restaurant dine-in not allowed
Government and private sector official and social face-to-face events not allowed
Social gatherings such as kenduri, wedding receptions, engagement parties, aqiqah, doa selamat, tahlil, birthdays, reunions and retreats are not allowed
Schools closed in Kuala Lumpur, Putrajaya, and Selangor till the end of Hari Raya Aidilfitri holidays with home-based learning commencing for two weeks after that
Sports and recreational activities without contact such as jogging, cycling and exercising conducted in open areas are allowed
Those with vaccination appointments are allowed inter-district travel to vaccination centres
Convenience stores, sundry shops, shops selling daily necessities, and pharmacies allowed to operate from 6am to 10pm
Restaurants, food trucks, food traders, and kiosks allowed to operate from 6am to 12am
Petrol kiosks allowed from 6am to 10pm, except those along highways can open 24 hours
Daily markets, farmers' markets, wet markets and weekly markets are allowed to open from 6am to 2pm
Religious activities are allowed with guidelines by district religious offices (Source: The Vibes)
Number of people allowed in a car is according to car capacity (Source: The Vibes)
Seminars, workshops, courses, conferences, talks, exhibitions and activities linked to meeting, incentives, conventions and exhibitions (MICE) are not allowed (Source: The Vibes)
Laundromats, optical shops, car wash centres, barbershops, and hair salons (only to cut hair) can open between 6am to 10pm (Source: The Vibes)
Driving and aviation training institutes are allowed to operate based on SOPs by the Transport Ministry (Source: The Vibes)
All economic sectors are allowed, including the manufacturing sector, except for activities which are listed in the "negative list" of general SOPs of MCO 3.0 (Source: The Star) 
For Hari Raya SOPs, read here.
For full list of SOPs according to states and/or areas,  visit this website here.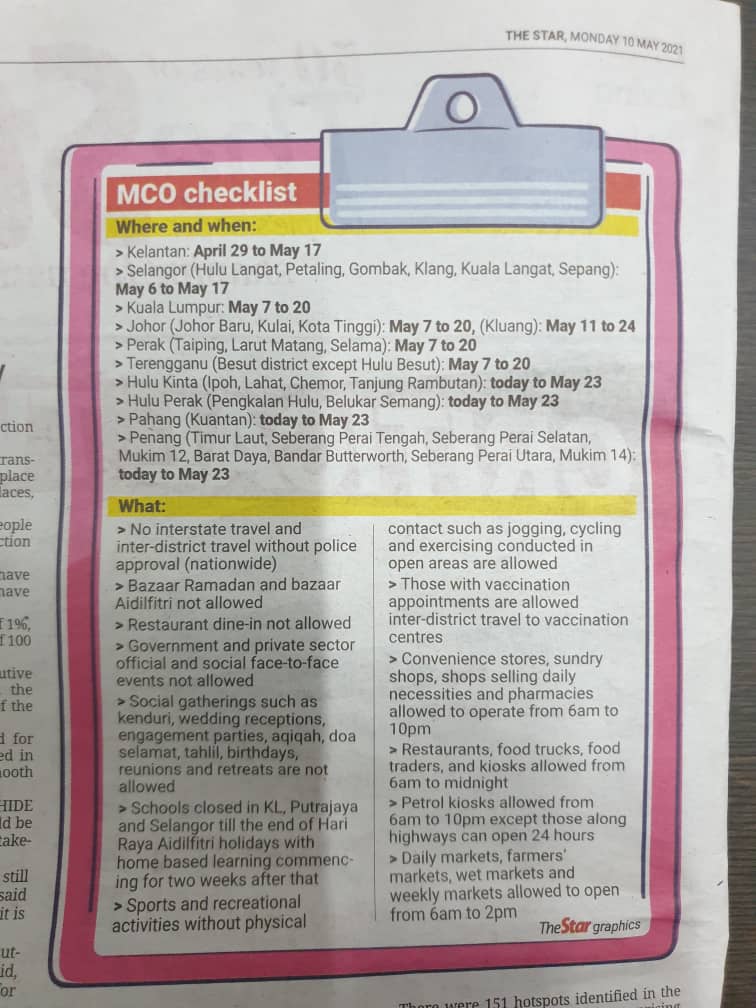 Source: The Star
Disclaimer: All information is accurate at time of publishing 
READ MITI Malaysia: Police Permit Not Required For Those Travelling Inter-District & Interstate For Work
ALSO READ All Premises Identified As Potential Covid-19 Hotspots In HIDE System To Close For 3 Days
CHECK OUT MCO 2.0: Here Are The Travel Permit Forms You Need To Fill In & Get Approval From The Police
–
We would like to invite you to join our New Private Community Group! Here you are free to ask questions, share your love for food, and explore the Klang Valley community! We will also regularly post about casual promos and latest findings.
Click on the button below and hunt good food with us today!